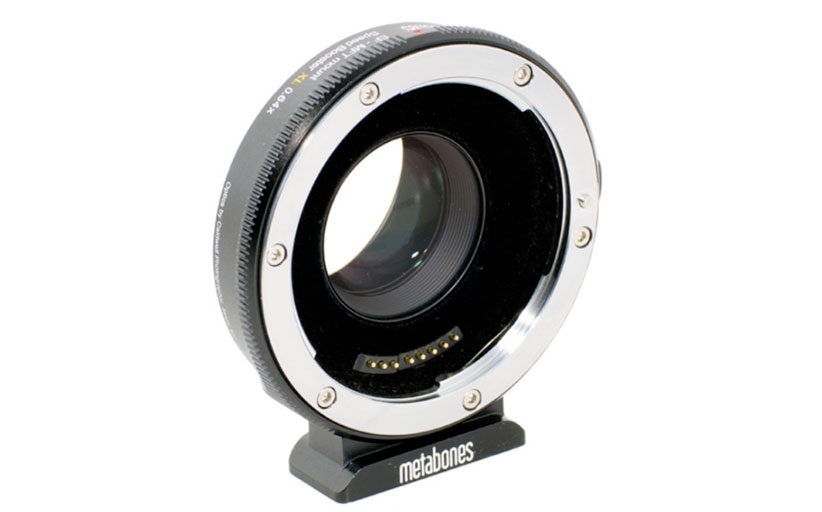 Metabones upgrade for GH5 and Canon zoom
Metabones has upgraded its adapters to support the new Panasonic GH5 and the Canon 18-80mm cine zoom, via a free firmware upgrade. Metabones' official information says: 
Metabones App 2.7 (E-Mount Version 56) is released today, adding support for the Canon CN-E 18-80mm T4.4 L IS KAS S lens to Metabones EF mount Speed Boosters and Smart Adapters.
Servo zoom can now be controlled using the wide-tele zoom rocker on supported cameras (for example JVC GY-LS300), with a touch screen interface (most Panasonic cameras), or from PlayMemories Mobile App for Sony cameras.
For supported Sony cameras, the Record button on the grip of the Cinema EOS CN-E 18-80mm T4.4 L IS KAS S lens can be assigned to one of more than 50 functions on the A7 series and other supported cameras. By assigning it to the MOVIE function, the user may start/stop recording and zoom with the lens' hand grip which is handy for a small-form-factor camera like A7R Mark II.
Whereas a typical EF mount lens changes the iris at 1/8 stop granularity, a Cinema EOS lens permits much finer control. Metabones takes advantage of this improved precision resulting in footages in which auto iris movements are virtually imperceptible.
Autofocus is supported, but to set expectations properly, AF performance of a supported Cinema EOS lens on a non-Canon camera is significantly below that of a genuine Cinema EOS camera equipped with dual pixel AF technology.
Never has any cinema lens received such comprehensive electronic integration across disparate lens mounts and brands like Blackmagic, JVC, Panasonic, Sony and of course, Canon Cinema EOS natively.
Important notice: not every Cinema EOS lens supports every feature. At the time of writing only Canon CN-E 18-80 T4.4 L IS KAS S supports auto iris, autofocus and servo zoom.
Also added to the new firmware release is support for the new Panasonic GH5 camera, with the usual set of features: user selectable optical image stabilization/5-axis in-body image stabilization (no dual I.S.), fast contrast detection autofocus (no DFD), smooth iris (requires lens support) and detailed EXIF.
Metabones App 2.7 (E-Mount Version 56) is available immediately from Metabones' web site. The same download upgrades every Metabones product with a micro USB port. See the accompanying release notes for compatibility and other important information.