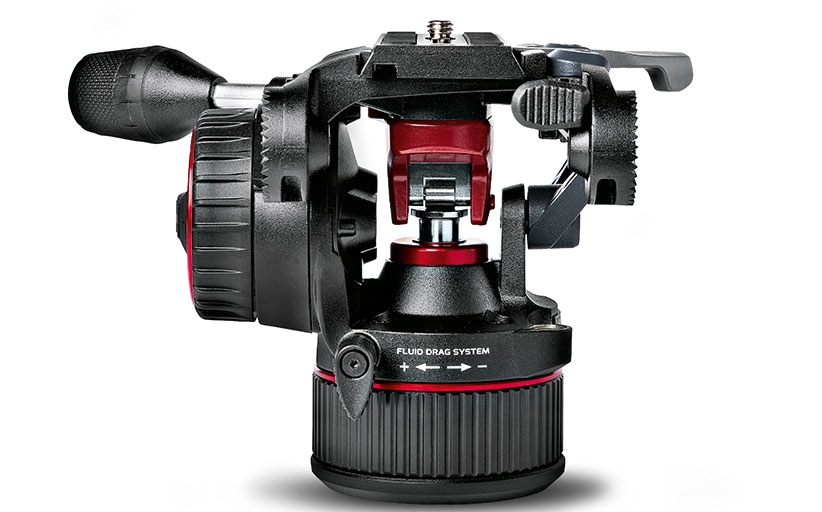 Manfrotto's Nitro revolution!
Manfrotto has revealed a brand new design of tripod head that not only looks very different, but uses new technology in different ways. The brand new Nitrotech head is suitable for lots of different types of cameras, easy to set up and use, offers easily adjustable control over camera motion and solves many of the headaches of using tripods for filmmaking. Such as finding and maintaining perfect counterbalance for the huge range and size of cameras.
Manfrotto's N8 Nitrotech video head is the first model to be revealed in the range, and costs just £449.95. It's on sale now.
It is also available in a range of kits with Manfrotto's well-established tripods. With the 535 Single Leg tripod the whole kit is £1119.95, and 546GB Twin MS tripod it's £959.95. Both are available now.
A Nitrotech N8 with 536 Single Leg tripod is £1279.95 while the 546GB Twin GS is £959.95 and both these will be available to buy in May/June. The official press release says:
Manfrotto, world leader in the photography, imaging equipment and accessories industry, presents the new Nitrotech Video Head – a revolutionary head that combines the most successful features of Manfrotto's Video Heads range with the ground-breaking, unique-to-the-market Nitrogen piston mechanism that guarantees continuous counterbalance. 
The New Fluid Video Head
Breakthrough Nitrogen piston technology for precise, continuous counterbalance
Variable pan & tilt fluidity for smooth and accurate shooting
Easy link connector with anti-rotation to support off-camera accessories
Side-lock sliding plate attachment
Secure, 8 kg load capacity
Flawlessly constructed professional video heads for superlative videography
High-impact, ground breaking design, superior quality materials
The Nitrotech N8 Video Head securely supports a load up to 8 kg. The new head features a precise, continuous counterbalance system that effortlessly and safely holds and operates a wide array of video camera models – in a variety of sizes. The variable fluidity function on both pan and tilt allows smooth, judder-free movement. It also features a 3/8" Easy Link equipped with an anti-rotation function that enables an external monitor or other accessories to be fitted.
This new video head also features a side-lock sliding plate mechanism that allows safe, quick and easy camera attachment. The NITROTECH head has a flat base mount with a standard 3/8" thread that is highly versatile for different support combinations (tripod, slider, rig or crane).
Manfrotto's game-changing N8 Nitrotech Video Head makes a strong impression at first sight through its distinctive, impactful design, which emphasizes this core breakthrough technology. Check out more details on the Manfrotto Nitrotech page here!