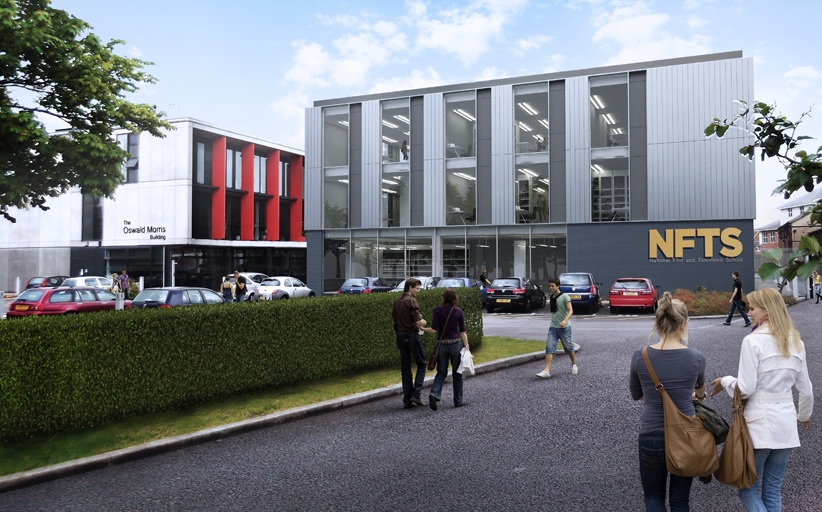 NFTS to build 4K Digital Content Production Training Studio
The National Film and Television School (NFTS) announces it has secured funding of £1.5m from Buckinghamshire Thames Valley Local Enterprise Partnership (BTVLEP) to build a new Digital Content Production Training Studio. The studio will be one of the most advanced dedicated training facilities in the UK and will have the ability to shoot, record and stream live content in high definition 4k.
The studio is expected to open early 2017 coinciding with the new student intake.
The studio will benefit students on a range of postgraduate courses including the new NFTS Production Technology MA, which has been introduced to tackle a shortage of broadcast engineers and fill a skills gap in the industry. Top technologist and former BBC Scotland Head of Technology, John Maxwell Hobbs, has been appointed to lead the course. Applications are open for the MA now until October 13th 2016 and the course will commence in January 2017.
This Digital Content Production Studio Facility and Hub will enable NFTS to train future generations of broadcast engineers; digital content producers; directors and craft professionals who are comfortable with the latest techniques, equipment and software that employers require. Students will be able to produce a wide range of digital content alongside high-end TV entertainment, sports and games programming and the studio will be integrated with post-production systems. Graphics workstations will also be linked to the studio.
Andrew M. Smith, Chairman of Buckinghamshire Thames Valley Local Enterprise Partnership, said: "We are delighted to be working with the National Film and Television School and supporting such exciting new talent. We want to enhance the creative industries sector and put Bucks on the global map as we are doing with other high profile institutions in our county such as Pinewood Studios. Buckinghamshire is already at the forefront of the creative industries and has the highest proportion of employment in this sector in the UK with over 16,000 jobs across 3,800 businesses."
Nik Powell, NFTS director says: "We are incredibly grateful for the LEP's support and can't wait to get the new studio up and running. We are working with a range of partners to ensure that this project delivers key systems and tools so that our students start their careers with the skills and knowledge that broadcasters need and value. We have forged exceptional links with broadcasters thanks to the reputation and track record of the school and the graduates it produces."
Applications are open now until October 31st 2016 for the Production Technology MA and the course starts in January 2017.