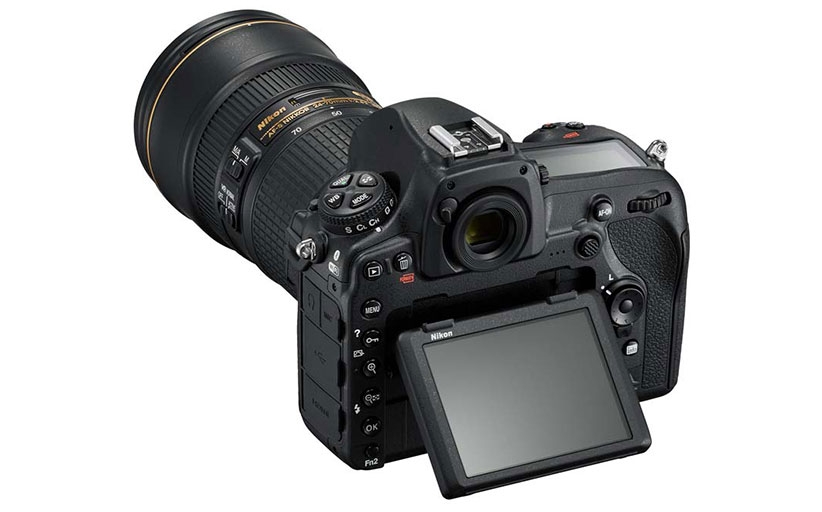 Nikon D850 targets multimedia moviemakers
Nikon's all-new D850 DSLR not only comes with a new, full-frame 45.7MP BSI CMOS sensor with no low pass filter but has video spec that may not ne ground-breaking, but is as good as it gets from Nikon.
There is full-frame 4K recording at 24/25/30p, 120fps shooting in HD, focus peaking in HD, zebra stripes, mic and headphone sockets, a tilting 3.2″ 2.36M-dot touchscreen and uncompressed 4:2:2 8-bit 4K HDMI output. There's dual card slots: one SD and one XQD, as used on the Nikon D4 and D5 and Sony FS7 camera.
The D850 also offers the 153-point AF system from the flagship D5, ISO from 64-25,600 (expandable to 32 or up to 102,400). The D850's magnesium alloy body is weather sealed, and illuminated controls. It will go on sale on September 7 £3,499.99/ $3299.95 body only.
The official info about the video spec says:
Multimedia Production Ready
Multimedia content creators and filmmakers alike will appreciate a wide range of considerate, industry-leading new features that can help to elevate any production:
• Full-frame 4K UHD at 24/30 fps: The D850's FX BSI CMOS sensor allows 4K UHD output at a full-frame width at 16:9, to increase lensing options and provide a true field of view.
• Slow Motion: Creators can also capture Full HD 1080p at up to 120 fps (4x or 5x) for dramatic slow-motion video capture.
• Focus Peaking: When shooting Full HD or in Live View for stills, focus peaking can be enabled which highlights in-focus subjects in the frame to ensure sharpness.
• 8K / 4K Time-lapse: Users can create 4K UHD time-lapse videos easily in-camera, or can use the built in intervalometer to capture images for an ultra-high resolution 8K time lapse that can be assembled in post for those who want the ultimate in video quality.
• Zebra stripes: The D850's highlight display mode uses zebra patterns to quickly spot overblown highlights. What's more, the zebra patterns come in two varieties, selectable according to the patterns and textures of the subjects. • HDMI output: Using HDMI, users can record uncompressed, broadcast quality 4:2:2 8-bit 4K UHD footage, directly to an external digital recorder while simultaneously recording to a card.
• Audio Control: The D850 features an onboard stereo microphone, as well as inputs for headphones and microphone. The camera also features a new audio attenuator to regulate sound levels.
The full press information says: Nikon introduces the D850 and gives full-frame photographers the ultimate combination of resolution, speed, and light sensitivity. From the studio to the remotest locations on earth, this FX-format D-SLR doesn't just perform—it takes excellence to a whole new level. Whether you are shooting commercial sports, nature, weddings, fashion or movies, the D850 gives photographers working in intensely competitive fields the creative flexibility they need to excel.
The fast, ultra-high-resolution FX-format sensor uses 45.7 megapixels of effective resolution to deliver 45.4 MP files. New gapless on-chip lens architecture enables exceptional detail and incredible dynamic range. Frame rates are boosted to up to 9 fps when using the optional MB-D18 Multi-Power Battery Pack. Moviemakers can now record full-frame movies at 4K with no crop factor, which opens up the possibilities when shooting with Nikon's fast prime lenses.
And 4K timelapse movies can be recorded in-camera. Other new features that enable greater flexibility include the option to shoot RAW size Large, Medium, or Small. Silent Photography mode enables ultra-sharp ultra-high-resolution shooting with no shutter noise. Pinpoint AF mode is available in Live View for precise macro shooting. And this is the first D-SLR ever to boast an in-camera focus-stacking mode for exceptionally sharp images with vast depth of field.
Tim Carter, Senior Product Manager, Imaging, Nikon UK, says: "The D850 is an exceptional follow-up to the hugely successful D810 and we are thrilled to be adding it to our line-up of full-frame D-SLRs. It's an ideal choice for photographers who want the freedom to deliver stunning images without exceptions. Whether you're looking for flexibility in terms of file size, ISO, speed or megapixel count, the D850 excels in all areas, making it the perfect camera for pros."
Summary of main features
Resolution: 45.7 megapixels of effective resolution. Richly detailed 45.4 MP files. Back-illuminated FX-format CMOS sensor with no optical low-pass filter.
Speed: shoot at 7 fps. Or shoot full-resolution images at 9 fps when using the optional MB-D18 Multi-Power Battery Pack (with the EN-EL18B battery inserted).
Light sensitivity: the powerful EXPEED 5 image processor delivers exceptionally clean images across the ISO range of 64–25600, extendable from 32 to 102400 (equivalent). The full ISO range is available for 4K video shooting too.
Precision: the same phenomenal 153-point AF system as the flagship D5 offers sensitivity down to -4 EV at the central point (ISO 100, 20 °C/68 °F).
Metering down to -3 EV enables precise automatic exposures even when the only light is the light of the moon.
4K video with no crop factor: record full-frame 4K/UHD movies at 30p, with no crop-factor limitations. Shoot more than three hours using the MB-D18 Multi-Power Battery Pack. In-camera 4K timelapse: film 4K timelapse movies in-camera, and harness the D850's 45.7 effective megapixels to create spectacular 8K timelapse movies in post.
RAW flexibility: shoot 45.4 MP RAW size Large, 25.6 MP RAW size Medium, or 11.4 MP RAW size Small (both Medium and Small are 12-bit lossless compressed).
Any environment: extensive weather sealing readies the D850 for harsh environments.
The same full-button illumination seen on Nikon's D5 ensures easy handling under the blanket of night.
Fast storage media: a dual card slot unit enables use of a UHS-II SD card and an XQD card—the fastest combination possible.