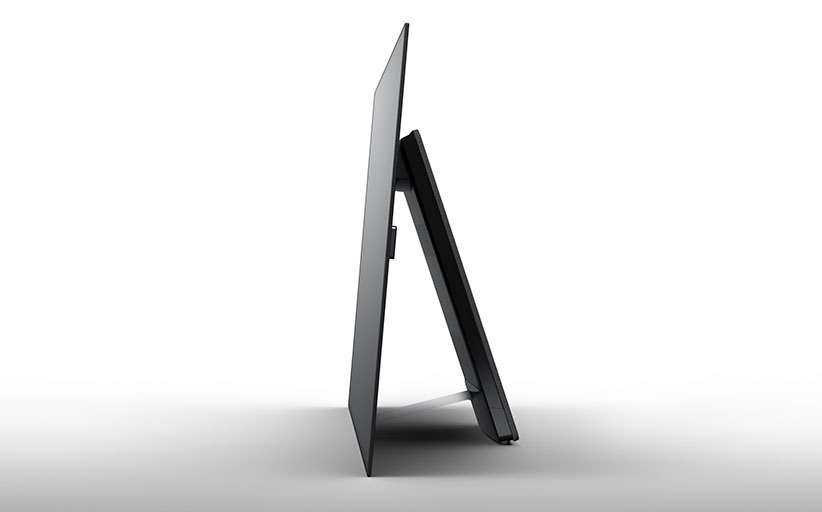 Prices set for Sony HDR TVs
High Dynamic Range may be the buzzword of the moment for video right now, but there have been very few affordable consumer output device like TVs that can cope with it. Sony has now announced its European pricing for its new Bravia 4K HDR TVs, which start at £3500 for a 55-inch OLED model in the UK. The screen is very thin and the OLED technology gives a much more detailed, rich picture. The official information says:
Sony announces the European release window for its BRAVIA A1 OLED 4K HDR TV line up. The TVs are already available for pre-order in select countries. The BRAVIA A1 OLED series offers a unique combination of the superior picture quality of OLED enhanced by Sony's 4K HDR Processor X1 Extreme™, the world's first Acoustic Surface™ sound system, and a cutting-edge stand-less form factor. With over 8 million self-illuminating pixels, the OLED A1 series brings a significantly enriched visual experience with unprecedented black levels, rich and lifelike colour, dynamic contrast, blur-less image and a wide viewing angle. The 4K HDR Processor X1 Extreme extends the capability of OLED to deliver an exquisite 4K HDR picture.
Sony was first to bring an OLED TV to the market back in 2007 with the XEL-1, an 11-inch TV display that was an outstanding achievement for its time. Sony has continued manufacturing award winning OLED products for professional broadcast and video production which have been widely used in editing, dailies review, graphics generation, special effects, as well as in broadcast and cinematic production. Sony Professional OLED Master Monitors have won a Scientific and Engineering Academy Award® as well as a Technical Emmy Award for Outstanding Innovation in Engineering Development.
"Since the product reveal at CES in January this year we have received amazing feedback praising BRAVIA A1 OLED's innovative combination of industry-leading picture quality with the ingenious Acoustic Surface sound design ," said Motoi Kawamura, Head of TV Marketing and Product Planning, Sony Europe. "We are really excited to bring BRAVIA A1 OLED to European customers this May.
First Implementation of Acoustic Surface Sound Technology
Taking advantage of the OLED's backlight-less structure, Sony developed a new Acoustic Surface sound technology which emits superior, powerful sound from the screen itself. Thanks to the original design, the entire screen resonates with rich sound, enabling a unification of picture and audio unattainable by conventional TVs. Unlike conventional LED where the sound emanates from the bottom or sides, the A1 enables a fusion of image and sound, with voices appearing to come directly from the characters speaking and explosions coming directly from the screen. Additionally, the Acoustic Surface technology produces a wide sound and image synchronization from all angles, even off to the sides. Together with OLED's exceptionally wide viewing angle, the A1 series offers an unmatched visual and aural experience regardless of viewing position or angle.
Unique Stand-less Design
The Acoustic Surface technology lends to the cutting-edge design of the A1 series by doing away with conventional speakers usually located to the sides or below the TV. The A1's design eliminates any visible stand or speakers, leaving nothing to distract from the superior image. The result is a unique form factor with no distraction from the picture. The easel support conceals a powerful sub-woofer and cable management system which can be folded in, against the TV, for wall mounting.
Unmatched Contrast and Clarity
The new BRAVIA A1 OLED 4K HDR TV line of televisions supports HDR (High Dynamic Range) which reproduces dramatic contrast with rich, brilliant colour. Sony's 4K HDR Processor X1 Extreme advanced image engine further improves colour accuracy, contrast and clarity and supports HDR10, HLG[1], and Dolby Vision™1 for viewing the growing library of HDR content. The power of the 4K HDR Processor X1 Extreme also enables non-HDR content to be improved to near 4K HDR quality with object-based HDR Remaster technology that can detect, analyze and optimize each object in the picture to adjust the overall contrast. Together, Sony's unique technologies provide a better HDR experience with greater clarity and a wider range of colours and contrast as well. The TRILUMINOS™ Display maps colours for a wider palette, Super Bit Mapping™ 4K HDR creates a smooth, natural picture without "banding," dual database processing reduces on-screen noise while maximizing clarity. Motionflow™ reduces motion artifacts for smooth, natural motion reproduction. All these Sony technologies deliver a more realistic picture with subtle shades and depths of colour and dramatic brightness and black levels.
Powered by Android™ TV
The BRAVIA A1 OLED 4K HDR TVs are powered by Android TV which brings movies, TV shows and thousands of apps into the home, making it easy to watch broadcast and cable TV, download entertainment, and use as a gaming device. TV lovers can enjoy hit shows and timeless movies from Google Play™, Netflix, Amazon Video, YouTube, and others.
BRAVIA A1 OLED 4K HDR TV Line Models and RRP Prices[2]
UK – KD-65A1, 65" class (64.5" diagonal), £5,000 RRP
UK – KD-55A1, 55" class (54.6" diagonal), £3,500 RRP
Ireland – KD-65A1, 65" class (64.5" diagonal), €6,099 RRP
Ireland – KD-55A1, 55" class (54.6" diagonal), €4,299 RRP
These televisions are available for pre-order from 11th April and will be available in stores in early May 2017. For stockist information please visit www.sony.co.uk