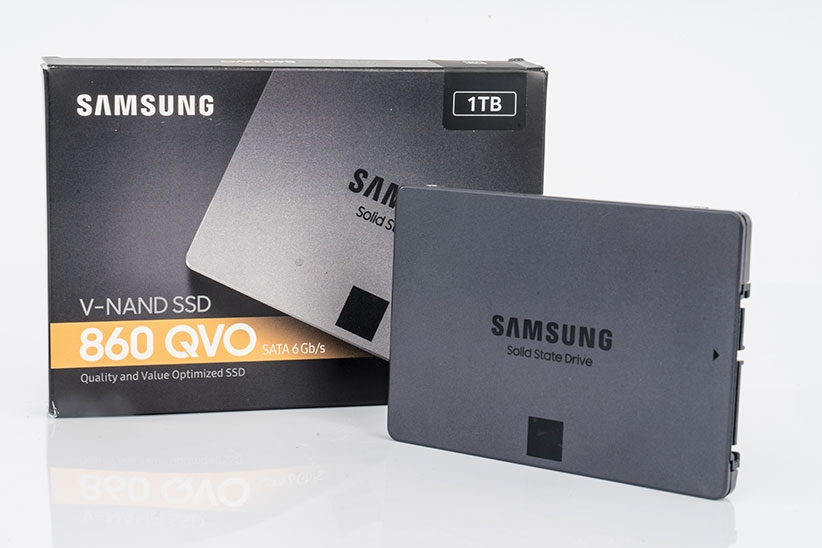 Samsung 1TB 860 QVO SSD Drive
Anyone who has ever used a laptop fitted with an SSD drive instead of an old-school spinning, mechanical hard drive will no doubt have been impressed with its speed to not only boot up the machine in record time, but also read and write data. If you are trying to edit 4K on a laptop, it's pretty much the only way that you can do it. 
And if you use an external recorder like an Atomos to write your large cinema camera footage to, you will know speed is everything and a fast SSD is a must.
Yet HDDs still rule in terms of fitment to laptops and even external hard drives. Despite their lack of speed in comparison and increased propensity to fail due to the spinning drives inside, they are significantly cheaper than SSDs. They are also much more widely available in much larger capacities while SSD drives have been traditionally sold in sizes up to 1TB, although 500GB units are far more common. 
But now Samsung aims to bring affordable SSD drives to the mass market in sizes up to a staggering 4TB. The new 1TB 860 QVO SSD drive we tested hits the shops at just £137/$148 which is not much more expensive than many HDD drives.
They have managed this by using new technology which is based on quad-level cell (QLC) NAND engineering. Samsung says its version is called V-NAND 4-bit. You don't need to know what this means, but what it does is that it makes the drives much cheaper to make in larger sizes. However, there is a trade-off in speed and the drives aren't as power-efficient or as quick as high-spec SSD drives, like Samsung's own range of EVO drives. Tests show it is faster than many conventional SSD drives anyway.
The Samsung QVO is not the first SSD drive to use the 4-bit technology, but the few rivals out there use the faster NVMe connection. However, the vast majority of laptops and certainly drives for external recorders and the like use the more conventional SATA connection. This is what the Samsung EVO uses, exclusively at the moment.
To use the drive, it needs to be fitted into a laptop or a specific caddy. It slips right in the Atomos caddy for use in its range of monitor recorders, or into cheap caddies to be used as an external hard drive if you like.
The beauty of using large-capacity SSDs in a laptop is that they can be fast enough to run all editing programmes, yet big enough to store not only applications but also video files as well as rendered library files used by your editing software. It's like turbocharging your laptop.
In an Atomos recorder, the Samsung is quick and affordable enough to allow you to use even higher-quality files that would often be too big to store. Used as an external drive, it's ideal for holding video files and libraries for speedy editing. 
If you are using the drive in a laptop, it comes with Samsung Magician software to keep your drive up to date, monitor drive health and speed, and even boost performance, too. It's easy to use and reliable.
Specifications:
Type: 2.5in SATA III 6GB/s V-Nand SSD internal drive, 4-bit MLC
Capacity: 1TB (2TB or 4TB available)
Read speed: 550MB/s sequential
Write speed: 520MB/s sequential
Software: Samsung Magician
Dimension (WxHxD): 100×70.1×6.9mm/ 3.94×2.76×0.27in
Weight: 86.2g/0.19lb
Pro Moviemaker rating: 8/10
Large-capacity and affordable SSD drives in SATA fitment have been impossible to get, until now 
+ Pros: Quick, reliable, large capacity and affordable
– Cons: Not as fast or efficient as other pricier SSD drives
PRICE: £137/ $148
For more information visit their website.