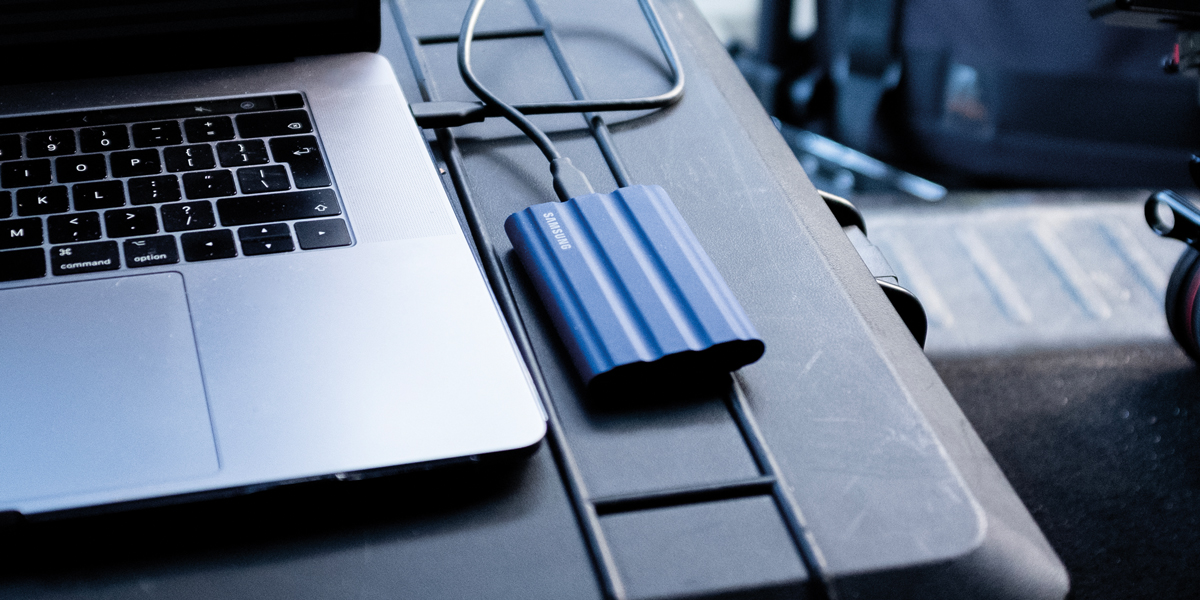 Samsung Storage Supreme
Posted on Feb 14, 2023 by Samara Husbands
As a director, Denis Plesca has a unique view of his productions. Here, he turns his considered gaze to all-important Samsung storage tech
Advertisement feature
No matter the scale of the shoot, it's a director's prerogative to keep a guiding hand in every aspect of production. Camera operators, data handlers, editors and beyond are masters of their respective crafts, but it's the director who oversees them all. Denis Plesca, founder of Stingrae Films, has taken on that responsibility.
"As a production house, we work on commercials, high-end corporate content and social media video – across most industries, from luxury hotels to automotive," he begins. "Personally, I spend most of my time developing clients' ideas in pre-production, then ensuring that shared vision is fulfilled on-set."
But Plesca's talents aren't solely creative. Technical proficiency is a must. Given the chance to put Samsung Portable SSD T7 Shield's impressive capabilities to the test, he eagerly got to work.
"We use portable SSDs on every shoot. We strip data from cards to keep shooting throughout, then at the end of the day we back up everything that's been recorded. Sometimes we have ten cards from three cameras, so a drive fast enough to manage all that content is vital."
When speed is an absolute demand, the Samsung Portable SSD T7 Shield won't disappoint. Designed with USB 3.2 Gen 2 connectivity and patented PCIe NVMe technology, the respective read and write speeds of 1050MB/s and 1000MB/s take the waiting around out of file transfers. That's far from the only benefit, however.
"Most clients now require 4K as standard, so to be able to transfer those data-heavy files in minutes rather than hours is game-changing," Plesca notes. "The 2TB portable drive is also very helpful in that workflow. We can shoot for longer at higher resolutions without stressing over transfer times later. It really puts us in a different league."
There's not just the shoot to consider, but post-production, too."As a director, I love being involved in the editing process, as so much of a film's story can be adapted during that time," Plesca effuses. "I often start a pre-edit while travelling back from location. Away from the office, smooth editing is only possible on a powerful SSD. The Samsung Portable SSD T7 Shield has allowed me to go ahead with instant editing, without the need for proxy files – and the whole workflow is super smooth."
Even in the studio, an external SSD can make editing seamless. Files taken from set are immediately available, without needing to upload to a desktop. With a rapid external scratch disk to draw from, demand on the computer is greatly reduced. The Samsung Portable SSD T7 Shield outperforms many internal storage set-ups, for smooth and lag-free editing.
Where some external drives remain restricted by cables, size and weight, the Samsung Portable SSD T7 Shield is truly freeing – as Plesca discovered for himself.
"The size and shape is fantastic. There is never enough room on-set, so having a small, nimble and portable SSD that can rest on the edge of a laptop is very welcome. It also feels extremely rugged with built-in rubber protection, so it's perfect for travel projects."
Plesca isn't wrong. The Samsung Portable SSD T7 Shield carries an IP65 rating, resistant to water, dust and drops up to 3m. The casing also features Dynamic Thermal Guard control to keep the drive cool. As a result, it performs throughout even the most sizable projects.
All in all, this portable drive's ingenious features come together to do one simple thing: free filmmakers to concentrate on the creative process. 
For more head to samsung.com
Feature originally published in the January/February issue of Pro Moviemaker.