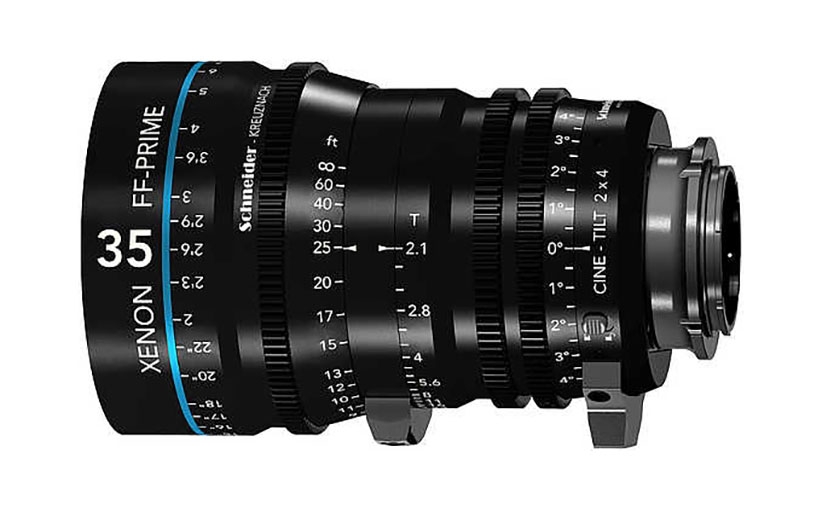 Schneider launches cine tilt lenses
Schneider have revealed a new set of lenses that allow you to tilt the focus plane. The Xenon FF-Prime Cine-Tilt lenses are similar to their -frame cine primes but allow you to add plus or minus 4 degrees of tilt.
That will allow users to alter the plane of focus for the ultimate in front-to-back sharpness without resorting to very small apertures which can introduce diffraction. Tilt can also be used to create the 'miniature' effect at wide apertures. But the limited degree of tilt – half of the tilt available of Schneider's tilt and shift photo lenses – means this effect will be limited.
The Xenon FF-Prime Cine-Tilt optics will be available in 25mm, 35mm, 50mm, 75mm and 100mm versions, all with a maximum aperture of T2.9 They will be available in a Sony E-mount this spring, although other mounts may be available later. No prices have yet been set. The press release reads:
Schneider-Kreuznach introduces Xenon FF-Prime Cine-Tilt lenses to enhance today's dynamic cinematography.
 These groundbreaking new lenses combine a similar form factor and capabilities as the company's popular full-frame primes with an added tilt function up to ±4°. By sustaining the field of view during focus and tilt actions, the new cine-tilt design means that previously unimaginable images can be taken by moving and tilting the focus plane.
The new lenses make it possible to capture out-of-focus areas in the frame, especially when using tilt with a large aperture. A 4° tilt angle on the sensor plane corresponds to an 80° focal plane, which varies according to the selected focal length and aperture setting.
Like Schneider-Kreuznach's standard Xenon FF-Primes, the new version answers today's practical needs for full-frame imagery beyond 4K in a lightweight and compact, uniform housing. The color-matched lenses feature minimized breathing and a bokeh reminiscent of classic Hollywood. Designed and built in Germany, the new design incorporates sophisticated mechanics for smooth and accurate tilt action. The tilt of the lens is controlled via a high-precision ring with 120° rotation that is as intuitive to operate as pulling focus. Thanks to the common 0.8 module gear, the Cine-Tilt can be used with standard follow-focus systems.
Schneider-Kreuznach's Cine-Tilt lenses offer the multifold benefits of standard Xenon FF-Primes plus tilt functionality, so there is no need to swap lenses during a shot. With the tilt set at 0°, the Cine-Tilt lenses provide identical images to the standard FF-Primes. The homogenous set comprises focal lengths of 25mm, 35mm, 50mm, 75mm and 100mm – all with T2.1.
Schneider-Kreuznach's Cine-Tilt FF-Primes will be available in a Sony E-mount this spring, either individually or as a set.
Background information and applications examples: http://www.facebook.com/SchneiderKreuznachCINE
For more information on all Schneider-Kreuznach products, visit us at our booth at AFC Micro Salon in Paris on January 27-28 and BSC EXPO in London on February 3-4.