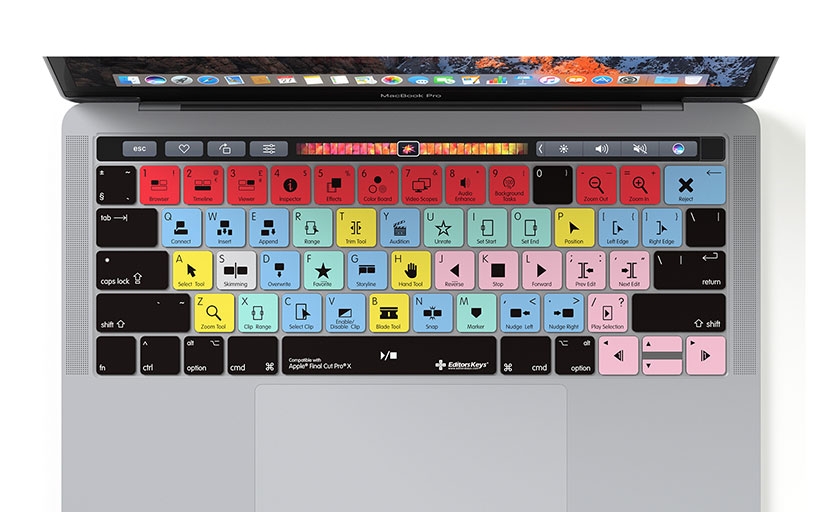 Keyboard skins for new MacBook Pro
If you've splashed out on the new Apple MacBook Pro with its new super-fast Touch Bar, and use Final Cut Pro X, Logic Pro X or Adobe Creative Cloud editing programs, you're in luck. The popular Editors Keys shortcut keyboard covers are now available for your new Mac laptop. Read the full press release below:
Editors Keys launches the world's first shortcut keyboard covers for the exciting new Apple MacBook Pro with Touch Bar. The new keyboard covers protect your MacBook Pro from dust and liquid spills, in addition to offering over 150 shortcuts for programs such as Final Cut Pro X, Logic Pro X and the Adobe Creative Cloud suite of programs.
 The new covers fit into the larger trend of Apple's focus on visible program shortcuts to help users become more productive on their machines.
Apple recently updated its MacBook Pro range to feature a new Touch Bar in place of the traditional physical 'F' keys. The touch bar can be programmed to show a few handy shortcuts for the program you're using, so the new cover is the perfect accompanying tool for video editors, audio producers and graphic designers a like.
 "We're thrilled to be launching these brand new covers around the world today. With over 250 shortcuts on the covers and added dust protection, this is going to be a great product for creatives the world over." Says Mark Brown, Founder of Editors Keys.
 Along with the advantages of having colour coding, shortcut icons and text references – The covers act as an ultra thin protection layer, which is custom moulded to fit the MacBook keyboard precisely. The covers are cut so precise, that they don't add any physical typing distraction.
Priced at just £27.99 the new covers are an affordable accessory for your MacBook Pro and will fit both 13" and 15" models. If you're looking to speed up your work or simply protect your Mac, they are most certainly a must buy for 2017.