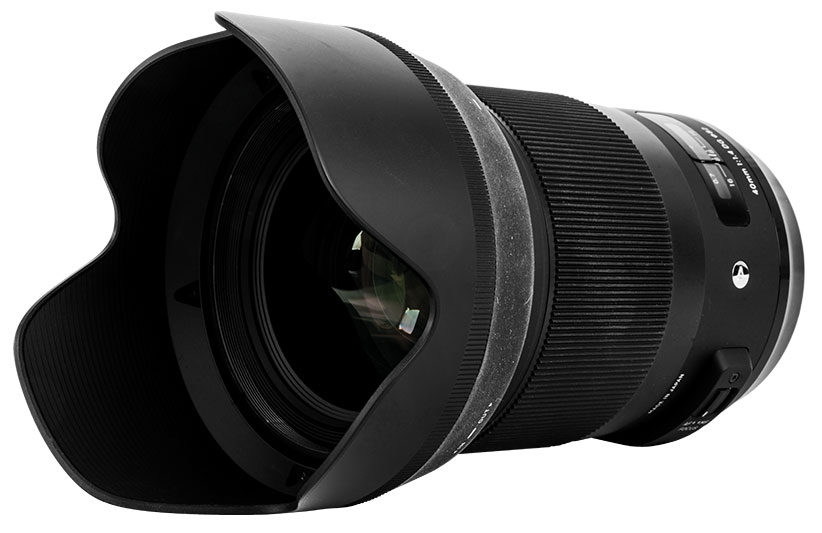 Sigma 40mm f/1.4 DG HSM Art
Sigma's Art lenses not only set the stills photo world alight but have been a big hit with filmmakers using them on DSLR and mirrorless cameras. It was no surprise Sigma rehoused them in cinema-style metal bodies with geared manual focusing as real cine lenses, and they have been getting rave reviews. But the price is high. 
Sigma has now built its first lens specifically as a manual focus cinema lens for the ultimate optical quality, then fitted this glass into an Art-style AF lens body. That lens is the new full-frame 40mm f/1.4 DG HSM Art. And thankfully, at £1099/$1399, it's around a third of the price of the cinema version, which is out soon.
Sigma has the MTF charts to prove this is the company's highest-resolving lens ever, and our tests show it's not lying. It's stunningly sharp and produces very detailed, crisp images with lots of contrast. The images are sharp across the whole frame, only losing out slightly at very wide apertures. There is hardly a whiff of distortion and coma is absent. There is an almost total lack of chromatic aberration, but there is some vignetting at the widest apertures, but this disappears by f/2.
We used a Canon EF mount version, but on a Sony A7R III with Sigma's MC-11 converter. There are no profiles for the lens as it's so new, so we had to manually apply a tad of vignette removal. But you might like the slight darkening of corners.
Flare is well controlled due to the lens hood and lens coatings, and looks OK when you provoke it enough with a bright highlight. With a f/1.4 aperture and a nine-bladed diaphragm, it produces beautiful bokeh.
Quality like this comes at a cost in terms of size and weight, but the advanced Sigma outperforms any 50mm standard photo lens. The Sigma has more glass, in more groups, with a more advanced optical design. It's also a 40mm lens, not a 50 – a popular length with filmmakers; on a Super35 cinema camera it roughly equates to a 55mm lens.
The 40mm f/1.4 is Sigma's first lens built as a manual focus cinema lens then changed to add AF.
On a full-frame camera like a Canon EOS 5D or Sony A, 40mm falls between the standard view of the 50mm and the documentary shooter's traditional favourite, the 35mm. In use, it feels like you're using a 50mm, but can get more of the scene in shot. 
One reason to use such a fast lens is to shoot wide open for shallow depth-of-field. That makes focusing critical, and on a mirrorless camera like the Sony we used, it nailed focus every time as we switched between face detect and normal single-point AF. 
The lens uses a Hyper Sonic Motor, which is fast and quiet, and the autofocus can be overridden by manual control by turning the focusing ring.
It focuses as close as 40cm, roughly the same as most 50mm standard lenses. At this distance, focusing becomes critical. Using it in manual focus is less impressive, especially compared to a proper cinema lens. 
There is quite a long throw, but anyone who has tried manual focusing a fly-by-wire DSLR-style lens knows it's not ideal. For that, you need to save up for the cine version. The lens also has no built-in image stabilisation, so mirrorless cameras with in-body stabilisation have a clear edge here. But if you want a stunning performer and don't mind the bulk and price, the Sigma is a stunner.
Specifications
Mounts: Canon EF, Nikon F,
Sony E, Sigma
Aperture range: f/1.4-16
Optical construction:
16 elements in 12 groups, 3 FLD and 3 SLD elements
Aperture blades: 9
Close focus: 40cm/1.31ft
Filter size: 82mm
Dimension (LxD):
87.8x131mm/3.46×5.26in
Weight: 1020g/2.65lb
PRO MOVIEMAKER RATING: 9/10
Amazing image quality from the glass inside Sigma's best-ever cine lens, but a third of the price
+ Pros: Stunning optical quality, great value
– Cons: Heavy, not ideal for manual focus
PRICE: £1099/ $1399