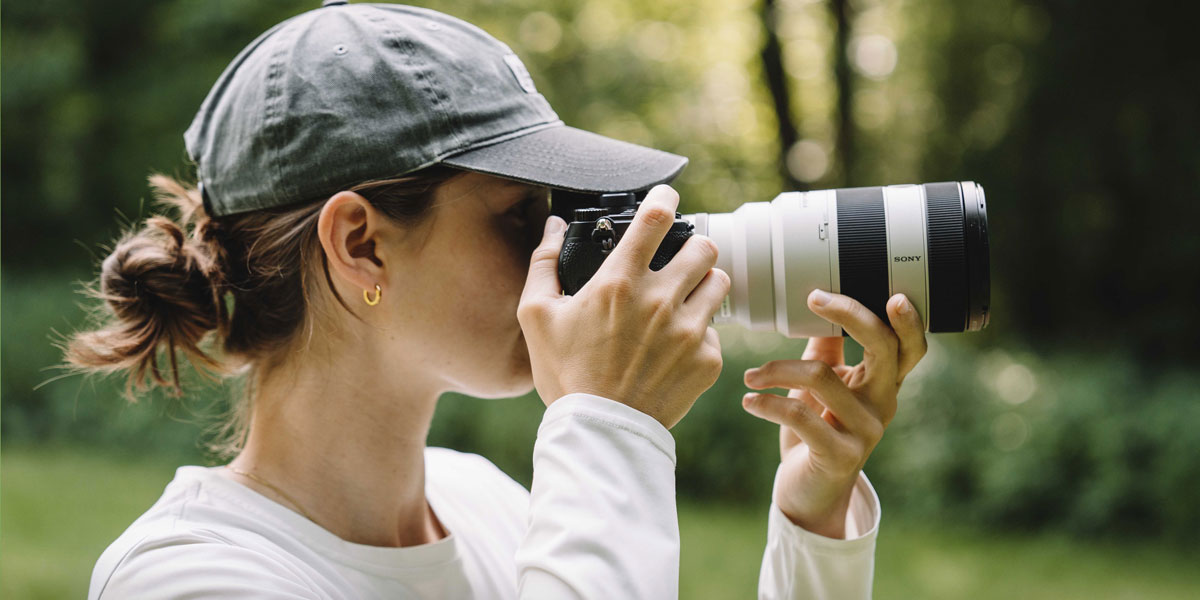 Sony announces A6700 camera and additional accessories
Posted on Jul 14, 2023 by Samara Husbands
A camera, a lens and a compact shotgun microphone form expand Sony's offering for vloggers and videographers
A6700 Camera
As technology continues to rapidly make headway, Sony is due to launch its 'most advanced APS-C camera ever', the A6700. For the first time, it incorporates AI-enabled subject-recognition and the latest still image and video performance into a compact APS-C body and utilises the latest capabilities from the full-frame Alpha and Cinema Line camera series.
For effective imaging performance, the A6700 combines an APS-C black-illuminated Exmor R CMOS image sensor (with 26.0 megapixels) with the powerful BIONZ XR processing engine. The camera supports high-resolution 4K video recording up to 120fps, a wide latitude of 14+ stops for capturing detail in low light and features the S-Cinetone picture profile from the pro Cinema Line. This promises refined imagery that doesn't require colour grading while delivering accurate representation of human skin tones.
Standard ISO sensitivity spans 100-3200 for both stills and movies, allowing high-sensitivity, low-noise shooting, while enhanced colour reproduction ensure subjects are captured with natural hues. The integration of AI is becoming more common and the A600 inherits its processing unit from the a7R V for high accuracy real-time recognition AF. The camera can identify humans, animals, birds, insects, cars, trains and aeroplanes and when paired with the new FE 70-200mm F4 G OSS II, it promises 105-300mm focal lengths in 35 full-frame equivalent. It is compatible with a range of E-mount lenses.
The camera weighs 493g and adheres to a compact design. It features a touchscreen vari-angle LCD monitor and a modern menu aimed at effortless operation. A customisable front dial and switching dial for still images, movies and S&Q modes are also included. An optical 5-axis in-body image stabilisation system with 5.0 stops of shutter speed gives an advantage for still and Active Mode contributes to stable footage. The camera supports the Creators' App to upload videos and image to cloud. Sony is also planning to roll out a new version of the 'Camera Remote SDK' this month for remote operation and setting adjustment.
With this release, Sony has stayed committed to its environmental pledges, using a significantly higher amount of recycled plastic in its cameras.
ECM-M1 Shotgun Microphone
For videographers and vloggers Sony will release the ECM-M1 shotgun microphone for eight sound pickup modes including stereo.
The microphones ultra-directional mode promises to capture targeted sound from the front (within a 30-degree width) while supressing other sounds, making it a good choice for when the subject is situated in front of the camera, like interviews and selfie shooting.
A mode dial and locking mechanism promises easy, secure switching of sound pickup modes and features noise reduction utilities including noise cut filter to reduce background noise and a low-cut filter to minimise vibration and low frequency noise. These filters maximise audio quality at the recording stage and reduce the need for complex post processing.
It supports four-channel recording – for compatible cameras only – for safety recording in omnidirectional mode on channels 3 & 4 and selected directivity on 1 & 2.
To use, clip the microphone into the Multi Interface Shoe for direct power and audio connection without the need for cables and batteries. Here, the audio signal is directly transferred to the camera in digital form to eliminate degradation. If you've got an incompatible camera, simply flick a switch to use an analogue interface.
Pricing and Availability
The new A6700 will be available at the end of July for approximately £1450 (Body only). It will be sold at a variety of Sony's authorised dealers throughout Europe.
The new ECM-M1 will be available at the end of July for approximately £349. It will be sold at a variety of Sony's authorised dealers throughout Europe.
FE 70-200mm F4 Macro G OSS II lens
Sony aims to expand the range of shooting possibilities with FE 70-200mm F4 Macro G OSS II lens. The lightweight optical is the world's first half-macro and caters to sports, landscape, wild bird and macro photography.
With the same high-speed and high-performance capabilities associated with G lenses, the F4 Macro G OSS II is the world's first zoom lens to offer half micro capability throughout the zoom range. Purchase a teleconverter (sold separately) for super-telephoto shooting up to 400mm and life-size 1:1 magnification macro shooting, again, spanning the entire zoom range.
The aspherical lens contributes to uniform corner-to-corner resolution and contrast, while ED glass supresses chromatic aberration. With an additional teleconverter (sold separately), you can capture distant subjects in a larger size.
Sony's unique XD (extreme dynamic) linear motor increases the autofocus speed by up to 20%. Tracking performance for moving objects has been worked on, supposedly improving twice as much compared to the previous model. Focus tracking during zooming has also been greatly improved. When paired with the flagship Alpha body, it is possible to shoot high-speed bursts at up to 30fps. A new MODE3 setting of SteadyShot has been added that optimises the camera shake correction algorithm, handy when shooting moving subjects.
Intuitive and secure operability supports photographer and videographers, alongside a focus range limiter and a full-time DMF switch that instantly changes from AF to MF. A detachable tripod mount included in the box provides a sense of stability during super-telephoto and macro shooting.
The front lens has a fluorine coating, which makes it easier to remove fingerprints, dust, oil and other contaminants from the lens surface. Dust and moisture resistance design provides extra reliability and outdoor use in challenging conditions.
Pricing and Availability
The new FE 70-200MM F4 Macro G OSS II will be available in September for approximately £1750. It will be sold at a variety of Sony's authorised dealers throughout Europe.
For more information head to the Sony website.