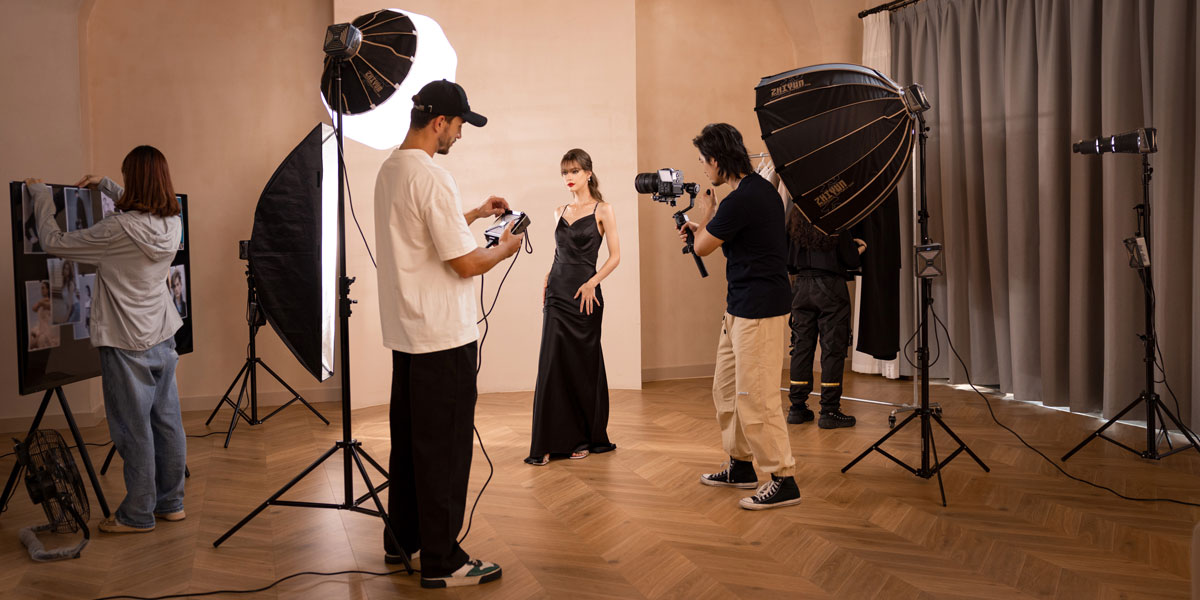 ZHIYUN releases three filmmaking products in triple launch
Posted on Jul 13, 2023 by Samara Husbands
The trio is comprised of a CRANE 4 gimbal and two filmmaking lights, aimed at professional filmmakers
ZHIYUN is a familiar name to many and are dropping three new products made for the professional filmmaking industry. We're looking at a gimbal, and two pro-grade lights.
First up, the CRANE 4 gimbal, which is geared towards DSLR and cinema cameras. Penned as 'lighter, more capable and empowering', ZHIYUN continues its commitment to portable stabilisation systems. It features built-in balance indicator lights at each motor for at-a-glance access to calibration status and Bluetooth connectivity for direct shutter control to supporting cameras. Operators can start or stop recording and trigger photo capture remotely at the click of a button.
Less Weight, More Ergonomic
Weighing slightly less than the previous iterations, it appears to be easier to operate one-handed. The CRANE 4 has an adjustable sling grip and an ergonomic wrist-rest that supports precise angle adjustment and precise movement control. The sling grip can be synched with the gimbal's central axis, dependant on the user's preference. Switch between landscape or portrait modes via the quick release module when required.
Next-Generation Precision & Performance
The CRANE 4 increases payload capacity, enabling it to lift and move heavier full-frame DSLR and compact cinema cameras, such as Blackmagic Pocket Cinema Camera 6K, ZCAM and SIGMA FP Series more accurately. That's thanks to the longer arm and stronger motors.
Easy To See Colour Touchscreen and PD Fast Charging
An integrated 1.22" colour touchscreen allows simple adjustment of balance and operating mode and to see real-time status information. Additionally, four high-capacity 18650 batteries provide up to 12 hours runtime and can be recharged in around 2 hours using a USB PD fast charging-enabled multi-device PD charger.
Built-in Fill Light
There is a built-in 10W fill light with maximum illuminance of 3200 lux, CRI 95+ and CCT between 2700K-5500K. The CRANE 4 can be paired with other professional accessories like remote monitoring, follow-focus motors and ZHIYUN's own TransMount Image Transmission system for a comprehensive ecosystem.
Price and Availability
The CRANE 4 alone costs £669 and the CRANE 4 Combo (with MasterMove accessories and storage bag) costs £749.
The CRANE 4 and CRANE 4 Combo are available from ZHIYUN website and Amazon UK stores.
MOLUS G200 and FIVERAY V60
The second and third products are lights promising to offer unparalleled control and freedom for content creators. The MOLUS G200 is a palm-sized 200W COB video light with turbo-charged 300W MAX Extreme mode, while the FIVERAY V60 Led light wand emits 100W power in MAX Extreme mode. They promise 'power, portability and reliability', largely thanks to ZHIYUN's proprietary DYANVORT cooling technology which prevents overheating and flickering. The simple to use lights are aimed at content creators searching for efficiency and control in the creative process.
FIVERAY V60
The FIVERAY V60 light wand succeeds the F100, which set a benchmark for portable light sticks. The V60 is versatile and convenient with a compact display screen and intuitive dial, it targets bloggers and content creators. Explore brightness and colour temperature in any environment including dimly lit spaces and outdoors at dusk. For those looking for a more intense lighting experience, MAX mode offers a surge of up to 100W by plugging the V60 into a 24V DC power adapter.
The FIVERAY V60 is designed to accurately reproduce the colours of any object with its exceptional colour rendering capabilities, CCT of 2700K-6500K, TLCI ≥98 CRI ≥96, giving shots depth and detail. Additionally, built-in multiple light effects and accessories transform shoots with creative atmosphere options. Effects include SOS, TV, broken light bulb, candle, fire and lightning, while music sync mode aligns the light with beats. The V60 is compatible with ZHIYUN accessories including barn doors to the grid. The rich selection of tools can offer users exceptional versatility and creativity to shape their lighting needs for outstanding shots.
From DC power to USB charging, the power supply has you covered to operate it while still charging – you needn't worry about running out of battery.
MOLUS G200
Engineered for a plethora of needs including live streaming, interviews, portrait photography, commercial ads and TVC shoots, the MOLUS G200 is a stylish option.  Weighing 2.209kg, it is portable enough to travel with and comes equipped with a controller, a rope and a display screen to access the whole range of lighting and dimming functions. At MAX power (200W), it emits 300W of lighting power.
At peak brightness, the G200 offers 9460 Lux (without reflector), 61500 Lux with standard ZHIYUN reflector (at 1m), and in MAX Extreme mode it offers 13800 Lux (1m without standard reflector and 85800 Lux (1m, with ZHIYUN standard reflector). Colour correlated temperature (CCT) ranges from 2700K-6500K and colour rendering index (CRI) of ≥95 and a television light consistency index (TLCI) of ≥97 for accurate rendition of subject's colours.
There are three lighting modes. In normal, you can turn on the light and adjust brightness to desired level. Live mode automatically turns on as soon as the device is powered on. Music mode syncs lighting with beats for a dynamic and immersive experience for your audience.
The G200 comes with a stand offering 180° flexibility. Full rotation capabilities of the adjustable arm make it adaptable to any setting and a universal lighting umbrella slot adds convenience. The G200 is compatible with the Bowens mount accessories by ZHIYUN and other Bowens accessories. ZHIYUN's ZY Vega app supports Bluetooth Mesh networking, allowing remote dimming and switching between presets.
Pricing
The FIVERAY V60 kit includes: V60 Light Wand, USB type C cable, Quick start guide, storage bag, Power adapter, Adapter pouch, Barndoors, Diffuser, Grid, Modifier Manual.
The ZHIYUN FIVERAY V60 is priced at: £169 and £249 (combo).
The MOLUS G200 kit includes: MOLUS G200 COB light; G200 Power adapter; Power cable; ZHIYUN standard reflector; Quick start guide and storage bag.
MOLUS G200 is priced at £369.
All products are available now on the ZHIYUN website and Amazon stores.