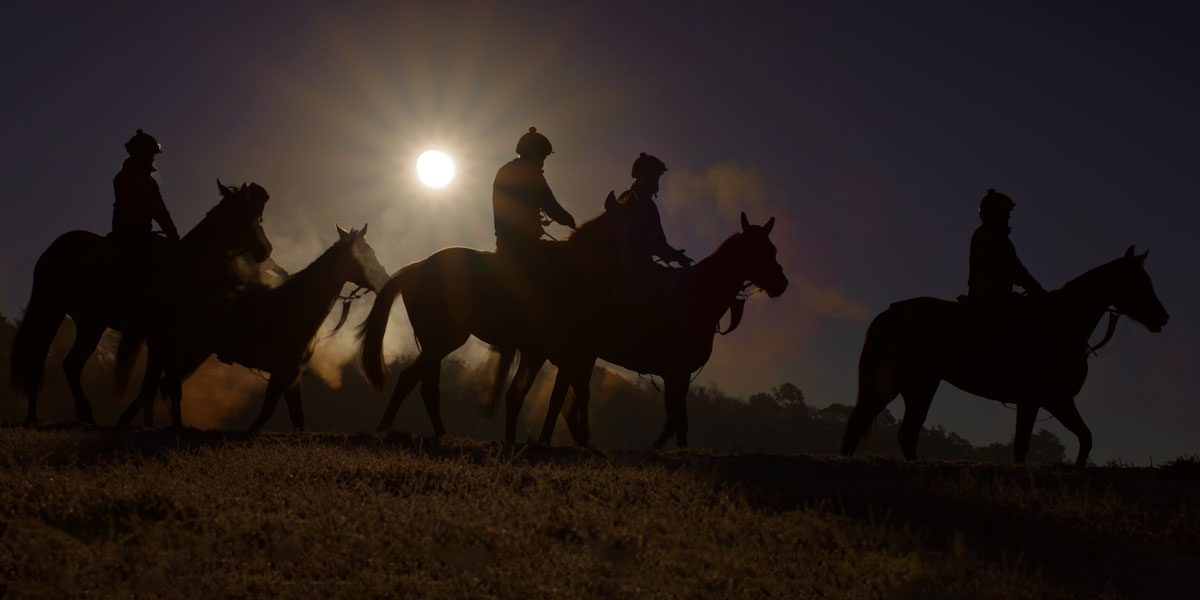 The Mane Event
Posted on Apr 8, 2023 by Pro Moviemaker
David Spurdens was saddled with the responsibility of filming the world's most valuable stallions
Words Adam Duckworth
Horse racing is often called the sport of kings, and in this case it's all about royal blood. Some of the world's most valuable stallions are owned by His Highness Sheikh Mohammed bin Rashid Al Maktoum of Dubai, through his Darley and Godolphin racing and breeding operation. This international syndicate has bases globally and helps to breed the incredible horses you see on a day at the races.
When there is a mare that is to be bred from, the search begins for a stallion that the owner hopes will bring them a winning racehorse, and Darley has some of the world's best at its stud farms. These stallions can command massive fees to sire speedy offspring. In the case of world-famous ex-racehorse Dubawi, the price is £350,000, making him the most expensive stud in the world for breeding this year. 
When choosing a stallion to breed from, owners look at previous form and use their intuition. But it's such big business they also carefully study the stallion's musculature and bone structure. These former racehorses are increasingly thickset and much more muscular than in their racing days – when they were young, fast and lean.
That's where action sports filmmaker David Spurdens comes in, as he films these incredible beasts charging across their vast paddocks.
"It's a display of power that has to be seen in person to be truly appreciated," he explains. "Once released, these stallions do what they want. They display to the other stallions in nearby paddocks that they are a force to be reckoned with, much as they would in the wild.
"You never know which direction they will run. Despite being groomed for the shoot, sometimes they just feel like rolling in the mud, meaning the filming is instantly postponed to another day. The next day, they may do the same and all you can do
is wait, when laughably, they may do it again!
"They can't be coerced into running. They are individually worth many millions, and looked after by teams of skilled people whose job is to prioritise their well-being. Upsetting one is not an option."
Spurdens is tasked with capturing the beautiful, slow-motion footage that Darley's potential clients want to see. 
"You'd think that given their speed and prowess, this should be easy to film. Of course it would be if I were a horse whisperer. Then I could make them run a certain angle at a certain speed and do a little dance so my zooms, pans and focus pulls are perfect every time," says Spurdens. "Instead, some mornings they run at full tilt, other times a leisurely gallop, sometimes not at all."
Capturing high-speed action has been a lifelong passion for 58-year-old Spurdens, who has spent his whole working life as a pro photographer, then filmmaker. "In those early days as chief sports photographer at the Sunday Express, I was covering all the major sporting events with a manual focus 400mm f/2.8 lens, on film cameras. There was no room for focusing errors, no exposure latitude and no way of looking at the shot taken," he says. "At the FA Cup Final, you had the first five minutes of the game to shoot the back page sports picture for the first edition, as the motorcycle despatch rider was waiting to rush it back to the darkroom. 
"It was the same at Wimbledon, the Ryder Cup or the rugby at Twickenham. It was unforgiving in an industry where your results are either great or unusable, with nothing much in between. You had to perform consistently to stay in the role."
Following that job, Spurdens spent a number of years shooting winter sports in the Alps and doing air-to-air photography for plane manufacturers' advertising campaigns. Then with the advent of digital video, he felt it was time to transition to the moving image. Those manual-focusing skills turned out to be a great advantage.
"Whether it be stallions, skiers flying off a cliff in the Alps or a tennis player sliding across a clay court, shooting in manual focus has always been king," he says. "However, I have not always got it right and those few occasions are still irking even after 30 years.
"Autofocus is getting there and sometimes I'll use it if I have repeatable scenes so I can focus on framing. Employing a focus puller in the filming I do would be a tough call; the lenses are often long – occasionally up to 800mm – the depth-of-field is small and the subject is moving at pace.
"A still I took of Peter Schmeichel saving a goal in 1995 won first place in the World Press Photo sports category and an International Olympic Committee 'Gold Lens' award. I was sat next to another photographer, who was using a new autofocus 400mm f/2.8, while I had the manual focus version. My shot was pin on the goalie, his autofocus hit the back of the net leaving the goalie soft. So my photo took the accolades around the globe," says Spurdens.
"Autofocus has come on leaps and bounds since and my Canon EOS R5 C with the RF 100-500mm is lightning fast for stills and sticky on the subject. Would I use this facility in a one-off shot when an actor is giving his career's best line? No way!
"We are lucky to live through such an amazing technological industry revolution but I for one would be happy if everything went back to manual and film! It seems technology is both a blessing and a curse, as is everything. Thank God we still have a story to tell."
When it comes to camera choice, Spurdens invests in the very latest technology and had four cameras on hand for his stallion shoots. He took his collection of a Red V-Raptor, Red Komodo, Canon C300 Mark III and Canon R5 C. There was a Zeiss CP.3 to cover the Raptor's 46.3mm sensor, plus Canon RF glass. The C300 Mark III had an 18-80mm CN-E and the rest was Canon's EF-mount L glass which can be used via adapters.
"All cameras are placed on top-of-the-range Vinten and Sachtler sticks, or a DJI gimbal. The monitors are the excellent SmallHD Cine 7 and 702 Touch for bright daylight viewing, or a Zacuto EVF for those really sunny days – or when I just prefer it," says Spurdens. "A monitor is great for when something special happens; the client can review it and be excited that their budget is being well spent."
For the stallions project, the main lens turned out to be the Canon RF 100-500mm, a zoom that's really a stills photography lens. "It was because of the photographic focusing ring, as it's a very short throw. With the Raptor set at 4K/240p HQ, the zoom means it would go past any vignetting as it is designed for 35mm full-frame sensors. A variety of NDs thanks to a Polar Pro ND system were used, along with a gradual ND to darken the clouds – for a moody look which we all love."
Depending on how the horse was performing, sometimes Spurdens chose the Canon C300 Mark III; controlling the 18-80mm CN-E zoom with the rocker under his right hand, focusing with his left.
"This paid off well with one particular, feisty stallion who ran close. The run produced a shot the client loved and is being used a lot. I'm lucky to have these four cameras to choose from on a daily basis. The familiarity of them all allows me to make fast, intuitive adjustments," says Spurdens.
"To show the stallions in all their splendour and glory, super slow-motion rules. It allows the viewer to see every muscle, tendon and their elegant running action. Watching the stallions almost flying over these huge paddocks is inspiring, a vision of sheer capability and noise that not many animals can provide."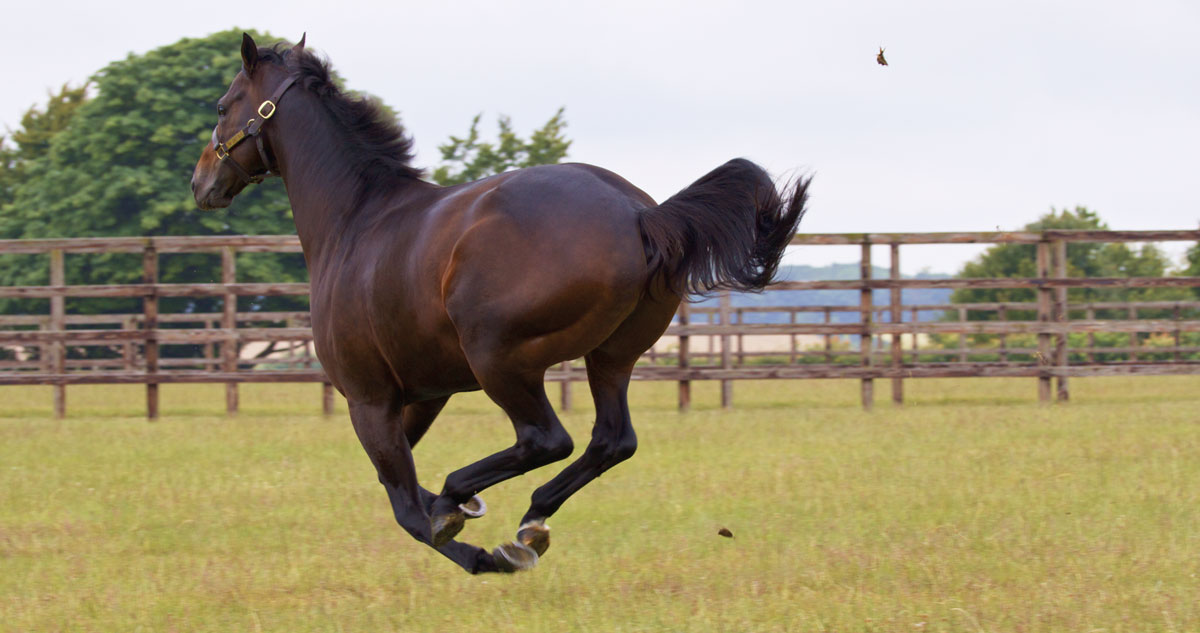 Occasionally he dropped down to 2K resolution at 480fps which gave some astounding footage, but 4K/240p seemed to hit the sweet spot in terms of resolution and frame rate. And the crop as the Raptor goes from 8K to 4K to 2K is something that was used a lot to gain extra reach to the subject.
"It gives the extra lens range and on many occasions it produces shots I would not otherwise get," he says. With changeable weather, especially at Kildangan in Ireland, Spurdens says he never lost a clip when using Red's R3D Raw files. "From black clouds to the sun popping through a gap, I can change everything in post production if there is an unexpected lighting change. Having said that, nailing the correct exposure for me is everything; I want the maximum range for post. I am a stickler for this from transparency film days. But if the sun does come out halfway through a stallion's run, I know I can save the shot." Everything was pushed through Red's IPP2 pipeline in Resolve and is edited on a 5K iMac and LG OLED screen.
The Red V Raptor may be an expensive purchase for most independent filmmakers, but Spurdens loves it. "I'm never left asking for more features in a camera. It's been awesome in a variety of conditions. From a recent month in Australia filming surfing in 40°C, to -10°C in snow, it performs to the highest degree," says Spurdens. "Its little brother, the Komodo 6K, is fantastic for action as well. I will use the Komodo over the Raptor in any shot that requires a global shutter and not for a second feel it is inferior. These two cameras make the perfect companions in any situation.
"I sometimes hid the Komodo behind chestnut fence posts in the hope a stallion would make a close pass, as you can't lie down this close – horses think that something is about to pounce on them.
"This paid off once with the star stallion, Dubawi, as he ran close to the fence. And there were no rolling shutter effects on the legs. After all, I'm there to capture their physique, so distorted, long, bendy horse legs would just look really silly. The Komodo's global shutter is just great – and the small form means it can cram in almost anywhere."
The resulting footage is stunning, and the client loves the quality and look of the combination of cameras and lenses that Spurdens chose, for what ended up as a long project over several locations in tough conditions.
"I enjoy the results of these difficult action shots, as they stretch my skills – which makes them interesting and really challenging," he enthuses. "It's tough if something goes wrong and there's no second chance, but that is the nature of the profession. It produces really cool shots and sometimes something really glorious happens that makes all the extra effort worthwhile." Fit for a king, you might say.
David Spurdens is available for films and specialist action filming.
For more information head to rapttv.co.uk and davidspurdens.com.
Originally featured in the March/April 2023 issue of Pro Moviemaker.