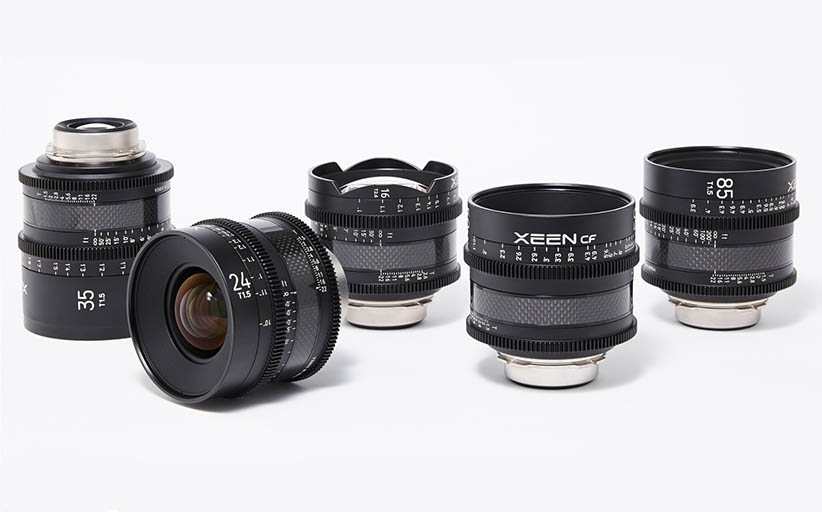 Two new focal lengths added to the Xeen CF prime lens line-up
The new additions complete the line-up of 5 Xeen CF models
Samyang introduced the Xeen brand in 2015 to expand the cinematography field. As a result, Xeen CF was introduced in late 2019, with a compact design and flexible usage, integrating robust carbon fibre, whilst maintaining high image quality for large sensors.
The two new additions include the 16mm T2.6 and 35mm T1.5 cine primes for PL Canon EF and Sony E mount, completing the Xeen CF cine line-up. The three other focal lengths include the 24mm T1.5, 50mm T1.5 and 85mm T1.5.

Above: The Xeen 35mm T1.5 cine prime
Compact and flexible
Xeen "CF" stands for "compact and flexible". The Xeen CF 16mm weighs 0.9kg (2.0lbs) and measures 82.3mm (3.24in) height. This compact size is key for large cinematography camera set-ups, but also for drone and gimbal set-ups which require a more compact and lighter lens.
Above: The Xeen 16mm T2.6 cine prime
Xeen CF is also compatible with large image sensor cameras, with its 43.3mm image circle. The use of carbon fibre in the Xeen CF lens barrel makes it lighter, but sturdier than others with metal barrels and gives a touch of future-oriented design.

8K capture
With 8K support and X-coating technology, internal light reflections are effectively controlled to create a distinctive look. They provide smooth bokeh when wide open and become sharp when stopped down.

Main features:
Bright T1.5 and T2.6 apertures for low-light filming and control over feeling of depth.
Compatible with large image sensors (43.3mm image circle).
X-Coating provides a distinctive look, controls reflection and produces dramatic images.
Eleven aperture blades create beautiful, circular bokeh.
Carbon fibre in lens barrel delivers light weight and durability.
Available in PL, Canon EF and Sony E mount.
Luminous paint used for model and distance markings allow easy use, including in low-light environments.
Focus and aperture ring locations uniform across all models, with improved gear design and weighting for smooth rotation.
Consistent 200-degree wide angle of rotation enables fine focus adjustment.
Bi-directional scale on both sides of lens body enables easy verification and operation.
Click here for more information about the Xeen CF cine prime range.