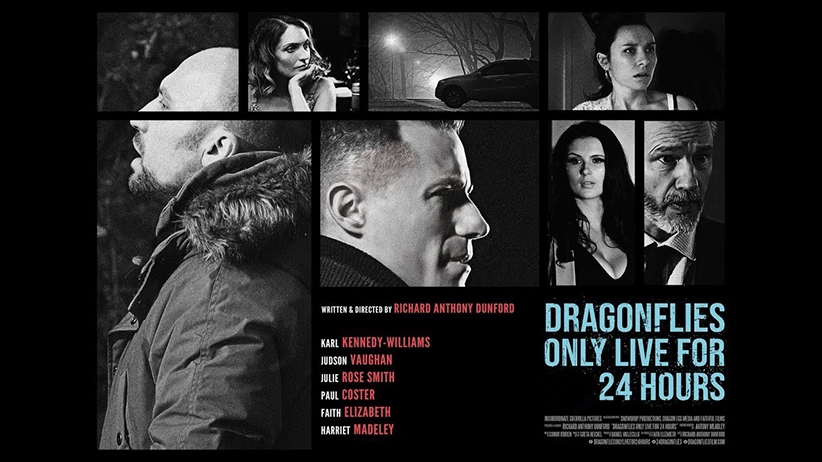 Unrestricted View Film Festival 2019 Announce Full Programme for April Event
The Unrestricted View Film Festival commences Tuesday 23rd April – Sunday 28th April 2019 with a full programme including independent and multi award winning film; Dragonflies Only Live For 24 Hours…
Dragonflies Only Live For 24 Hours is a thrilling mirco-budget independent feature film drama that was shot over the course of one year, using only volunteers. It follows two ambitious detectives' (played by Karl Kennedy-Williams and Judson Vaughan) as they stakeout a potential drugs ring.
Unrestricted View in collaboration with FMW Films is a collective of award winning theatre and filmmakers, established in 1997 to write and produce innovative and exciting new work. Combined, the companies have produced over 20 plays, five new writing festivals; three feature length films, four short films and hundreds of comedy shows, including the feature film, The Man You're Not, which won Best British Feature at the London Independent Film Awards in 2017.
The Creative Director of the festival, James Wren, says:
"The UVFF festival is run by filmmakers for filmmakers we're passionate about celebrating all aspects of independent film making and creating platforms for up and coming artists. Year upon year, the festival keeps getting bigger and better and this year, and really excited by the addition of the Islington Vue as a venue to showcase our magnificent slate of short films. The festival programme includes creative teams from across the world. We're also hosting events and workshops throughout the week at The Hen and Chickens Theatre, so there is a lot for people to get involved in!"
The UVFF Awards will be presented on Sunday April 28th, at The Hen and Chickens, after careful deliberation by the panel of judges made up of novelist Martina Cole (Novelist), TV producers Barry Ryan & David Walton, former producer of BFI London Film FestivalEmilie Arnold, award winning writer Si Spencer, award winning actor Richard Glover, film director Mark Lo, agent Corrie McGuire, award winning actress and director Emily Haigh and actress Angela Peters.
Awards & Prizes
Best Feature
Best Foreign Feature
Best Short
Best Foreign Short
Best Web Series
Best Documentary
Best Documentary (Short)
Best Director (Feature)
Best Director (Short)
Best Actor (Feature)
Best Actress (Feature)
Best Actress (Short)
Best Actor (Short)
Best Score
Best Cinematography
Best Editing
Best Screenplay
Best Art Direction
Best Make Up/Costume
Best Animation
Festival Director's Choice
Best Make Up/Costume
FULL FESTIVAL PROGRAMME:
Tuesday 23rd April – launch night
Screen on the Green:
7:00pm – Dragonflies Only Live For 24 Hours (Dir: Richard Anthony Dunford, UK) – Feature (88 mins)
Wednesday 24th April
The Hen & Chickens:
5:00pm – Documentaries 1 (81 mins in total)

Accidental Diplomats (Dir: Darryl Marshak, USA)
Voices From The Mine: Artisanal Diamonds and Resource Governance in Sierra Leone (Dir: Roy Maconachie, UK)
The NO-MAD chronicles: The MERCYnaries of WAR (Dir: Mihail Kunchev, Bulgaria)

7:00pm – Temptation (Dir: Richard J Moir, UK) – Feature (60 mins)
8:30pm – The Discarded (Dir: Piotr Skowronski, Canada) – Feature (86 mins)
Thursday 25th April
The Hen & Chickens:
3:30pm – Documentaries 2 (80 mins in total)

We Have A Dream: Women's Hopes & Conflicts (Dir: Zlila Helman, Israel)
Coming Home (Dir: Rob West, UK)
Sian: Portrait of a Photographer (Dir: Dylan Friese-Green, UK)
Abalon (Dir: Vahid Keshavarz, UK)
Pilsen Vintage (Dir: Fernanda Terepins, USA)
We Can Dream (Dir: Dae Ryun Chang, Republic of Korea)
Counter//Balance (Dir: Anuradha Rana, USA)
2001: Pressure Makes Diamonds (Dir: Kazim Rashid, UK)

5:00pm – Barren and Empty The Sea (Dir: Lucas Parnes & Jesus Serna, Spain) – Feature (92 mins)
7:00pm – Some Kind Of Love (Dir: Jack Grewar, UK) – Feature (86 mins)
9:00pm – The Island of Evenings (Dir: Garry Miley, Ireland) – Feature (72 mins)
Friday 26th April
The Hen & Chickens:
3:30pm – Web Series (80 mins in total)

Rebound (Dir: Andrew Ball-Shaw, UK)
Just Saying (Dir: Keiran Bourne, UK)
Sagesse2Rue (Dir: Patrice Anselme, France)
Subverse (Dir: Joseph White, UK)
Unbelievers (Dir: Matthew Colclough, UK)
SK&J (Dir: Jenn Liu & Susan-Kate Heaney, USA)
Geoff & The Ninja (Dir: Jeremy Abbott & Jonathan Chuby, Canada)
Brie Can Do It (Dir: Tony Santiago, USA)
5:15pm – Shorts 1 (94 mins in total)

Gloomy Green (Dir: Forouzan Jalali, Iran)
Inverse (Dir: Ioanna Tsinividi, Greece)
My Ghoul (Dir: Andrew Robb & Jessica Gerger, Australia)
Gift For A Gloomy Day (Dir: Behzad Khodaveisi, Iran)
Pitfall (Dir: Ben Desmond, UK)
Resolve (Dir: Austin Dragovich, USA)
The Old Man and the Dead (Dir: Amirreza Falaki, Iran)
Sui Generis (Dir: Erin Pillock, USA)

7:00pm – Automata (Dir: Lawrie Brewster, UK) – Feature (94 mins)
9:00pm – Ginger (Dir: James C Boratyn & Melissa Boratyn, USA) – Feature (97 minutes)
Saturday 27th April
The Hen & Chickens:
12:45pm – Documentaries 3

Miniature Wargaming The Movie (Dir: Joseph Piddington, UK) – 106 minutes

3:00pm – No More Lights In The Sky (Dir: Danny Cotton, UK) – Feature (86 minutes)
5:00pm – Shorts 2 (90 mins in total)

 Carga (Dir: Yad Deen, UK)
Actually (Dir: Mart Sander, Estonia)
Beneath (Dir: Matthew Bell, UK)
Passage (Dir: Henry Colin, Canada)
Moments (Dir: Tristan Nelson, UK)
The Ladder (Dir: Daniel Hurford, UK)
The Art Collector (Dir: Lorna McCoid, UK)
Deep In The Woods (Dir: Simon Messingham, UK)

7:00pm – Shorts 3 (87 mins in total)

Not Yet The Hero (Dir: Peter Finlay, UK)
Disconnector (Dir: Sascha Kruger, Germany)
The Feather Pillow (Dir: Joseph Specker Nys, France)
Inside The Wardrobe (Dir: Sebastien Carfora, France)
Being Without (Dir: Martin Daniels, UK)
Take Me To The Waves (Dir: Jake Taylor-Kipping & Tom Stoker, UK)

9:00pm – Shorts 4 (91 mins in total)

Merry-Go-Round (Dir: Ray Wu, Taiwan)
151 (Dir: Natalie Foward, UK)
The Flag (Dir: Joe Bor, UK)
Mausoleum (Dir: Jamie Milligan, UK)
Rocket Boy (Dir: Simon Sorted, UK)
Things Left Unsaid (Dir: Theo Douchand, UK)
Hindsight (Dir: Oisin-Thomas O Raghallaigh, UK)
The Fucking Awful Mess (Dir: Ronald J. Wright, UK)
Some Ways To Get Rid Of A Body (Dir: Hannes Renvall & Ria Backstrom, Finland)
Islington Vue Cinema:
3:00pm – Selection of Award Nominated Shorts (90 mins in total)

Skip Girl (Dir: Annabel Vine, UK)
Panta Rhei (Dir: Wouter Bongaerts, France)
The Smell of Petrol (Dir: Branko Tomovic, UK)
Sump (Dir: Mike Wozniak, UK)
Regrets (Dir: AJ Sykes, UK)
Worthless (Dir: Dave Fulton, UK)
The Accident (Dir: Kellie Higgins, UK)
Paris You Got Me (Dir: Julie Boehm, Germany)
Sunday 27th April
The Hen & Chickens:
12:30pm – Documentaries 4 (92 mins in total)

bOObs: The War on Women's Breasts (Dir: Megan S Smith, USA)
Stride (Dir: Becky Robinson, UK)
Film the Change: PLASTIC (Dir: Laura Mahler, UK)
Max (Dir: Dan Besley, UK)

2:30pm – Sugar Cube (Dir: Luke Jacobson, Australia) – Feature (90 mins)
4:30pm – Shorts 5 (93 mins in total)

Two (Darren Baba, UK)
Say Your Name (Dir: Kieran Bourne, UK)
Mind F**k (Dir: Sherill Turner, UK)
The Son, The Father… (Dir: Lukas Hassel, USA)
Rembrandt's Etching (Dir: Thomas Grascoeur, France)
Tongue (Dir: Adriana Martins da Silva, Portugal)
Leprosy (Dir: Alimohammad Eghbalder, Iran)
The Feather Pillow (Dir: Joseph Specker Nys, France)

6:30pm – Shorts 6 (94 mins in total)

N (Dir: Iacopo Di Girolamo, UK)
Masters (Dir: Mark Ward, USA)
Forever Young (Dir: Evy Barry, UK)
Foxes (Dir: Tristan Taylor, USA)
Scarecrow (Dir: Lee Charlish, UK)
Seriation (Dir: George Bearpark, UK)
Knock At The Door (Dir: Michael Constable, UK)

8:30pm – AWARDS
Islington Vue Cinema:
3:00pm – Selection of Award Nominated Shorts

Anacronte (Dir: Raul Koler & Emiliano Sette, Argentina)
The Switch (Dir: Paul Burt, UK)
My Toughest Battle (Dir: Jim Doyle, UK)
The Third Hand (Dir: Yonatan Weisberg, UK)
Goodbye Mondays (Dir: Michael Salmon, UK)
Tolerance (Dir: Paul Laight, UK)
The Negotiator (Dir: Jehan Bokhari, UK)
Futures (Dir: Daniel Marc Janes, UK)
For more information and ticket prices visit www.unrestrictedview.co.uk