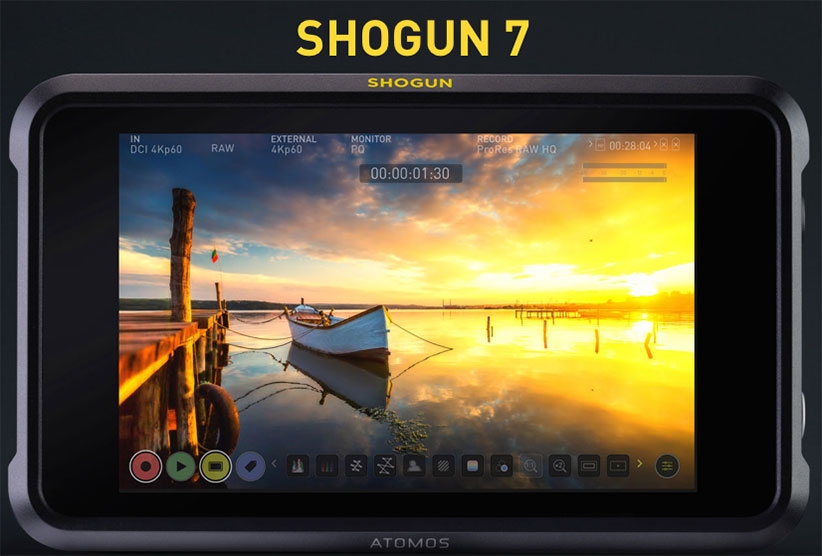 Atomos release new Shogun 7 HDR Monitor
Atomos have released the Shogun 7, a HDR 7 inch monitor-recorder-switcher designed for the film and video professional…
The Shogun 7 is a versatile monitor that can be used as either a stand-alone field monitor, recorder and switcher for event, documentary and live in-the-field storytelling; or as a tool for large-scale on-set episodic TV, film and cinema productions where multiple crew members such as focus pullers, grips and cinematographers require a consistent visual reference across the field monitor ecosystem.
With the new monitor from Atomos the user can monitor, record and switch between 4 live HD SDI video streams and one program stream for flexible in-the-field directing. Enjoy the freedom of asynchronous switching and gen lock in & out to connect to existing infrastructure. Shogun 7 offers up to HDp60 SDI ISOs x 4 recording. Once you've finished capturing your streams, just import the Atomos xml file into your NLE and your timeline populates with all your edits in place. Audio is also taken care of, with each ISO and program record, we insert the mixed analog stereo channels and embed 2 channels of digital audio in each recorded stream. The program stream always records the analog feed and switches between audio inputs for the on-camera audio to match the switched feed.
Capturing in 4K is now becoming a requirement for content streaming providers. With the latest HDMI 2.0v you can capture up to 4Kp60 on any available camera, or via Quad Link, Dual Link or Single Link. If slow motion capture is important to your production, Shogun 7 lets you capture 2K up to 240p. You can tag on-the-fly while recording for direct-to-edit look up in Final Cut Pro X, Adobe Premiere* and Avid Media Composer.
A new 360 zone backlight is combined with our new screen technology and controlled by the Dynamic AtomHDR engine to show millions of shades of brightness and color, yielding jaw-dropping results. It allows Shogun 7 to display 15+ stops of real dynamic range on-screen. The panel is also incredibly accurate, with ultra-wide color and 105% of DCI-P3 covered. For the first time you can enjoy on-screen the same dynamic range, palette of colors and shades that your camera sensor sees.
With Shogun 7 blacks and colors are rich and deep. Images appear to 'pop' with added dimensionality and detail. The incredible Atomos screen uses a unique combination of advanced LED and LCD technologies which together offer deeper, better blacks than rival OLED screens, but with the much higher brightness and vivid color performance of top-end LCDs. Objects appear more lifelike than ever, with complex textures and gradations beautifully revealed. In short, Shogun 7 offers the most detailed window into your image, truly changing the way you create visually.
Price: £1147/$1499
For more information visit their website.