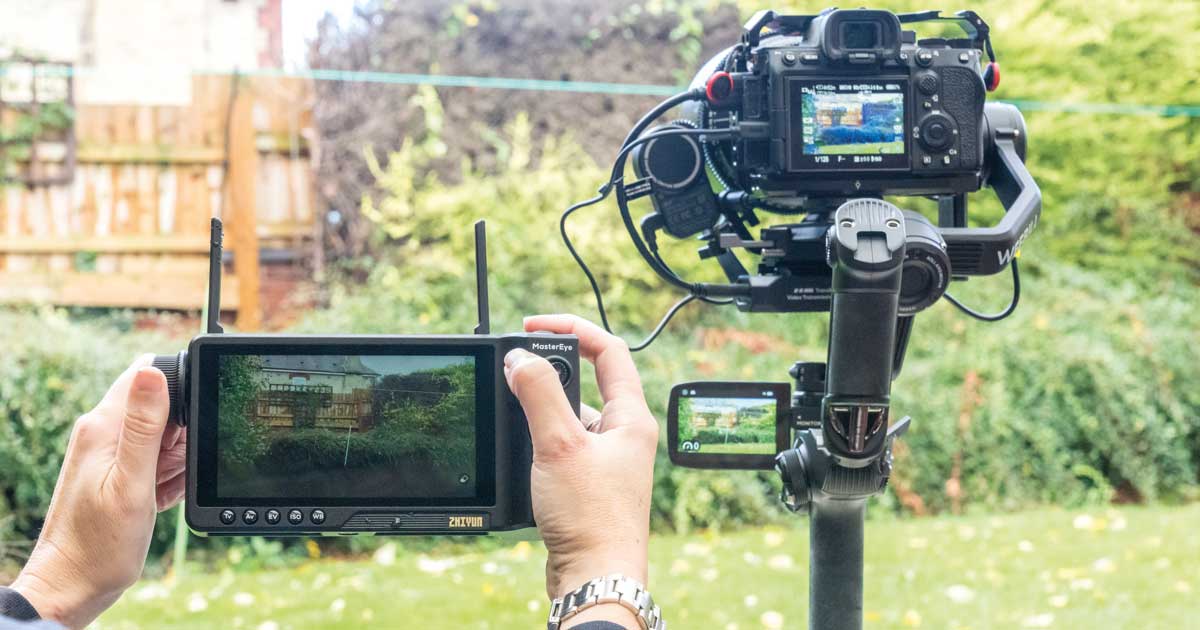 Mini Test: Zhiyun Weebill 2 Pro+ Kit
Posted on Jan 21, 2022 by Alex Fice
£980/$899
When it comes to great performance and value for money, the Zhiyun Weebill 2 Pro+ gimbal kit is a stunner. For less than a grand, you get a great handheld, three-axis gimbal, that can take a large mirrorless camera with a relatively heavy cine lens. 
It is the only motorised gimbal to have its own built-in monitor screen. It also comes with a great follow-focus bolt-on, image transmitter and separate handheld screen – in case you don't want to use the free app to control it. Zhiyun have cut no corners in making what many indie filmmakers believe to be the best all-in-one gimbal package on the market. It is supplied with all the cables you'd ever need, and a cool canvas bag that the whole lot fits into. After using the complete system, it's easy to see why it's so popular.
The heart of the kit is the latest Weebill 2 gimbal, which can be bought as a stand-alone purchase. Although it's slightly heavier than some rival systems, it packs more powerful motors, that allow it to control heavier camera systems. We used it with a Sony A9 and a 24mm f/1.4 G Master lens, with a variable ND filter – it had no problems at all. We then paired it with a Sony A7S III inside a SmallRig full cage, with a Samyang Xeen 50mm cine lens on the front. That's around 2kg/4.6lb, so is well within the maximum payload, and the motors handled it well. There was enough adjustment on all the sliding arms and plates to accommodate such a front-heavy combo.
The camera is mounted to a Manfrotto-fit plate, and it comes with a riser block in case you want to use it with the included transmitter. We went down this route, even without the transmitter fitted. 
As the kit comes with a small fold-out tripod foot, and all the axes can be separately locked, it's pretty easy to keep everything balanced. Instructions are included and Zhiyun has lots of online videos to assist. If you are used to balancing gimbals, it's easy. For anyone new, it takes a few minutes, but you soon get the hang of it.
At this point, many gimbals require you to download the app and then check calibration from there. Zhiyun does offer this with its free ZY Play app, which allows you to change settings and a lot more.
You can set all the usual gimbal modes like POV, pan only, locked and timelapse from the touchscreen
However, the Weebill 2's fold-out colour touchscreen means you can quickly and easily access all the settings and make changes. Apps are nice and some people love them, but it's so useful being able to change settings on the device itself.
You can set all the usual gimbal modes like POV, pan only, locked, timelapse and motionlapse features – all from the touchscreen. You can also set vortex-style spins, turn the camera for vertical video, or spin the gimbal around for selfie mode by clicking the front trigger button. The main functions, like changing the angle of the camera, are via a joystick on the left side of the grip handle. There is also a switch for changing gimbal mode and a wheel that can be set to alter various functions, such as ISO or aperture – once you plug in your camera via an included cable. Most modern mirrorless cameras are compatible – for a full list, visit the Zhiyun website.
The tripod base can be removed, folded in and screwed into the main gimbal handle, to turn it into a useful two-handed gimbal. The kit comes with a quick-release handle, a coldshoe, two Arri-style rosettes and a couple of 1/4in-20 threaded holes to add accessories. 
The older version of the Weebill had the controls on the handle back  rather than the side. Having them on the left is ideal for right-handed filmmakers, as you grip the gimbal with your right hand and the controls are activated by your thumb and fingers. It's probably not the best for left-handers, though.
The gimbal is rock-steady and super-smooth, with no jitters at all. One nice feature: push the on/off button twice and the unit stays on, but the motors are disabled. You can change camera settings, without the gimbal 'fighting' you.
Used as a stripped-down gimbal like this, the Zhiyun Weebill 2 is a great piece of kit that really helps take out the wobbles. It is controlled more easily than most rivals, thanks to the choice of screen or app. But it offers much more than this.
By fitting the wireless transmitter under the camera plate, or even on top of your camera – via the coldshoe – then the side screen becomes a very useful monitor to show what the camera is recording. You do need to add a couple more of the included leads to rig it all up – and different cameras require varying menu settings to be controlled and output a signal. On both the Sony A9 and A7S III, this took many hours of online research and watching YouTube tutorials to find out which settings worked. It was frustrating, but it was the Sony's more complex menus and settings that were the real hindrance. Once it was sorted, it linked up straight away and the image was beamed to the on-gimbal monitor. This allows you to use SmartFollow, where the gimbal stays locked onto a subject you identify on the touchscreen. This clever bit of tech worked pretty well, and once you get to understand its limitations, it's another tool to add to your arsenal. 
The kit also has a good-quality follow-focus system, that can be used to control zoom, if you like. This bolts onto the camera plate, then engages with focus or zoom gears on your cine lens. Alternatively, fit the included plastic gears to a DSLR or mirrorless-type lens. You then calibrate it with a button on the side, and the thumbwheel on the grip handle now controls focus or zoom. It's smooth, solidly built and works very well, especially as there is very little lag to the screen. You can adjust the speed and sensitivity of the motor, too.
The final bit of kit is the MasterEye Visual Controller VC100, a totally separate handheld monitor and control unit. This takes a large NP-F-style battery to run it, and links wirelessly to the gimbal, with a claimed range of 100 metres. You can then see the image on the gloriously bright, large screen, change camera and gimbal settings remotely, monitor audio and even screen record, too. We found it a bit laggy for critical focus pulls, though.
But to control the gimbal and camera, and monitor what's going on, it's a great bit of kit. If you're on a bigger set, others could also monitor with a smart device, too. The Weebill 2 Pro+ kit really does come with pretty much everything you realistically need for pro workflow.
However, all this kit does take its toll in terms of weight. The gimbal can get a bit heavy if you mount a large camera and lens on it, as well as all the other accessories. You also need to charge up the follow focus, wireless transmitter and gimbal
itself, via USB-C to the internal batteries. All the kit together exposes the battery life, but you should get a comfortable eight hours of use. After that, you keep shooting via a USB-C powerbank, so all is not lost. It's a relatively minor gripe on such a feature-packed system. 
Pro Moviemaker rating: 9/10
It does everything gimbals do, and much more
Pros: Built-in screen, great performance in use
Cons: Complex set-up, weight
To find out the full specs, read the full article here. For more information, visit Zhiyun's website.