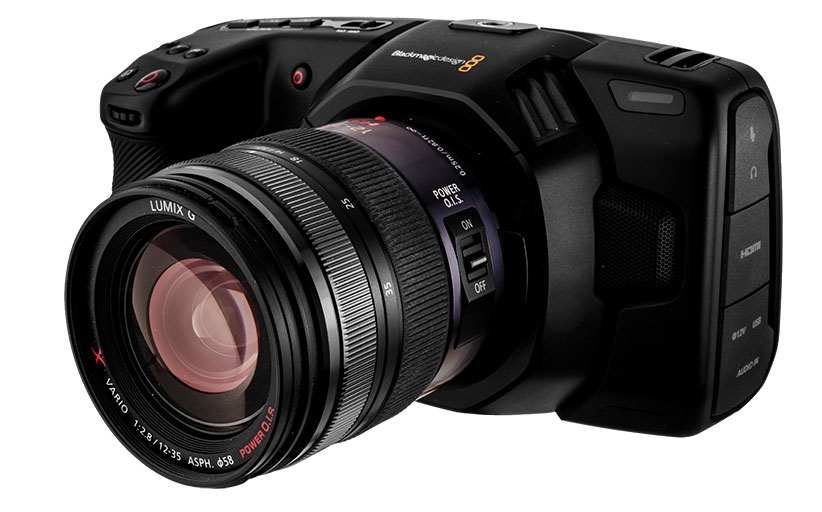 Blackmagic Pocket Cinema Camera 4K test
Finally a mirrorless camera that really is designed for making movies above all else.

The Real Filmmakers' Cam
Finally a mirrorless camera that really is designed for making movies above all else.
Words: Adam Duckworth
While other companies might say they make a filmmaker-specific version of their mirrorless cameras, the reality is that they are largely just playing at it. Taking a camera clearly designed for stills and adding more features for movies doesn't make the camera ideal for filming. There are still the handling quirks and often handicapped specs, in order to avoid cannibalising sales of their more expensive video cameras.
In comparison, the Blackmagic Pocket Cinema Camera 4K really is designed solely for filmmaking, with specs that leave other wannabes lagging far behind. Features include a huge five-inch screen that means you can largely do away with an external monitor, and a USB-C output so you  can record up to 12-bit to inexpensive external SSD drives. There's a dual-native ISO for great low-light capture, and a claimed 13 stops of dynamic range to provide detailed HDR images. And there is a full-size HDMI socket, a mini-XLR input with phantom power for pro-style mics, and an internal stereo mic that is genuinely useful thanks to decent preamps.
But the unique selling point is that it can record up to DCI 4K at rates of up to 60fps in a variety of codecs, including different quality levels of CinemaDNG Raw and ProRes 422 to a CFast 2.0 or SD card. There are also built-in LUTs, or you can upload your own. Nothing else on the market comes close to that spec.
Best of all is the price. It's on sale at just £1055/$1295, which puts it in a league of its own. And it comes bundled with a full version of DaVinci Resolve software – a fully-featured editing, colour grading, audio and VFX software package that usually cost £275/ $299, making the actual cost of the camera ridiculously low. You do the math, as the phrase has it.
They're the good bits, but of course no camera is perfect. You might not need deep pockets to buy the PCC4K but you'd need very large ones to store it in: it might be called the Pocket Cinema Camera – but you couldn't carry it in your pocket without ruining the lines of your suit. At more than seven inches wide – which of course it needs to be as it has a five-inch screen – it's hardly an inconspicuous run-and-gun filmmakers' dream. There are also no auto exposure modes at all, and the AF is the old-school contrast detect that pales in comparison to rivals' Dual Pixel AF or fancy hybrid phase detect systems. There's also no image stabilisation, no viewfinder, no waveform monitoring, and a fixed screen that can suffer from glare outdoors. And although Blackmagic claim it's made from carbon fibre composite material, it feels decidedly like a consumer model rather than a sturdy metal camera.
The only 120fps slow-motion is HD and is from a windowed version of the already small sensor, which is the camera's obvious major issue. While Sony, Canon, Nikon, Panasonic and even Leica are championing the switch to full-frame mirrorless cameras, the Blackmagic sticks with a Micro Four Thirds sensor and matching lens mount. So the sensor is a quarter the surface of a full-frame 35mm chip, with all the negatives that can bring. For example, to get the very cinematic shallow depth-of-field, you need some incredibly fast glass (lenses like this are available from a range of manufacturers, from MFT pioneers like Olympus and Panasonic as well as the myriad of independent brands). These lenses are typically much smaller and cheaper than full-frame optics, and the mount is great for using adapted glass, for everything from Canon and Nikon to PL-mount cinema lenses. 
So much for the spec, but in use the camera feels much like a scaled-down Ursa Mini Pro – mainly thanks to its on-screen menus, which are eerily similar. The screen menus are easy to see, very obvious to change, and put a stunning array of options at your fingertips. They show frame rates, shutter speed or angle – which of course you can specify – and everything else you need to know at a glance. These are all placed around the outside of the screen so you can leave them on while filming, without any real distraction. 
Specifications
Price: £1055/ $1295 body only
Sensor: 18.96x 10mm Four Thirds
Image stabiliser: None
ISO range: 100-25,600. 400 and 3200 Dual Native
Dynamic range: 13 stops
LCD: 3in LCD touch screen, 1920×1080
Viewfinder: None
Auto focus: Contrast detect
Recording Format: DCI 4K 4096x 2160, 4K 3840×2160, HD 1920×1080. 480Mbps and 120Mbps. 60p/ 59.94p/ 50p/ 30p/ 29.97p/ 25p/ 24p/ 23.98p. 120p in windowed HD.
Codecs: CinemaDNG Raw, CinemaDNG Raw 3.1, CinemaDNG Raw 4.1, ProRes 422 HQ, LT, Proxy
Connectivity: USB-C, HDMI, mini XLR, 3.5mm stereo input for mic and timecode, Bluetooth
Storage: 1x CFast, 1x SD UHS-II slot
Dimensions (WxHxD): 178.1x96x85.5mm / 7.01×3.78×3.34in
Weight: 722g/ 1.59lb with battery and card
IMAGE: Menus are clear and easy to use, with a remarkable similarity to those of the Ursa Mini Pro.
"The menus are easy to see and show everything you need to know at a glance."

 
To start and stop recording, there is a button on the front where most mirrorless cameras have a shutter release for taking stills. Next to this is a small button that does allow you to take stills, and those are saved as DNG Raw. 
There is one simple dial on the front of the body that usually controls the aperture, but can also control other settings you want to alter. Touch the icon on the touchscreen, then either use the touchscreen slider or the control dial. There are also dedicated buttons to change ISO and white-balance, as all pro cameras should have. There are also three function buttons – one toggles false colour, one shows the effect of the display LUT, and one toggles frame guidelines.
The back of the camera has two obvious buttons. One is an instant auto exposure button where the camera changes the aperture, useful for a quick stab at getting you in the ballpark. The other is an autofocus button that uses the contrast-detect AF system to hunt for whatever the focus point is aimed at. It's precise, as long as your subject is static. The camera also allows you to do focus pulls by touching the screen, but the old-school AF hunts on pretty much every subject so it's largely useless for serious work.  
Below these buttons are four smaller buttons to trigger high frame rate recording, a focus assist to zoom in to a larger area, the main menus, and the playback button. So there are not too many buttons to confuse you, and the most-used functions are all there. It's simple, obvious and easy to get to grips with.
The left side of the camera has solid rubber covers over ports that include a headphone socket, and a mini XLR jack so you can use serious, pro-quality mics. This, plus decent-quality internal mics and preamps, means the audio is world's apart from any other mirrorless camera. 
There are also a full-size HDMI socket, an AC inlet for mains power and a USB-C port. This can be used to trickle charge the internal battery while in use – and the camera uses Canon-size LP-E6 batteries that last for roughly an hour (or you can mount an external hard drive to record to). To record full-size Raw files, you need something quick. We used a robust and very small Angelbird SSD, which worked flawlessly. If you want to record to something like this regularly, you would need some way of mounting the SSD rather than just having it dangling from the cable. Several rig and camera cage makers already have these in the pipeline.
It is possible to record lossless Raw at 30fps onto a very fast SD card, but for faster speeds you need to use a CFast card or SSD. But even USB-C is not fast enough for DCI lossless Raw at 60fps. At the recent IBC show, Blackmagic announced its own new Raw codec, which is likely to be added to the camera in a forthcoming firmware update. This will probably include recording at all sizes and speeds to external SSDs.
You can select which media to record to via the touchscreen, which is fast but not too sensitive. The screen is bright but totally fixed – a shame, as a bit of tilt is always welcome for low or high shots, or to get rid of glare. 
When viewing your footage or during shooting, the screen is an essential tool that can be customised to take into account which LUTs you are using. You can also load your own LUTs via the SD card (the camera is supplied with four LUTs for the more filmic look). There is Film mode, Pocket 4K Film to Extended Video, Pocket 4K Film to Rec 2020 Hybrid Log Gamma, and Pocket 4K Film to Rec 2020 PQ Gamma. The LUTs can be used to normalise the image on the screen while shooting Log, or you can bake the LUT into the recording. 
The camera might have lots of different shooting options, including 4K 60p, but one of the slight letdowns is in super slow-motion where it can be overcranked to 120fps, but this crops the sensor by a factor of 2x. 
However, in other ways, the slow motion can be useful for filmmkers who like to record audio with the slow-motion so it can be used as scratch audio, or even when the speed of footage is ramped up or down in editing. In 4K, you can just set the frame rate to 50 or 60p and record with audio as normal. Or you can set the camera to record at 24p but set the High Frame Rate option to 60p. Press the HFR button and it's recorded in 60p and plays back in slow motion, but records audio in real time, too. Many cameras don't record any audio with slow-motion footage.
Of course, the key question is what the footage looks like, especially considering the limitations of the smaller sensor compared to full-frame rivals. And in this case the camera punches well above its weight, giving sharp images with lots of detail, neutral colours, lots of dynamic range and, crucially, low noise thanks to its Dual Native ISO sensor technology. There is virtually no moire, and rolling shutter is largely absent thanks to the smaller sensor.
The colour is especially pleasing, with neutral skin tones and natural-looking colours, especially if graded carefully. Spend some time grading and you will find there is lots of detail in the files,
to change colours, recuse highlights and pull back shadow detail without too much noise.
Shooting Raw or Log means you will need to add some noise-reduction in post, as is the case with all cameras. The Dual Native ISO function means that the camera essentially has two base ISO settings of 400 and 3200, although you can set any ISO rating from 100-25,600. At any setting up to ISO 1000 it uses the base 400 circuitry, and switches seamlessly to the higher 3200 base at ISO settings higher than that. Comparing footage at ISO 400 and ISO 3200 gives results that are incredibly similar in terms of image quality and low noise. Only in deep shadows, where you would expect to find noise, does it rear its head. 
The reality is that at any ISO setting up to 6400, the camera delivers clean images with lots of information for you to grade them how you like in post production – especially if you've chosen to shoot Raw files. 
This affordable camera provides fantastic image quality, but mediocre AF could prove disappointing.
"The camera punches well above its weight, giving sharp images with lots of detail."

 
THE VERDICT
For the money, there's nothing that comes close to the spec of the Blackmagic Pocket Cinema Camera 4K. And for filmmakers who want to use it as a small cinema camera, it really delivers, with lots of options – including killer 4K Raw for the ultimate quality.
For run-and-gun users it's not ideal as there is no stabilisation or workable AF – certainly compared to rivals. Its merely adequate AF, combined with its heavily cropped 120fps super slow-motion, means it's not ideal for wildlife or sports shooters. There are tools such as false colour, peaking and zebra patterns, but it's no super-fast camcorder.
However, for documentary shooters – with time to set up for more cinematic shots – it's an incredible tool with fantastic image quality, and at a stunningly low price. The lenses are plentiful and relatively inexpensive, and of course you don't need to buy extras such as external monitors or XLR audio converters to get a workable camera kit.
HOW IT RATES
>> Features: 9
No image stabilisation, but it shoots Raw and ProRes to a memory card
>> Performance: 8
Stunning quality but let down by average AF and heavily cropped 120fps frame rate
>> Handling: 9
Great menus, sensible buttons, and a large screen – but sadly it doesn't tilt
>> Value for Money: 10
There is nothing remotely close to it in any category of cinema camera
>> Overall Rating: 9/10
It's cheap, shoots Raw and ProRes, has great image quality and is easy to use
+ Pros: 4K Raw shooting, image quality, stunning price 
– Cons: Not ideal for run-and-gun filmmakers
For more information visit the website.