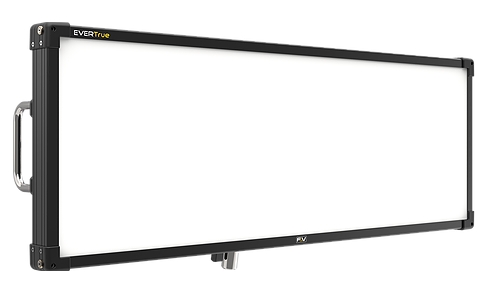 The Most Advanced LED Panel Light
F&V Lighting have released a LED panel light, which offers a wide colour temperature range, tint control, built-in digital filter library, effects and multiple control options.
The EverTrue Vari-Color Z1200VC CTD-Soft 3×1 LED Panel Light provides colour reproduction between 2800K to 6500K, which can be extended to 2400K to 9900K and the Green/Magenta tint can be adjusted to match other lights. With a built-in digital library of over 300 colour correction filters, and an expanding selection of effects such as candle light, lightning, fire, and police cars. The Z1200VC CTD-Soft is light in weight, thin, compact and has a large aperture providing soft brightness from a fixed diffusor panel.
The 1×3 format with built-in diffuser has a high lux of 6,000 and a beam angle of 130 degrees. An optional Intensifier condenses the beam angle to 45 degrees for a lux of 14,338. F&V owner Kai Zhan said, "We wanted to create a light that would potentially change the LED industry forever and we believe we have done just that. Not only because it has all the special effects and precise color filter presets, but also in the fact that it's very easy to use. It has 3 fully tunable color modes (HSI, XY, RGBDT) where you can select the exact color & intensity you desire. We are very excited about this light."
Portability won't be an issue with the 3×1 panel either. Weighing in at only 10 lbs and being a slim 1.7" wide, this light can go anywhere. Power it with two batteries or an AC Adapter. The light features multiple control options including manual control knobs, built-in WiFi, and built-in DMX ports. All of these options and technologies make the Z1200VC CTD-Soft the most versatile and cunningly crafted LED that F&V has ever made. 
The panel light is powerful with 270W and installed with a cooling system so will not provide any noise while in use. the equipment has WiFi built in and can be controlled by a remote control.
To find out more visit the F&V website.