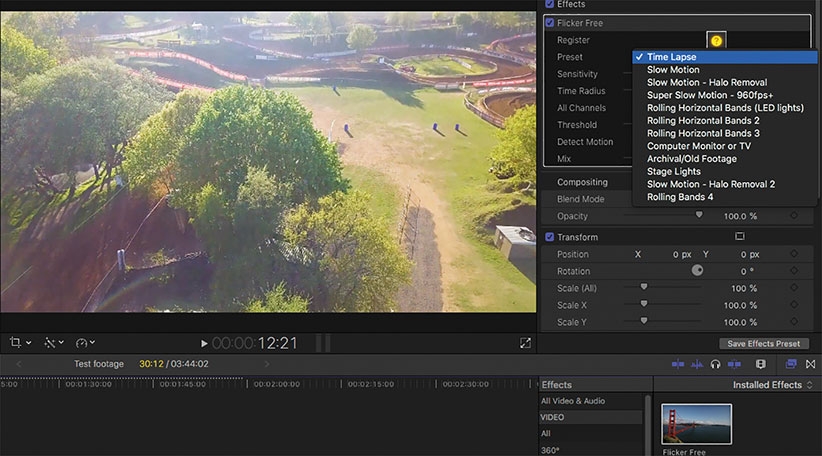 Digital Anarchy Flicker Free software
Flicker is a phenomenon that doesn't just affect films shot under fluorescent lights but also if you are shooting slow-motion, time-lapses or even drone footage. It's possible to remove it, if you have the post-processing skills and many hours free to fine-tune every shot. 
But the latest software plug-in from Digital Anarchy makes it easier than ever to solve the age-old problem. The Flicker Free software works in Final Cut Pro X, Adobe Premier Pro and After Effects, DaVinci Resolve Avid and Vegas, and loads like any normal plug-in.
At the basic level, you just drag the Flicker Free correction onto the problematic clips in your timeline. There is a selection of pre-sets to choose from and in many cases, these cure the problem straight away. If you've struggled to get rid of flicker then it's great to see it magically disappear without any fuss. 
If this doesn't do the trick perfectly, you can manually alter the parameters of the software until the flicker is all gone, changing things like sensitivity, type of flicker or the different colour channels the software is working on. Online tutorials guide you through the process which is easy even for inexperienced editors. The only issue is that the software uses a lot of computing power, so can be a bit slow. But it is doing a lot of things behind the scenes, such as analysing footage and rendering. And it's much faster than doing a reshoot!
Verdict: Flicker Free works surprisingly well out of the box and if it doesn't quite get the job done, you can take manual control and get rid of the dreaded flicker. At the price, it's a great bit of software that can really save your films. There's a free trial download so you can give it a try before buying, too. 
Price: £112/$149
Words: Adam Duckworth