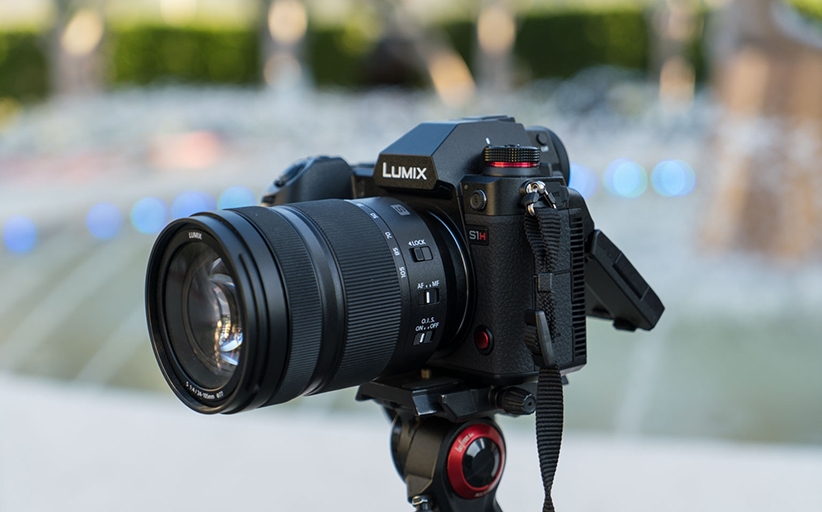 Hands on with the Panasonic S1H
Panasonic's new S1H is not only the chunkiest full-frame mirrorless camera on the market, it packs the biggest punch in terms of spec with its 6K resolution, 4:2:2 10-bit internal recording, V-Log just like the Varicam models, no time restrictions on recording, waveforms and lots more
While aimed at filmmakers, it has an impressive stills spec to match the recently released S1 camera, which has an almost identical photo performance from its similar 24-megapixel CMOS sensor.  While the S1 has no optical low-pass filter for ultimate stills resolution, the S1H does. This might impinge marginally on ultimate stills resolving power, but is far better at controlling moiré, which is more important for video use.
The whole camera takes all of the learnings from the GH5 and GH5S Micro Four Thirds mirrorless cameras and mixes in the colour technology and Dual Native ISO of the Varicams. It also sets new standards in terms of use over an extended period, where other full-frame mirrorless cameras can fail due to too much heat build-up on the big sensor. The Panasonic has a chunkier body than the S1 and S1R to accommodate a fan, so heat never stops play. 
The camera boasts a maximum ISO of 51,200 with Dual Native ISOs of 640 and 4000 for video use. Dual recording to SD cards – both the same fast spec unlike on some cameras that mix-and-match spec and format – is also a bonus. This allows 4:2:2 10-bit internal recording to SD cards. As well as 6K internal recording at 24p, it records 10-bit 60p in 4K/C4K and HD up to 180fps in two distinct fast frame rate modes. That's a lot of spec for £3599.
The sensor is said to have more than 14 stops of dynamic range. We tested prototypes of the camera, so the image quality is not finalised, but it was incredibly sharp, natural, full of colours and definitely lacking in nasty noise. We tried it in 6K, 5.9K, C4K, 4K and HD, and the results were incredibly clean and impressive.
The S1H shoots at 6K/24p and 5.4K/30p in a 3:2 aspect ratio or 5.9K/30p in widescreen 16:9. This is the most obvious choice for the majority of filmmakers who want the maximum resolution in widescreen, which means you can crop in later. It also records 10-bit 60p 4K/C4K HEVC video recording when using in Super 35 crop mode and 4:2:2 10-bit 4K/30p recording in H.264 captured from the full area of the sensor. There are simple settings to enable High Dynamic Range (HDR) in Hybrid Log Gamma (HLG), too.  
The camera can output 4:2:2 10-bit 60p 4K/C4K over HDMI output, but we didn't have the opportunity to try this. Panasonic also announced the camera will soon be upgraded to enable Raw output for conversion to Apple ProRes Raw in Atomos monitor/recorders. 
One of the best features is that the camera offers a range of anamorphic modes for the true cinemascope look. We got to try it with a variety of Atlas anamorphic primes and the results are staggering. Of course, you can't get away from the steep price of real anamorphic lenses, but as a rental option for a special project, it means you can shoot real anamorphic footage on a camera that's affordable.
As a nod to real filmers, there are tally lights front and back, as well as waveform monitoring. You can change the size and position of the waveform on the rear screen by just dragging and dropping.
There is five-axis in-body image stabilisation and can be used with Panasonic's own S series lenses, which have two-axis optical image stabiliser, for a claimed 6.5-stop improvement. This worked very well and is a real bonus to allow handheld shooting without too much shaking.
Fans of slow motion will love the camera's two fast frame rate options. Variable Frame Rate (VFR) records over-cranked/under-cranked video in C4K/4K (60fps, maximum 2.5x slow motion in 24p) and FHD (180fps, maximum 7.5x slow motion in 24p). Playback is in slow motion, but AF and audio is disabled.
In addition, HFR video with sound is also recordable with active autofocus at up to 120fps in HD. Unlike the S1, shooting in fast frame rates gives full manual control over exposure. An improvement over the S1 is the rear 3.2-inch, 2,330K-dot 3:2 aspect rear touchscreen monitor. It has 150% higher luminance compared to the S1R/S1, GH5 and GH5S, and tilts and rotates.
However, the camera sticks to contrast-detect AF, with face/eye detection technology. For many filmmakers, this system is good enough and precise when there's enough contrast. But compared to rivals that use contrast and on-sensor phase detect, it's not as fast or reliable.
Like the S1 and S1R, the camera uses the Leica L-Mount system and takes a range of PL and EF adapter. Panasonic also revealed a new standard zoom lens, the S PRO 24-70mm f/2.8, which will cost £2249 and goes on sale on 26 September. We tried this and it's sharp and contrasty. It's a heavy and complex lens, with 18 elements in 16 groups, and has a mechanism to suppress focus breathing. It will be very popular with hybrid stills and video shooters.
In terms of spec and footage, the S1H sets a new standard in full-frame mirrorless cameras aimed at filmmakers if the sample footage from the prototype is anything to go by. We'll test production versions soon. But if you want a 6K full-frame mirrorless camera for shooting video, and demand no time restrictions on your shooting, the Panasonic Lumix S1H should be right at the top of your shopping list. And if you want full-frame anamorphic shooting, it's the only camera on the list.
View our S1H review video below: