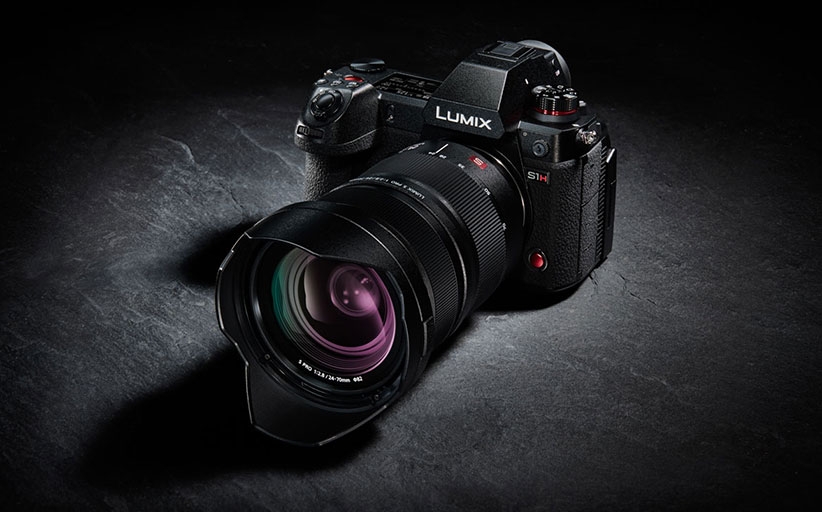 S1H is worth the weight
Panasonic's new full-frame mirrorless camera might be slow to come 
to market and larger than its rivals, but packs a heavyweight punch
Panasonic definitely knows what the modern filmmaker wants from a camera, even though it might have taken a while to deliver it. With all the experience of the GH5 and GH5S mirrorless Micro Four Thirds models as well as the EVA1 and Varicam cinema cameras, the Japanese giant has talked to lots of professionals at all levels before making its move into the red-hot cauldron of full-frame mirrorless cameras aimed at filmmakers.
The rugged new S1H is the camera designed by filmmakers for filmmakers, and handsomely out-specs even the latest rivals from Sony, Canon, Nikon and Leica. The Panasonic has 6K resolution, 4:2:2 10-bit internal recording, Dual Native ISO and V-Log just like the Varicam models, waveforms, vectorscopes, peaking, zebras, LUT support, punch-in zoom monitoring, time code in/out, shutter angle adjustment, 4K time lapse, audio level monitoring and lots more. And there is a lot more.
There's a built-in anamorphic desqueeze, which is ideal not just for big-money productions using super-pricey glass, but also the new breed of slightly more affordable anamorphic lenses. Apple ProRes Raw is coming very soon thanks to a deal with Apple and Atomos, which will be a big deal for anyone interested in squeezing the ultimate quality out of the 6K sensor. And there is no limit on recording time, so the camera isn't just resigned to short interviews. 
This isn't simply down to the camera removing the 30-minutes recording time cap for spurious import tax reasons, but because Panasonic has come up with a solution to stop the overheating problems and power issues that blight many other mirrorless full-frame cameras. 
A USB-C socket means you can power it up from an external source so you don't need to worry about the battery going down, and hot-swappable twin SD memory cards mean you can keep shooting for as long as you have space on your cards. Once a card is full, the camera can be set to automatically keep shooting to the second card. Simply take out the full card and put in an empty one. Keep doing this and there is no limit on file space. Or you could record to huge USB-C external drives, although this means there is no additional power input. At least you have a choice.
Getting rid of heat from that large sensor is the big issue and Panasonic has solved this by not only making the chunkiest full-frame mirrorless camera on the market to act as a heat sink, but also fitting a silent fan and air cooling ducts. They even managed to keep the weatherproofing of the sibling S1 and S1R models, despite these additions. The cameras may look the same, but the S1H is marginally bigger in every dimension. 
Below: The screen not only folds out, but also tilts, which is a huge bonus when the camera is on a tripod
Many of the improvements over the more photo-biased full-frame Panasonic S series cameras are specifically for filmmakers. Although the S1H shares the same basic 24-megapixel sensor as the S1, Panasonic claims it's engineered totally differently. The S1H omits the S1's optical low-pass filter, which marginally reduces ultimate stills resolving power, but is far better at controlling moiré, which is far more important for video use. If you're looking at an S1H for its ultimate resolution in stills mode, frankly you're buying the wrong model, as the S1R or S1 are more suitable for you.
In a recent test, we said the S1 was incredible for low-light performance. Although the footage from the S1H was only a prototype sample – so the final production version may be different – it was clear to see it's also great when the ISO gets cranked up. We'd have to do back-to-back tests with a S1 and a final-production S1H to really see if it's better, but from the sample we used, the S1H is very clean.
It has a maximum ISO of 51,200 with Dual Native ISOs. These vary according to the settings, so for stills and normal video it's ISO 100 and 640, but 640 and 4000 in V-Log for video use. At the lower settings at 640 in V-Log, quality is excellent. When the ISO creeps up, the sensor switches to another circuit to provide a second base ISO of 4000. The Varicams do this, and it works incredibly well. Now this tech is on a mirrorless full-frame camera – which, thanks to its larger sensor, is even better at low light. Shooting Log, you do need to add some noise reduction, as you'd expect at such high ISO settings.
The sensor is claimed to have more than 14 stops of dynamic range in V-Log, but we couldn't check this as the camera was a prototype. But it certainly had lots of detail in shadows and highlights. The footage is incredibly sharp, natural, full of colours and definitely lacking in nasty noise. The V-Log setting is the full V-Log, to match with cameras like the Varicams instead of the similar V-Log L from the GH5 and GH5S. There is View Assist to help you get the exposure right when shooting Log, too. 
The S1H shoots at 6K/24p and 5.4K/30p in a 3:2 aspect ratio or 5.9K/30p in widescreen 16:9, which is the most obvious choice. 6K is the figure that is getting all the attention, although very few filmmakers will deliver footage in this size. But it does mean you can downsize to 4K and get even better quality, or crop in to 6K to give another angle for your shots. 
If you are shooting interviews for HD use such as YouTube, you can record in 6K for a wider shot, crop into 4K for a tighter shot or go in even more for an HD crop. All with one camera and lens, without changing position. That's a big bonus for one-man shooters.
The S1H also records 10-bit 60p 4K/C4K HEVC video when using in Super 35 crop mode and 4:2:2 10-bit 4K/30p recording in H.264 captured from the full area of the sensor. There are settings to enable HDR (High Dynamic Range) and HLG (Hybrid Log Gamma), too. If you shoot in HLG, it's easy to tweak the footage for a standard Rec. 709 monitor, but you'll have the HLG footage for when HDR footage is called for in future. To help you get the look and exposure just right, there is a View Assist function for HLG footage.  
We tried the S1H in 6K, 5.9K, C4K, 4K and HD, both outdoors in bright sunshine and twilight, indoors in natural light and with artificial lighting. The results were incredibly clean and very impressive.
Below: We used the new 24-70mm lens to capture action in all its 6K quality. The footage is excellent
The footage we looked at was all recorded internally to the camera's twin SD card slots. Well-known Hollywood film colourist Dado Valentic took a critical look at the footage shot by the camera at ISO up to 1200 and was blown away by the resolving power and lack of noise. He is using footage from a prototype camera to grade a feature film and said the footage was easily good enough for a theatrical release. 
Although the camera can also output 4:2:2 10-bit 60p 4K/C4K over HDMI, we didn't get to try that feature. Panasonic also announced the camera will soon be upgraded to enable Raw output for conversion to Apple ProRes Raw in Atomos monitor/recorders.
Where the other S models use one SD card and one XQD, the S1H has dual recording to SD cards – both the same fast speed, which allows 4:2:2 10-bit internal recording. As well as 6K internal recording at 24p, it also records 10-bit 60p in 4K/C4K and HD in up to 180fps in two distinct fast frame rate modes. 
The Variable Frame Rate records over- or under-cranked video in C4K/4K at 60fps and in FHD at 180fps, but the AF and audio input is disabled. Playback is in slow motion, so you can see what it's going to look like as soon as you review it.
High Frame Rate mode allows you to set frames at up to 120fps, but the beauty of this is that autofocus still works and audio is recorded. And full manual control is available in fast frame rates, unlike the S1 and S1R models, which are auto only. The footage is then slowed as required in post. It means, for action sequences, you can start your footage in real time with audio then slow it down for dramatic effect, for example.
One of the key features is that the camera offers a range of anamorphic modes in a variety of squeeze options for a true cinemascope look – something that it seems everyone is going crazy for at the moment. 
We got to try it with a variety of Atlas anamorphic primes and the results are staggering. Especially when shot in 6K mode, as the quality is there when the footage is desqueezed and stretched to fit a cinemascope format. It's a far more affordable option than any other full-frame camera for shooting anamorphic, and its small size means it can be used in places larger cameras can't.
Of course, lenses like this are hugely expensive, but there are cheaper options coming onto the market all the time to cater for the boom in interest in anamorphic shooting. Even then, these budget lenses are still pricey, but certainly affordable as a rental option. For a filmmaker looking to add something new and different to their work, going anamorphic could give you a real edge over rivals who don't offer it.
The Panasonic has lots of video-friendly features, like tally lights front and back and waveform monitoring. You can change the size and position of the waveform on the rear screen by just dragging and dropping, which is very natural.
There is five-axis in-body Image Stabilization and, if used with Panasonic's S series lenses, which have a two-axis Optical Image Stabilizer, there is a claimed 6.5-stop improvement. This worked very well, and is a real bonus to allow handheld shooting without too much shaking. If you use a non-Panasonic lens, the stabilisation is still good, but not as impressive as with the dedicated glass.
And that's been one of the issues as, like the S1 and S1R, the camera uses the Leica L-Mount system and there isn't a lot of dedicated Panasonic L-Mount glass yet. With a range of adapters, the camera can take PL mount, Canon EF mount and pretty much anything else. 
Aftermarket manufacturers are already busy making the adapters to fit, and rigs are currently in production, too. And Sigma has a full range of cinema glass ready to go, although this doesn't have the image stabilisation built in like the Panasonic optics.
Panasonic has lots of lenses in the pipeline, such as a 70-200mm f/2.8 zoom and 1.4x and 2x teleconverters. There's also a new standard zoom lens, the S Pro 24-70mm f/2.8, which costs £2249/ $2198. We tried this and it's sharp and contrasty. It's a heavy and complex lens, with 18 elements in 16 groups, and has a mechanism to suppress focus breathing. It will be very popular with hybrid stills and video shooters, and gives a pleasing bokeh thanks to an 11-bladed iris. It has a focus ring that slides forward and back to change from MF to AF, which is useful. You can use AF to get the focus close, then switch to MF for fine-tuning.
Below: The image stabilisation in the camera and matching lens makes handheld shooting possible
An improvement over the S1 is the rear 3.2-inch touchscreen monitor. It has 150% higher luminance compared to the S1R/S1 and GH5/GH5S, and both tilts and rotates, making it ideal for use on a gimbal, or where getting a closer look at the screen is essential.
For focusing, the camera sticks to contrast-detect AF, with face/eye detection technology and Panasonic's own Depth from Defocus technology. It's very precise when there's enough contrast, but compared to rivals who use contrast and on-sensor phase detect, it's not as fast or reliable – certainly compared to the latest systems from Sony or Canon. 
That won't be an issue for many filmmakers who swear by manual focusing or are using the AF to nail focus on interview subjects or general scenes. But for anything fast-moving or tricky, it's the biggest letdown in an otherwise standout filmmaking tool.
Specifications:
Price: £3599/$3999 body only

 

Sensor size: 35.6×23.8mm, 24.2-megapixels with OLPF
Formats: 6000×4000 6K, 4272×2848 5.4K, 3024×2016 in 3:2 format; 5238×4000 5.9K, 3792×2848, 2688x 2106 in 4:3, 6000×3368, 4096×2160 C4K, 4272×2400, 3840×2160 4K, 3024×1704, 1920×1080 FHD 16:9. 6K 24p, 5.9K 24/30p,
5.4K 30p 4:2:0 10-bit 200Mbps; C4K 24/ 30p 4:2:2 10-bit All-I 400Mbps: 4K 24/ 30p 4:2:2 10-bit All-I 400Mbps. FHD 24/30/50/60p 4:2:2 10-bit
All-I 200Mbps
Maximum frame rates: 180fps FHD, 60fps for C4K
in Super 35 crop

 

ISO range: 100-51,200. 50 and 204,800 extended. Dual Native ISO 100/640, 640/4000 in V-Log, 400/2500 HLG, 200/ 125 Cinelike D2/ V2
Shutter speeds:
60secs-1/16,000sec
Lens Mount: L-Mount
Focusing: 225-area AF. Auto detection (face, eye, body animal), tracking, zone (vertical/horizontal), zone (oval and square), single area, single area pinpoint, custom modes, full area touch. Contrast detect
Stabilisation:
Image sensor shift 5-axis
Screen: 8cm/3.2in LCD
tri-axial tilting touchscreen, 2.33 million dots
Viewfinder: OLED with 5760k dots, 100% view, 0.78x, three magnification options, 120/60fps
Audio: 3.5mm input
Connectivity: HDMI 4:2:2 10-bit, Bluetooth, Wi-Fi, USB-C 3.1
Storage: 2xSD
Dimensions (WxHxD): 151×114.2×110.4mm/ 5.94×4.50×4.35in
Weight: 1052g/2.32lb
The Verdict
The new Panasonic S1H sets a new standard in full-frame mirrorless cameras aimed at filmmakers, with lots of incredible spec designed to make the lives of pro filmers much easier. And some spec that other full-frame mirrorless camera's simply don't have, like the truly unlimited recording time. 
If the sample footage we saw from the prototype is anything to go by, the footage is also very clean, especially in 6K mode. And it's easy to get hooked on 180fps slow motion.
The Panasonic S1H's build quality is excellent, the menu system easy to understand and operate, and the ergonomics are as good as anything else on the market. It's true the lens choice isn't as wide as other makers yet, but this will improve. 
If you want a 6K full frame mirrorless camera for shooting video, and demand no time restrictions on your shooting, the Panasonic Lumix S1H is a camera you really should consider – especially for the price. 
And if you want full-frame anamorphic shooting in 6K quality from such a small body, this is the only camera out there at any price. 
How it rates:

Feature:
9
The video spec is second to none for cameras of this type, except the autofocus.
Handling:
9
It's burly and heavy, but easy to use, with menus that make loads of sense.
Value for money:
9
It might cost more than the S1, but it offers so much more filmmaking spec.

 

Overall rating:
9/10
The new king of full-frame mirrorless moviemaking cameras, except autofocus.
Pros: 6K, anamorphic, 180fps, build quality.
Cons: Lack of lens choice, and contrast-detect AF.
Getting hands-on with the new Panasonic Lumix S1H, Adam Duckworth, editor of Pro Moviemaker magazine, and Chelsea Fearnley, staff writer at Definition magazine, headed to Los Angeles for the launch of this exciting new camera.
Click here to visit the Panasonic website.
[iframe width="560″ height="315″ src="https://www.youtube.com/embed/jtjC-JmMczw" frameborder="0″ allow="accelerometer; autoplay; encrypted-media; gyroscope; picture-in-picture" allowfullscreen ]