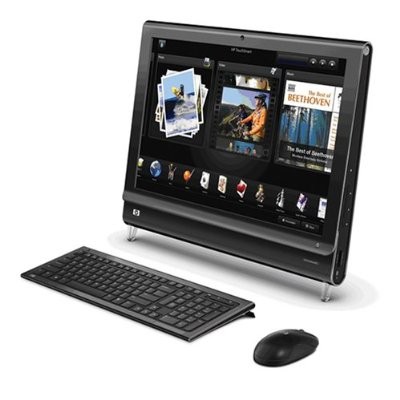 HP IQ506 TouchSmart Desktop PC
Redesigned with a next-generation, touch-enabled 22-inch high-definition LCD screen, the HP TouchSmart IQ506 all-in-one desktop PC is designed to fit wherever life happens: in the kitchen, family room, or living room. With one touch you can check the weather, download your e-mail, or watch your favorite TV show. It's also designed to maximize energy, with a power-saving Intel Core 2 Duo processor and advanced power management technology, as well as material efficiency–right down to the packaging. It has a sleek piano black design with elegant espresso side-panel highlights, and the HP Ambient Light lets you set a mood–or see your keyboard in the dark.
The built-in TV tuner (providing both standard NTSC and high-def ATSC transmission) and personal video recorder (PVR) let you watch, pause, rewind, and record live television–perfect for watching cooking shows in the kitchen or keeping up with your favorite series. Use the included remote control or touch screen to quickly and easily access music, movies, photos, TV shows, or radio programs. The TouchSmart IQ506 comes with a bevy of special software features to make your computing life a breeze, including TouchSmart Video and Photo for quickly sharing your snapshots and videos to the web, TouchSmart Calendar for helping your family manage its busy, overlapping schedule, and TouchSmart Notes for both text and voice notes right at your fingertips. And it comes with a wireless keyboard and wireless optical mouse to help you keep clutter to a minimum. It's powered by the 2.16 GHz Intel Core 2 Duo T5850 processor, which provides an optimized, multithreaded architecture for improved gaming and multitasking performance, in addition to excellent power management. It has a built-in webcam and microphone for video chats with family and friends, and it includes integrated stereo speakers that produce crisp, clear audio from DVD movies and downloaded video purchases. Other features include a 500 GB hard drive, 4 GB of RAM (maximizing capacity), a dual-layer DVD±RW drive, the latest in Wi-Fi networking (802.11n as well as backward compatibility with 802.11b/g), Bluetooth wireless technology, Gigabit Ethernet, and an Nvidia GeForce 9300M GS HD video card with up to 2047 MB of total available memory.