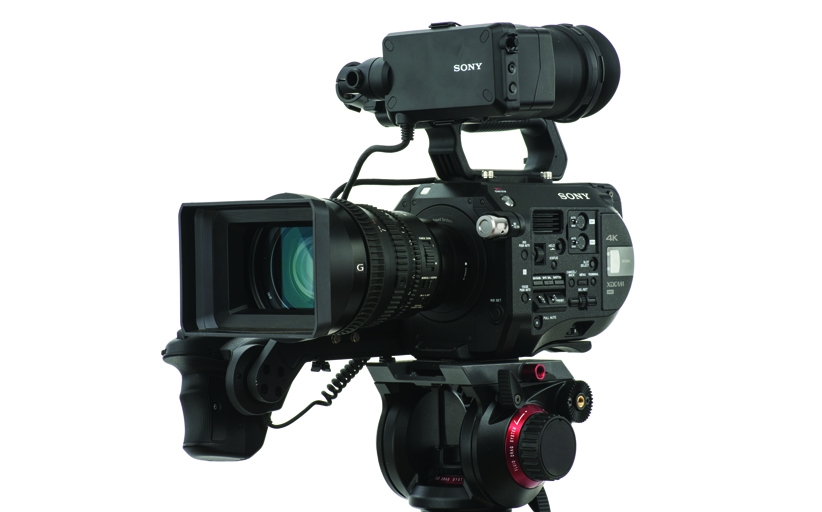 Tested: Sony PXW-FS7
Sony's FS7 camcorder has generated lots attention since its launch, along with a lengthy waiting list of would-be purchasers, but is it really the dream machine that so many have been anticipating?
Words: Adam Duckworth
Combine the usability of a pro-style camcorder with the benefits of a large-sensor DSLR – in a package that's a bargain compared to its rivals – then it sounds like you've got a potentially game-changing camera. That's what Sony has attempted to do with its FS7 camcorder. In many ways, they've pulled it off – as proven by months of waiting lists to buy it, which have only just cleared.
It's not quite two cameras in one but it's pretty close to it while hitting a price – £7296/$9506 street price with a dedicated Sony video lens – that can't be matched by its rivals.
At its heart is the industry-standard cinematic Super 35 sensor, which is not as big as a full-frame 35mm sensor so there will be a small crop factor. It's still a good size and the FS7's ability to accept fast primes means you'll be able to use those shallow depth-of-field effects that are loved by creative cinematographers.
The FS7 gives you control over video and audio functions, something you'd expect from a pro-level camcorder. It's designed specifically for video use, ensuring decent ergonomics.
The advantages of a DSLR are the small physical size and large sensor, but to make them usable for pro video you need to add rigs, monitors, mics, viewfinders, ND filters, and more. Suddenly these cameras aren't so attractive to filmmakers any more.
The FS7 has internal 4K recording, the potential to record Raw files and a huge 14 stops of dynamic range. It uses the same sensor as the more-expensive F5 so you know it's good. The FS7 can capture super slow-motion in real time, without buffering. For NTSC regions this is 180fps but for PAL it's 150fps. The camera shoots in 240fps but you'll need an external recorder. Loaded with technology, the Sony FS7 is a camera that's easy to like.

Handling
If you're used to handling pro-spec video cameras you'll be right at home with the FS7. The camera comes with a 15mm rod at the front of the grab handle to accommodate the monitor, which offers adjustable peaking, zebra and contrast controls.
An optical loupe-style viewfinder – which can be swivelled out of the way if you want to see the monitor – clips onto this, and there's a built-in adjustable dioptre slider, so you can adjust it to suit your own eyesight. The viewfinder unit plugs into a separate VF input so it can be removed, or the whole thing repositioned towards the back of the camera if it's being used on a tripod. The screen works well, although some more picky users have swapped theirs for a Zacuto Gratical, which is better, but pricey.
The most unusual feature that the Sony FS7 offers is a grip handle that fits onto an ARRI standard rosette, therefore giving you the option to work with industry-standard grips. The standard grip handle provided with the FS7 is very good and comes with plenty of extras. It's also adjustable in length and angle, while the grip itself moves, too.
As well as a start/stop record button, the grip has a zoom feature when a compatible lens is fitted, a scroll wheel to navigate through menus, a joypad to do the same and three user-assignable buttons that you can programme to various functions. There's also a focus mag button that expands the viewfinder image so you can check focus. Doing this during recording also won't affect anything as it's a feature of the viewfinder.
With a decent-size shoulder pad, the grip and the optical viewfinder, the camera becomes a broadcast-quality, run-and-gun ENG-style camera. This is especially the case if you equip the camera with the Sony FE 28-135mm f/4 G lens included in the FS7K kit. This lens transforms the camera, as it's designed for video, meaning that it comes with a line-up of benefits that those working exclusively with DSLR lenses won't get.
These include click-free iris ring adjustment, long manual focus throw designed to take a follow-focus mechanism, and no focus breathing when focal length is changed. There's no discernible change in aperture or focal length when the focus distance is altered, and you get a power-zoom feature, in-lens stabilisation and a lens hood. Its autofocus performance is also outstanding. I can sense the raised eyebrows from here, and I'm well aware that the concept of autofocus is tantamount to sacrilege to some filmmakers. However, my opinion is that having AF can actually be a huge bonus in some circumstances, provided you know when and where to use it and recognise its limitations.
In my case, I was shooting motocross bikes in action and, provided that they were near the centre of the frame the AF worked flawlessly. Of course, there's always the option to quickly switch back to manual focus should the need arise.
For me, the only issue is that the lens doesn't go wide enough, something that's exacerbated by the slight crop factor of the Super 35 sensor. If you want to go wider than 28mm you'll need to source something from Sony's FE range of primes or zooms that have been designed primarily for use with stills cameras, or you'll need to fit an adapter, though this could cost you your AF. Using an adapter, the FS7 takes popular lens fittings such as Canon, Nikon, Leica and PL.
Features
The camera's magnesium body feels rugged. There's a solid top handle with a mic holder, intelligent hotshoe, as well as a second threaded adapter to fit accessories and the monitor mount. The front hotshoe allows you to attach Sony's wireless microphone system to it without the use of external wires. The handle bolts on and off, allowing you to switch top plates or handles to add more accessories.
Just as you'd expect from a pro camera the FS7 features lots of connections, such as two SDI outs, an HDMI out, two XLR inputs, power supply, headphone jack, USB and a mini jack for the remote. Most control buttons are on the left side panel, including shutter, iris, ISO, white-balance control, and the audio-level adjuster wheels for two of the four audio channels.
The two XLR inputs can take line, mic or mic +48v (for mics that don't have their own power source). Meanwhile the left side of the camera has all the menu buttons, user-settable menus, XQD card slots and adjustment control for the built-in ND filters. As a bonus you get optical ND filters that allow you to change aperture to control depth-of-field. The buttons are logically named and easy to use, although some can be fiddly. The camera has six user-assignable buttons.
The camera is quite slow to navigate and many features are hidden in submenus. It's worthwhile setting up your own User Menu to include your most-used settings, and you'll be able to achieve access instantly by pressing the User Menu button on the left side of the camera. There's also a 'status' button that will give you an instant readout of all the parameters you've set, plus a way of increasing the size of, say, the audio waveform so you can see what's going on.
The most important elements of the FS7 are its CMOS sensor and recording options, the highlight of the latter being internal 4K-video recording. The actual resolution in-camera is UHD, which is 3840×2160, so not quite full 4K: for that you'll need an external recorder. This will also be called for if you're planning to record Raw.
One option is Sony's R5 recorder FS7 XDCA extension unit – unwieldy and expensive – or you could go for an Odyssey 7Q+ which is around £2000. There's also the Atomos Shogun 4K monitor, but you'll still need the XDCA extension pack. That's the price you have to pay if you want to record full 4k, Raw or get the 240fps that the camera is really capable of.
If you're working without that kit, in UHD you can choose two different codecs, ten-bit 4:2:2 XAVC-I or eight-bit 4:2:0 XAVC-L. The XAVC-I is 600Mbps while XAVC-L is just 150Mbps. Most people record with the XAVC-I as it works in most editing packages. It creates huge file sizes however: about twice the size of XAVC-L. In XAVC-I mode, a 32GB card will be full in about 24 minutes.
The camera has two XQD two card slots, but needs the latest-generation version of them. At around £160 for a single 64GB card, users of cameras like RED or high-speed Sony units will jump with joy at just how cheap they are compared to SXS cards or RED's viciously expensive storage media. On the other hand those moving up from DSLRs will doubtless baulk at the cost given the much lower price of a conventional SD card.
The XQD cards are fast and robust, and two card slots means you can set one card up to be an instant back-up of the other. Alternatively, you can set the camera so that when one card is full, the other kicks in seamlessly. You don't even drop a frame. You can even hot-swap cards as you use them, so you can be downloading one while shooting on another.
Performance
When you first work with the camera a key decision to make is how to set up the shooting mode, since this affects the final output. You can choose from Custom or Cine EI mode.
Custom mode lets you set custom white-balance but doesn't output in Raw, gives no monitor LUTs and no S-Log options. This is a drawback when you consider that the FS7 is capable of recording an image with 14 stops of dynamic range using S-Log3, an incredible range.
To use the S-Log2 or 3 settings, select Cine EI mode. This, however, disables auto white-balance, auto shutter speed, auto exposure and auto iris. There are no custom white-balance options, no suppression of moiré or noise, and the ISO is locked to the base of 2000. This means Cine EI gives the best quality, but you'll need a more involved post-shoot workflow to get a good result. If you're shooting for ultimate quality and have the workflow capability, it's the one to go for.
In Cine EI mode the dynamic range is vast, so if you shoot in bright sunshine with deep shadows there will still be lots of detail that can be brought out in post-processing. In Custom mode the dynamic range is still excellent but not so extensive. In low-light shooting, however, performance is excellent in both modes. Custom mode has a built-in suppression of moiré and noise so results look good out of camera, while Cine EI mode files need work afterwards.
Whatever you choose, the image quality is amazing and gives the very cinematic look most people want, especially when using wide apertures to give a shallow depth-of-field. The FS7's high frame rate records in real time without any buffering like in other cameras. As well as all the cinematic frame rates, the high rate at 150fps – lower than the 180fps if you set the camera to US-style NTSC recording – gives a fantastic super slow-motion effect. But it only records in HD at fast rates.
To change from standard to super-fast or super-slow frame rates, Sony has an S&Q (Slow & Quick) button which flicks into slow or fast frame rates, though autofocus and audio are disabled in this mode. You can set it to as low as one frame-per-second for real creative effects, ideal for shooting light trails of traffic at night.
The FS7 takes the standard Sony BP-U series of batteries, which last a long time and are quick to charge. The BP-U90 gives about three hours worth of recording time, and cheaper non-Sony copies are available if you don't mind risking reliability. You can buy a clip-on extension pack to fit powerful and long-lasting V-lock batteries, that can power video lights.
The camera comes with a plug-in Wi-Fi unit, which communicates with a smartphone or tablet. Despite the initially techie way you connect by keying-in an IP address, it works well. You can control the FS7's functions from up to 30 feet away, but you can't stream video. If that's important, buy a plug-in unit, costing around £1000. That's the beauty of a pro-spec camera: just about anything you want to control can be bought as an add-on if you can afford it. You're buying into a system camera.
Specification
Street price: £7296/9506 (FS7K kit), £5752/$8970 (body only)
Sensor: Super 35mm Single-Chip Exmor CMOS
Video format: XAVC-I, XAVC-L, MPEG 2
Resolution and frame rate: 3840×2160, 1920×1080 (59.94p, 59.94i, 50i, 50p, 29.97p, 23.98p, 25p) S&Q (1 to 150 in 1920×1080 for PAL, 1 to 60 in 3840×2160)
Recording media: 2x XQD card slots
Display size and resolution: 3.5in/8.8 cm, Approx: 1.56m dots LCD
Lens mount: Sony E
Included lens: Sony FE 28-135mm f/4G lens in FS7K kit
Audio in: XLR-type 3-pin (female) (x2), line/mic/mic +48 V selectable Mic reference, 4-channel
Audio out: Stereo mini jack 1/8in
Video out: HDMI, 2x BNC HD/3G-SDI
Other interface: USB, LANC
Shutter speed: 1/3-1/9,000sec
ISO Range: 100-16,000 (native base of 2000)
Shot assist: Zebra, Peaking
Battery: BP-U series
Built-in optical filters 1/4, 1/16, 1/64 ND
Dimensions (WxHxD): 56x239x247mm
Weight: 2kg body only, 4.5kg with viewfinder, eyepiece, grip, BP-U30 battery, XQD card
The Verdict
A proper broadcast-quality pro video camera that can be used like a run-and-gun ENG or a cinema-style camera sounds like a winner. Especially with internal 4K recording, a Super 35 sensor, huge dynamic range, super slow-motion with fast frame rates and no buffering. The Sony FS7 comes with pro-style ergonomics and pro-spec features. You don't need to buy ND filters, viewfinders, XLR-input audio recorders, or rigs to make it usable. Running on relatively affordable XQD cards and BP-U batteries, with the same sensor as the Sony F5, the FS7 is a winner, particularly when you figure in the £5752/ $8970 body-only price. Nothing comes close to offering the same features or results at that price.
It's not perfect. The menus are fiddly, and the LCD monitor and viewfinder are not fantastic, but these are small complaints, and if you're really bothered by the viewfinder you can buy better-quality replacements. Sony has created a capable, multi-use, large-sensor camera at a fantastic price. I can see why there was so much excitement around it. Thoroughly recommended, it's a camera that could become a classic.
How it rates
Features     8.5/10

Packed with everything high end filmmakers need, including 4K and a Super 35 sensor
Performance     8/10

With its wide range of pro-spec features this is an easy camera to get to grips with.
Handling     8.5/10

Ergonomically superb and well balanced.
Value for money     9/10

Compared to its rivals it's a bargain.
Pro Moviemaker Rating:    8.5/10
Terrific piece of kit and thoroughly deserves its status as a must-have filmmaker's camera.
Pros: Great spec for the price.
Cons: LCD and monitor could be better
Written by Matt Snow