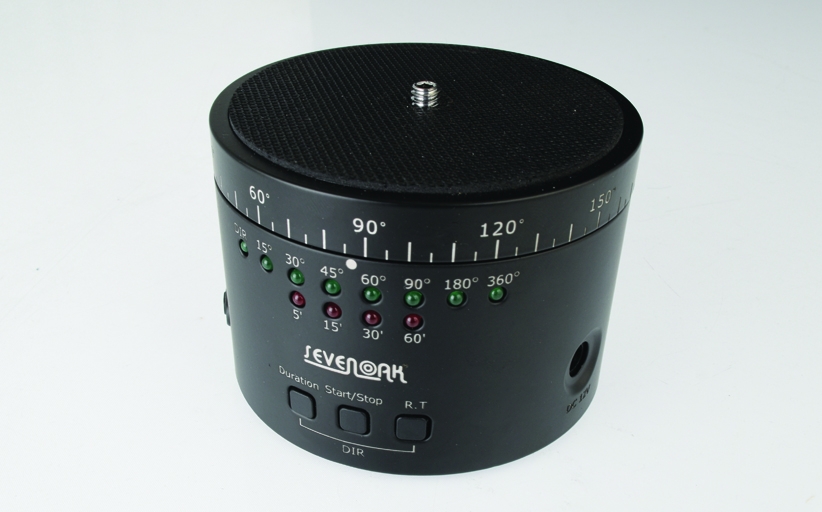 Tested: Sevenoak SK-EBH01 Electronic Ball Head
See what Pro Moviemaker's editor thought of this compact timelapse device.
Time-lapse is one of the most widely used techniques in the filmmaker's armoury, and it can look highly effective when executed well. In its most basic form you leave the camera static on a solid tripod and then set it to fire at regular intervals while the action unfolds in front of the lens. However, things get a great deal more interesting when you introduce a little movement as well, and this neat little device from Sevenoak represents one very straightforward way of doing this.
All you need to do is mount this electronic ball head between your camera and tripod and set it in motion so it will take the camera for a circular spin. Controls are button operated and quick to set, meaning you can vary the angle of view – anything up to 360° is possible – and the speed at which it will travel, so it will complete its journey in anything from five minutes to an hour. Progress is smooth and steady, and if you've set your camera to fire at regular intervals then your time-lapse will effectively take itself.
The unit is battery powered, has a working time of over six hours, with 50 hours of standby. Cameras up to 1.5kg/3.3lbs can be accommodated, so that will include many CSCs, though bigger DSLRs such as the Canon 5D Mk III will be too heavy.
Overall this is a really clever device, supplied with a neat carrying case as an extra flourish, and it will do a great job creating time-lapse footage. As with any of these products, the only limit is your imagination, and those who explore its potential have the chance to achieve some great footage.
Price: £79.99/$113.62 
www.kenro.co.uk
Specification
Angle of view offered: Up to 360°
Time taken to complete movement: From five minutes to one hour
Battery Life: Over six hours with 50 hours of standby time
Maximum camera size: 1.5kg/3.3lbs
Weight: 840g/1.9lbs
Pro Moviemaker Rating: 8/10
Neat and simple solution that will help the filmmaker to produce some stunning time-lapse sequences.
Pros: Quick to set up and intuitive to use
Cons: Needs to be partnered with a camera that offers time-lapse