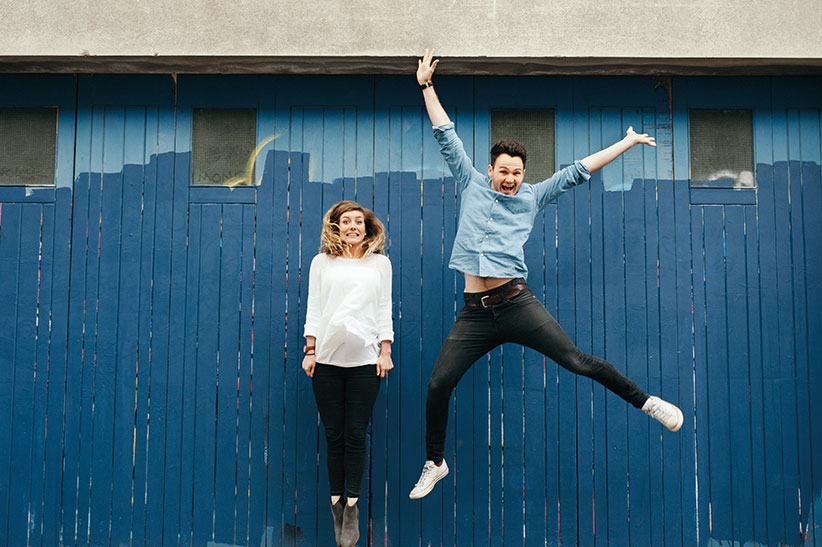 Leap of Faith
The offer of a dream commission meant that Sam Johnson and Chloe Robinson had to make a snap decision to become full-time filmmakers, but neither has ever regretted taking that decisive first step.
Sam Johnson and Chloe Robinson always wanted to establish a career in filmmaking, but getting the chance to make a film for Comic Relief provided the push they needed to give up the day jobs and go for it full time.
Words: Terry Hope
Sometimes in life it's easy to play things safe and to put off the big decisions, but ultimately it could mean that you're missing out on some incredible opportunities. For Sam Johnson and Chloe Robinson, the thought was always at the back of their minds that they wanted to embark on a career in filmmaking together, but both had steady jobs and it was easier to work together on productions in their free time rather than to take on too many unnecessary risks.
"That's probably how we would have stayed for quite a while if we hadn't have been given a push," says Chloe. "We'd been talking about making videos together since meeting at university and had created quite a few for people we knew, and then one day, three and a half years ago, this big opportunity came up to make a film for Comic Relief. We realised that we couldn't do the film and still continue with our jobs, so somewhat naively we decided to quit and go for it!"
For two people that were largely self-taught and who had very little in the way of equipment and contacts at that time it was a massive call to make, and the pair realised they had to hit the ground running. Their Comic Relief film, which focused on how schools might get involved with the charity by planning fundraising events, ultimately came together really well, the highlight being when it was screened during the London Palladium Comic Relief televised live show. Then the really serious work began, as they looked to build on this success and to attract the crucial day-to-day commercial work that would enable them to earn a living.
"We spent the first few months getting such things as our website and branding sorted out," says Chloe, "and we needed a name and came up with The Visuals Team. This works on two levels, both as a small company when we operate as a team of two and as a larger entity for bigger projects. In terms of how we work, we decided from the outset that we would network and hire in specialists as and when we needed them. It's the way so many filmmakers work and you get to know and trust people so that you can rely on them when a big job comes up.  
"In this industry lots of people have lots of different skills and I've compiled a kind of Yellow Pages of people we've worked with so that I've got a long list of contacts who we can call on. Sam and I also have experience of every role in the team and
so we can be flexible in terms of what we do ourselves. There's also the point that by recruiting a team for each job, it means that we can be more competitive on pricing than a company supporting a team of employees. Whoever we hire in, however, we always make sure that we're in control of the job and we never let it leave our sight."
"To start with, we did jobs for very little money and said yes to everything, just to get the experience," says Sam. "At that point we were living with my parents near Brighton and so we had no rent to worry about and our overheads were low, and that gave us the chance to take our time and to focus on getting the foundations of the business absolutely right."
Fortunately Sam and Chloe discovered early on that they have complementary skills, which enabled them to work together well. "Sam is very creative with all the big ideas," explains Chloe, "while I'm more of a realist who thinks about what would or wouldn't work. I tend to do the logistics and Sam directs and shoots, but we share the editing and colouring and work together on the conceptual side of things. What's really good is that we tend to get stressed out by different things so, despite being in some incredibly challenging situations at times, one of us can usually calm the other one down!"
"This big opportunity came up to make a film for Comic Relief"
Finding Work
The perennial problem for freelancers in the creative industries is how to find work, and Sam and Chloe spent the first few months of their new career sending emails out to a wide list of potential commercial clients. As so many have discovered for themselves, however, this approach tends to yield little positive response, but it certainly wasn't a wasted effort since it did manage to net them a company that remains one of their best clients. Most work, however, comes by word of mouth and maintaining connections on a job-by-job basis.  They also landed a commission to film and interview Sir Richard Branson for his book launch for Penguin Live via a personal contact. Chloe admits "I was so nervous before the shoot, but on the day it was such a whirlwind that we were running on adrenalin and I coped by going into autopilot!" 
One of the biggest boosts to Sam and Chloe's growing business has been the decision, taken a year ago, to relocate to Putney in west London. While the couple initially worried that this would naturally put their overheads up substantially, the increased amount of networking that their more central location has enabled has paid remarkable dividends, to the point where financially the couple are actually better off. They also now find themselves positively surrounded by a thriving community of creative freelancers, a pool of talent that's willing to collaborate.
Personal Shoots
Alongside the commercial work, which has built up steadily over the years, the personal shoots have always played a major role in moving the business on, and it's allowed Sam and Chloe to explore new styles of filmmaking and to create material that has the potential to generate more commissions. "One of the big movements in filmmaking at the moment is the telling of stories," says Sam. "People love the honesty of real people talking about their lives, and it's an approach that even some of the biggest brands have been using in a commercial way. 
"From our point of view this is great news, since it's the way we like to work. Because we know a lot of people fulfilling their dreams with great stories to tell, we decided to make a series of films about them. The idea was that we could make the films exactly as we want, to showcase our techniques without compromise."
Their first in the series was about Søren, a good friend of Sam's who was living the dream as an 'extreme' photographer in the Alps. "The footage sat on the hard drive for a year and a half before we had time to do anything with it," confesses Chloe, "but when we eventually put it online it got 50,000 views, 80 shares and our Facebook following doubled overnight."
While the film was an online phenomenon and a shop window for the couple's storytelling skills, its importance to The Visuals Team was about to become even more significant. Sam noticed a competition being run by hard-drive specialist LaCie that was inviting entries that explored the theme 'In My Element,' and the Søren film fitted the bill perfectly. "I sent it off and thought no more about it," he says, "and was then amazed to receive a phone call several months later telling us that we'd won!"
Shooting footage for the film about extreme photographer Søren in the Samoens Valley in the French Alps.
"One of the big movements in filmmaking at the moment is the telling of stories. People love the honesty of real people talking about their lives"
Taken during the Comic Relief shoot in north London. 
Disaster strikes
With a prize pot of £15,000 worth of gear as the top prize this was a huge deal as well as a massive confidence booster, and it effectively moved the company on to the next level in one fell swoop. As a bonus, and outside the original remit of the competition, Sam and Chloe were invited by LaCie to travel to Las Vegas as their guests for the giant NAB Show and to deliver a presentation of their winning entry. There was also the opportunity for a short road trip through the Grand Canyon and Yosemite afterwards, a tantalising prospect for any creative filmmaker.
Everything appeared to be just about as good as it could get for the couple, but their world fell apart following a short
stop at a hamburger joint in California. In broad daylight and with plenty of people about, their vehicle was broken into and most of their gear was stolen, along with much of the footage of the film they'd been shooting, complete with three backups. 
"We were heartbroken when we discovered what had happened," says Chloe. "We put news of the theft on Facebook and asked people to tell us if they were offered any of our stolen gear, and we also talked to local pawnbroker shops. It turned out that several people had suffered similar robberies, all of them involving break-ins to the trunk." 
Sam shows his head for heights during filming of the wingsuit sequence for Søren on the MOVI M5. The harness secured him to a metal fence for safety.
"In broad daylight their vehicle was broken into and their gear stolen"
What happened next, however, helped to restore any faith in human nature that might have been lost for Sam and Chloe, as filmmakers responded in their droves with offers of kit loans and practical help, and the generosity of the filmmaking community was overwhelming. And on another positive note, the couple's insurance company has now agreed to cover the loss, so all of the stolen gear will be replaced, although sadly the lost footage has yet to be found. 
So, what of the future? As they reflect on all they have achieved in a few short years Sam and Chloe are understandably positive and upbeat about the state of their company and looking forward to yet more exciting years ahead.
"We've really enjoyed ourselves," reflects Sam, "and we particularly enjoy the fact that no two days at work are ever the same. It's also great that we're now in a position where we can actually afford to choose the work we take on and maybe say no to well-paid jobs that just aren't taking us in the direction we want to go. Ultimately, it's crucial to remember why you started out in the first place."
More information