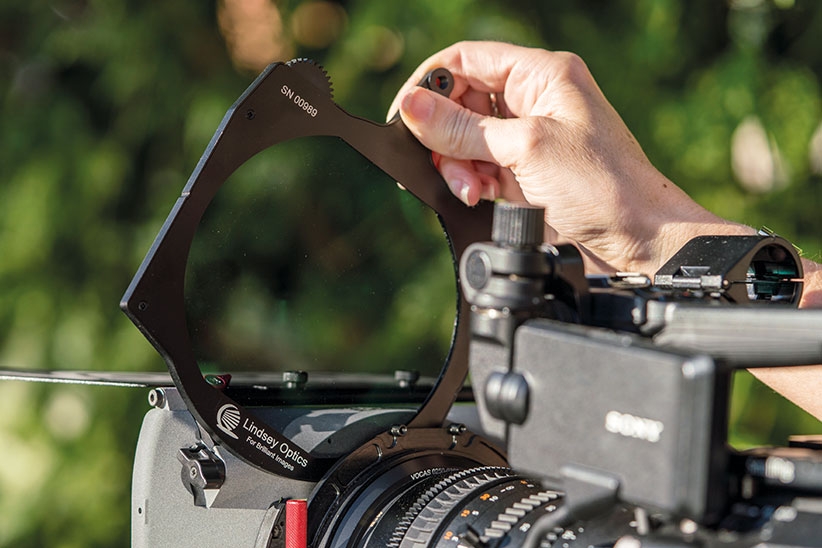 Lindsey Optics Brilliant² Rota-Pol
If there's one filter everyone should have, it's a circular polariser. Sometimes, for cutting out unwanted reflections from windows or shiny objects, it's the only realistic solution. It can darken skies, too, especially when used at roughly 90° to the sun. All you have to do is rotate the filter around and watch as reflections disappear and colours become more saturated.
The £638/$599 Lindsey Optics Brilliant² Rota-Pol is 138mm wide, so suitable for all but the very widest and fastest specialist lenses. It fits into a standard matte box, including those from ARRI, Bright Tangerine, Chrosziel and Vocas, which is how we tested it on a Sony FS5, fitted with an 18-110mm cinema zoom lens with a 95mm front filter thread. It doesn't work with RedRock Micro matte boxes, though.
The filter is masked at the top and bottom, to prevent stray light entering the matte box. We had no problems with any flaring or ghosting, and pointing the lens directly at the sun showed no unwanted patterns or internal reflections.
NO POLA
Many filters can give patchy patterning or aren't wide enough – not the Rota-Pol.
POLA
Once in place, the filter can be rotated by spinning either of the two thumb wheels by hand or with a motor mounted on the 1/4–20 thread in the handle. Teeth are the standard 0.8 pitch gear teeth. We used it manually and it offers just the right amount of resistance with very little drag. That's because the main gear is made from aluminium for durability and it's supported by internal Delrin rollers for a smooth feeling. So this means, unlike some filters that require your matte box to have a rotating filter set-up, the Lindsey works on most matte boxes and doesn't interfere with rods, making it quick to use.
The optical quality is excellent because Lindsey Optics use industry-standard Schott B270 water-white optical glass, which is perfectly flat to avoid distortions or focus shifts, even with longer lenses. It has an easy-clean, anti-reflection coating that's resistant to oil and water, and it's easy to get fingerprints off without damaging the filter. 
"Top-quality kit that just does its job flawlessly"
In one way, the mark of top-quality kit is that you quickly don't notice you're using it – it just works flawlessly. The Lindsey Optics Brilliant² Rota-Pol was just like this, being easy to use and adjust, not having any noticeable distortion and just doing its job well. It's a robust bit of kit made from good materials that should give lasting use.
Specifications:
Filter size: 4×5.65in 
Circular filter diameter:
138mm/5.1in
Material: Schott B270 water-white optical glass 
Coatings: Anti-reflection, water and oil resistant, easy-clean
Included accessories:
Storage pouch
Dimensions (wxhxd):
6×2.25×5.25in
PRO MOVIEMAKER RATING: 9/10
A fine-quality polarising filter that works for most matte boxes
+ Pros: No ghosting or nasty colour casts
– Cons: Pricey compared to stills-based options
PRICE: £638/$599