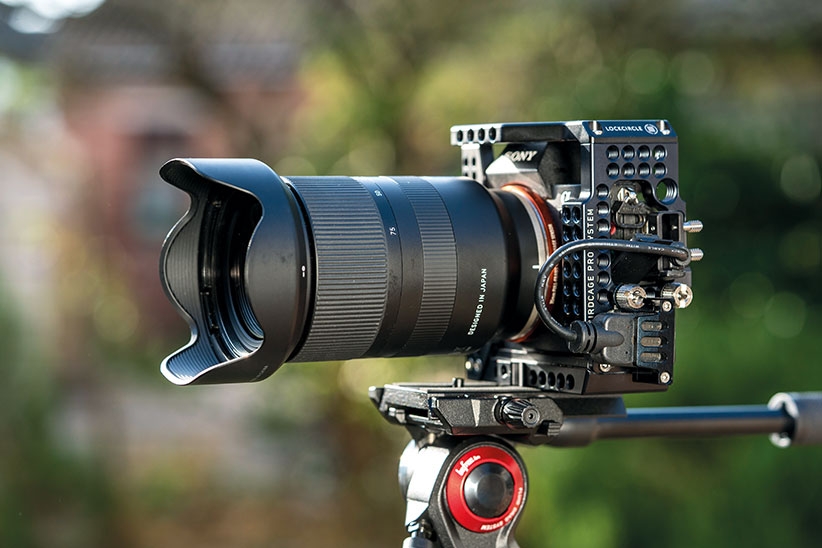 Tamron 28-75mm f/2.8 Di III RXDl
If you want a fast f/2.8 standard zoom for your full-frame Sony mirrorless camera but were put off by the size, weight and price of the only lens available (Sony's G-Master), then now you have a choice. The Tamron's build quality isn't in the same league, but optically it's not far off and it works just as well in most shooting situations. It's a mid-range, mid-price standard f/2.8 zoom for Sony full-frame. 
While the popularity of Sony's full-frame mirrorless A-series cameras continues to increase, it is hampered by a limited lens choice. Sony has some incredible glass in its G-Master series, but this is accompanied by a serious price tag that's often higher than a comparable Nikon or Canon L-series lens. And there has been a very limited range of independent versions available as companies have struggled to engineer new glass for mirrorless cameras as quickly as many buyers would like.
This been especially obvious in that workhorse lens of professionals, the 'standard zoom' 24-70mm f/2.8, often the first pro lens bought for a system. Until now, your only choice was to splash £1850 on a G-Master.
Not only is this almost as pricey as some camera bodies, like the new A7 III, but when fitted makes the camera front-heavy, large and weighty. 
Now, Tamron has released its long-awaited 28-75mm f/2.8 zoom in a full-frame E-mount fitting. Slightly longer at the wide end and the telephoto end than the majority of zooms, the Tamron is less than half the price of the Sony. And at 550g with a 67mm filter size, is much smaller, lighter and more portable than the Sony G-Master which hits the scales at 886g and has a whopping 82mm front filter. The Tamron just feels much more suited to the size of the A7 series cameras and improves the handling.
Tamron is the first independent to fill the gap for a fast f/2.8 zoom for Sony's full-frame mirrorless cameras.
Of course, you don't get something for nothing and the Sony is sublime in optical quality thanks to its optical construction of 18 elements in 13 groups compared to the Tamron's lesser 15 elements in 12 groups. And if you put images shot with the Sony next to images shot with the Tamron, there is a difference in sharpness and contrast, especially at wider apertures. But it is minimal, and chances are you'd never notice it
in much real-world shooting. But the Tamron does show more vignetting.
By middle apertures, their difference in image quality gets very close. Yes, the Sony is sharper and the image is slightly warmer but it's not a huge variation. Certainly not something you'd think was a direct reflection of the price difference.
Both lenses have nine-bladed diaphragms so give pleasing out-of-focus highlights. Again, the sublime Sony edges it but it's not a huge difference and certainly something most shooters could live with.
Where the Tamron does have a slight edge is that it focuses closer at wide-angle settings, 19cm/7.5in compared to the Sony's 38cm/15in. In terms of autofocus speed, the Tamron cooperates beautifully with the Sony system thanks to its newly-developed AF drive system specifically for Sony, and feels every bit as fast as the native Sony lens. Using Eye AF, the Sony does seem to edge it, though.
Specification:
Focal length: 28-75mm
Mount: Sony E
Image coverage: Full frame
Aperture: f/2.8
Aperture blades: 9
Construction:
15 elements in 12 groups
Minimum focusing: 19cm/7.5in wide, 39cm/15.3in tele
Filter size: 67mm
Dimension (WxL): 73×117.8mm/2.87×4.64in
Weight: 550g/1.21lb
PRO MOVIEMAKER RATING: 9/10
Finally a mid-range f/2.8 standard zoom for Sony E-mount mirrorless
+ Pros: Light, compact and affordable
– Cons: Less sharp than Sony option
PRICE: £700/$799