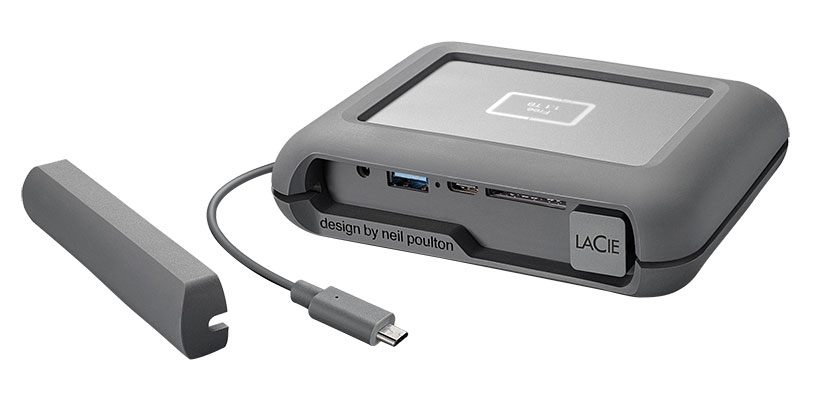 Location Drives
Find the perfect portable hard drive with a range of options covering speed, size, space and security…
Whether you want to back up footage in the field or edit movies on the fly, you're going to need a first-class portable hard drive. And while you'll most likely already have a selection of drives, with file sizes always on the rise and many videographers now using multiple cameras, both the space and the speed you need should be routinely reassessed. That's why we've brought together a selection of the latest models in this month's group test.  
This selection offers a range of specs so all needs are covered, from those who need masses of storage on location to those who need the fastest transfer speeds. And many of the drives are rugged enough to stand up to water, dust and accidental drops as well. 
If you need the fastest connections, a solid state drive (SSD) is the way to go, and when combined with a Thunderbolt 3 connection you'll get huge speeds. Solid state drives with a USB 3.1 Gen 2 connection are still very fast, though – certainly enough to edit 4K video without problems. They are backwards compatible with USB 3.1 Gen 1, USB 3.0 and USB 2.0, but your connection speed is limited by the slowest of the links in the chain, so don't expect a USB 3.1 SSD to perform wonders on an old laptop with 2.0 ports.
Traditional hard disk drives (HDDs) are slower, but offer lots more storage for your money, so if you don't need to edit off the drive they can be a more cost-effective option. And with lots of space you can mirror your backups for greater security.
Sony PSZ-RA Pro Field Drive 12TB
£589.85/$750  www.sony.com
If you need huge amounts of portable storage, say when shooting an extended event or using lots of cameras, Sony offers a great solution in the shape of its Pro Field drives. These are hard disk drives (HDDs) so you can't expect solid-state speed levels, but there's masses of capacity with models from 4TB to 12TB, and as RAID devices you can use the total of the storage (RAID 0) or mirror it (RAID 1). You're unlikely to run out of space, and it's a lot easier than chasing multiple smaller drives about your desktop after the event.
Unlike most drives of the size, the Pro Field models also offer a good level of shock resistance. There are internal and external dampers, allowing the unit to run while there's vibration, such as from a running car or generator, and a robust carry case with handle. It can operate from 5°C to 40°C, so might need some additional protection if you're planning to use it in extreme conditions, but it can be stored from -20°C to +60°C. Unlike the other drives covered here it also needs a power supply as it's not bus-powered. At 156x100x241mm and weighing 2.9kg, it's not small or light, but that's not its job. It comes with a three-year guarantee. 
"Many of the drives stand up to water, dust and drops"
The drive uses both USB 3.1 Gen 1 and two Thunderbolt 2 connections so you shouldn't be short of connection options, including chaining several drives if required. Top speeds should hit 440MB/s, though this falls to 360MB/s with 8TB/12TB models; best speeds are reached in the RAID 0 configuration (a 1TB file should transfer in less than an hour). It can be used with large-capacity SxS PRO+ D Series memory cards.
PRO MOVIEMAKER RATING: 9/10
+ Pros: Huge storage, rugged and well priced
– Cons: Needs power
Sony SL-E1 960GB external SSD
£429.00/$288.84  www.sony.com
Sony's SL-E1 960GB external solid state drive is one of three that the company produces in the same series; there are also 240GB and 480GB versions, but the highest capacity gives you an element of future-proofing, and fewer worries about running out of space if you're working on location for long periods of time. 
The SL-E1 uses a USB 3.1 Gen 2 interface with a USB Type C connection, and transfer rates are up to 540MB/s read and 520MB/s write, so you should experience little if any slowdown in your editing and backing up. A USB Type-C to Standard-A cable is included. A small LED oversees transfer if you don't have a screen.
The SL-E1 is very small and light, amongst the smallest and lightest in the group; it weighs only 50g/1.8oz and measures 47x11x80mm, making it feel like a thick business card. With a pleasingly curved edge, it's definitely pocket-friendly. 
It makes no bold claims of durability, but like any solid state drive the fact that it uses flash memory and has no moving parts means it has a much better chance of withstanding shocks than a traditional spinning disk. The body is clean and simple, and made of aluminium for durability and to act as a heat sink; it also has a corrugated finish that definitely makes it more grippable and stops the drive looking grubby with fingerprints; on the downside, you may find assorted dust and crumbs collecting within the grooves and needing a brush to remove them. There's no plug protector for the USB port, either. 
The drive is compatible with Macs and PCs, as well as Android devices, and can be set up to password-protect selected partitions but leave some areas open for less vital files. 
PRO MOVIEMAKER RATING: 8/10
+ Pros: Good speed, compact and light, plenty of capacity
– Cons: Limited toughness
Sandisk 2TB Extreme Portable SSD
£549.99/$379.99  www.sandisk.com
The Sandisk Extreme Portable SSD's design screams 'on the move', with its built-in loop letting you attach it to your bag or clothing. It looks as much like a piece of outdoor gear as a mobile hard drive, and that's backed up by its 'extreme' build (it's water and dust resistant to an IP55 standard). Testing this we gave it a bit of a splash with water from a shower head, dried it and it functioned as normal. There's no rubber plug to the USB C connector though, so you wouldn't want to get that too clogged up. It'll also withstand drops of up to two metres onto a hard surface, and has an operating temperature of 0 to 45°C.
This toughness doesn't mean increased size and weight, though: the Extreme Portable SSD measures just 96.5×50.8×7.6mm/ 3.8×2.0x0.3in, so no larger than a mobile phone, and it fits easily in most pockets. It weighs 38.9g/0.086lb, so it's not noticeable at all in your bag or pocket.
The Extreme Portable SSD uses a USB 3.1 Gen 2 connection and can hit a maximum read speed of 550MB/s, and comes with a Type-C to Type-C cable; if you're using a machine without Type-C connections, there's a Type-C to Type-A adapter included. The drive is pre-formatted as exFAT, so it can be plugged straight into a Windows or MacOS machine, and the SecureAccess encryption allows files to be password protected. The 2TB version will give you plenty of space to play with – for instance around 65 hours of 4K 30fps video footage – but it also comes in 250GB, 500GB and 1TB version. A three-year warranty is included.
PRO MOVIEMAKER RATING: 9/10
+ Pros: Tough, small, light, fast, high capacity and reasonable price 
– Cons: Not many
G-Technology G-Drive Mobile Pro SSD 1TB
£608/$699  www.g-technology.com
Future-proofed in all the right ways, the G-Technology G-Drive Mobile Pro allows for huge transfer rates up to 2800MB/s via its Thunderbolt 3 connection. All that speed means absolutely no lag, no matter what you're editing – even multi-streaming 8K footage at full frame rate or working on VR projects. You can transfer 1TB of content in only seven minutes. This means it's arguably more suitable for videographers wanting to edit on the move than just back up on location. The drive is also available in a 500GB capacity for about half the price.
The Mobile Pro SSD is built to match its speed, with a highly durable metal casing adding up to an impressive level of shock resistance; we dropped it from three metres without any loss of function, and it also offers crush-proof spec of up to 1000lb. It doesn't sacrifice portability for protection, though, at a fairly pocket-friendly 112x80x17mm (4.41×3.15×0.67in), while weighing 200g (0.5lb), so a little heavier than some in the group. It has an aluminium heat sink core that stops the exterior getting hot, and during extended write times it didn't seem to increase in temperature at all. 
The G-Drive Mobile Pro SSD comes preformatted for MacOS 10.13 and later, but can be used with Windows 10 via reformatting. A Thunderbolt 3 cable is included, which also powers the drive, and it's covered by a limited five-year warranty.
 PRO MOVIEMAKER RATING: 9/10
 + Pros: Super-fast Thunderbolt speed, superb build
 – Cons: Needs formatting for Windows, needs Thunderbolt, heavier than some
Lexar SL 100 512GB
£118/$99  www.lexar.com
Lexar's SL 100 drives are portable solid state models with capacities of 240GB and 512GB. As you'd expect from a solid state model, the SL 100 has very fast read and write times of 550MB/s read and 400MB/s write, which equates to about four times as fast as a traditional spinning disk, and the transfer rate is kept high by its USB 3.1 connection. The SL 100 also uses a USB Type C connector, which means no more messing about trying to get the thing in the right way; the included cable is Type C to the more familiar 'which way does it go in' Type A, so you'll need to upgrade it if you're using a laptop without standard ports. A small LED indicator light lets you know when transfer is complete, and it's preformatted to work on both Mac and Windows. 
The SL 100 isn't ruggedly designed like some portable drives in this group, but being solid state it's inherently better able to deal with changes in temperature (0°C to 70°C when operating) and vibration. Nor is there any means of physically locking the drive down, but importantly for any mobile device that you might use in public spaces, it also offers file encryption – Lexar's EncryptStick Lite – to protect files, which is very straightforward to set up and use, with a password accessing the secure DataVault portion of the drive and any files deleted from it securely erased. 
At 55×73.4×10.8mm/2.165×2.89×0.425in and weighing 70.5g/0.155lbs, it's tiny, too. Smaller than a packet of cigarettes, and certainly pocket-friendly and with no awkward angles that might snag on clothing. A three-year limited warranty is included.
PRO MOVIEMAKER RATING: 8/10
+ Pros: Affordable, good speed 
– Cons: Maximum 512GB capacity
LaCie Rugged RAID Pro 4TB 
£319/$349  www.lacie.com
The Rugged RAID Pro's ace card is an embedded SD card reader, meaning you can back up files on location without needing a separate card reader, and this worked very smoothly on test; it's a UHS-II speed card reader, so files were transferred quickly. 
Although the Rugged RAID Pro uses a fast USB 3.1 Gen 1 connection, it's also an HDD design with two disks, so speed isn't up to what solid state drives offer. The top speed is 240MB/s, and like all hard disks this fastest rate is available in the RAID 0 configuration. If you mirror your files it'll drop off, so editing off the drive is best done in RAID 0. 
The drive has an IP rating of 54 and survived a quick dowsing in our test. The rubber outer allows drops of up to 1.2m and it's one of the only drives in the group to come with a protective plug to stop the card slot, USB connection and power port getting clogged up. A spare one is provided in case it gets mislaid. On the power front, it's bus-powered, but an included AC adapter lets you run it that way if there's not enough juice from a port. The drive comes with a limited three-year warranty.
PRO MOVIEMAKER RATING: 8/10
+ Pros: Lots of capacity and mirroring options, hardy
– Cons: Doesn't offer greatest speed
LaCie DJI Copilot 2TB
£329/$349  www.lacie.com
The LaCie DJI Copilot is an all-in-one mobile storage solution with built-in screen and a range of connections that mean you can back up files on location without the need for a laptop. The drive has an SD card slot, USB Type C and Type A connection, and comes with Type C to C, Type C to A and lightning leads, as well as a micro SD to SD adapter. All this allows you to download from a card, or plug your camera in directly. What's more, you can then review footage on your mobile devices using the accompanying Copilot app. It worked really well, and is a definite space-saver as you don't need to lug a laptop and/or card reader around with you (assuming you're using SD cards, that is).
The drive's status screen is very simple, displaying just file transfer status, capacity and battery power, but via the app you can do more complex stuff like copy from the drive to a second backup, organise folders and so on. 
The 2TB of storage means over 60 hours of 4K 30fps video footage can be stored, which is plenty. As a hard disk it's limited to a fastest transfer rate of about 440MB/s via its USB 3.1 Gen connection.
The drive needs to be charged before use in the field, and it runs for two hours or so if used continuously, but it can be plugged in and run like a bus-powered drive on a laptop or desktop. It can also charge other devices in the field, and offers protection against drops, dust and water. 
PRO MOVIEMAKER RATING: 9/10
+ Pros: Hugely versatile, durable and easy to use, well priced
– Cons: Not the fastest out there
Samsung X5 2TB portable SSD
£1,236/$1400   www.samsung.com
Sleek and shockproof, Samsung's new X5 2TB portable SSD enables pretty astonishing read/write speeds of up to 2800/2300MB/s via its Thunderbolt 3 connection. Samsung claims this is 5.2x/4.5x faster than a portable SSD with regular SATA interface, and a whopping 25.5x/20.9x faster than an external hard disk drive. What it boils down to is the ability to transfer a 20GB 4K video file in around 12 seconds, and of course this means the drive can be used for seamless remote editing, not just storage, as there's no lag to even very memory-intensive operations. 
The X5 weighs only 150g and measures 62x119x20mm/ 2.44×4.69×0.78in, so it's pretty much pocket-sized, and its smoothly curved design means it won't catch or snag. An integral heat sink helps maintain optimal performance and temperature, and with no moving parts and a reinforced magnesium alloy shell it's also claimed to withstand up to a six-foot drop; we dropped it from that distance onto a wood floor and it seemed absolutely fine. Out of the box, it's compatible with MacOS X Sierra and up, and Windows 10 RS 2 or higher. There's also optional password protection and data encryption, plus a three-year warranty, but it will set you back around £1250. If you need the speed but not the capacity, cheaper 500GB and 1TB models are available.
PRO MOVIEMAKER RATING: 8/10
+ Pros: Amazing speed, lots of capacity
– Cons: Needs Thunderbolt connection, quite pricey
The Verdict
With the variety of models in this guide, it's impossible to pick a real winner: it's all about choosing the drive that best suits your needs, and then finding it at the best price. 
The LaCie DJI Copilot is certainly a standout performer, bringing something unique to the group with its ability to function without a laptop on location. The Sony Pro Field Drive offers masses of versatility and storage in the field and is very tough. The LaCie Rugged RAID Pro adds a handy SD card reader to the mix, and it's a snip at just over £300.
Of the SSDs, the Samsung X5 and G-Drive Mobile Pro offer breakneck speeds thanks to their Thunberbolt 3 connections, and while the Sandisk Extreme Portable SSD is slower, it's more affordable. The Lexar SL 100 is great value, and both it and the Sony SL-E1 are genuinely pocket friendly.