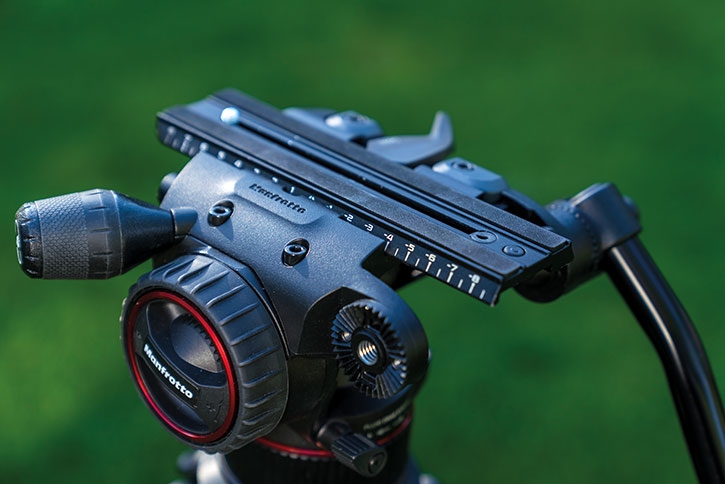 Manfrotto 545B Twin MS with Nitrotech N12 Head
Manfrotto's traditional twin-tube aluminium video tripod with mid-level spreader, teamed with the firm's 504 fluid head, has long been the go-to set of sticks for filmmakers around the globe who demand performance and value. And it's easy to see why – sturdy but not too heavy, rugged, long-lasting and top value for money.
But in the past couple of years there's been a revolution in tripod and head design and the use of carbon fibre has become more widespread.
Manfrotto has swung back in with a carbon fibre version of its twin-tube tripod, now with the N12 Nitrotech head, which makes it suitable for camera payloads up to 12kg/26.4lb.
In the last we issue we raved about the aluminium version of the 545 tripod, fitted with the N12 head. Well now the carbon version is available, and Manfrotto claims there is a 50% increase in rigidity thanks to the combination of the carbon fibre tubes and a new internal leg lock mechanism. That's incredible, especially considering the whole kit weights 840g/1.85lb less than the aluminium version and costs only a litle more at £1160/$1199. A bargain for such a high-tech bit of kit.
The new legs look stunning thanks to the carbon fibre weave, and are as fast and easy to set up, plus more resistant to twisting or bending. Carbon has better damping qualities so vibration is reduced, although you'd need to compare the two very closely to spot the difference.
The legs have quick-release rubber feet which expose spikes that are ideal for outdoor use. You can also buy a version with a ground-level spreader.
The minimalist N12 head is quick and easy to balance for lots of different cameras and lenses, and is beautifully damped for pans and tilts without any nasty snatching at the start of the move or bounce-back at the end.
The head uses a nitrogen-charged piston to control counterbalancing, with a knob on the side to dial in the right amount of balance. It's adjustable for cameras of most sizes and the supplied long camera plate makes it easy to dial in. A quick-release system means the camera clicks in firmly when lowered into place. 
We thought the aluminium version of this kit was better than anything Manfrotto has offered before. The carbon version is lighter, more rigid and doesn't cost much more, which makes it an even better buy.
Specifications:
Head Fitting: 100mm half bowl with 75mm adapter
Counterbalance: Variable continuous 4-12kg/8.8-26.46kg
Leg Sections: 2 carbon fibre
Height range:
75-169cm /29.5-66.5in
Maximum Payload: 12kg/26.4lb
Spreader Type: Mid-level
Head Type: Nitrotech N12
Weight: 5.16kg/11.39lb
PRO MOVIEMAKER RATING: 9/10
Proven performance, carbon fibre body and fluid head make a great buy
+ Pros: Great price for high-tech kit that works so well
– Cons: Not as light as some rivals
PRICE: £1160/$1199