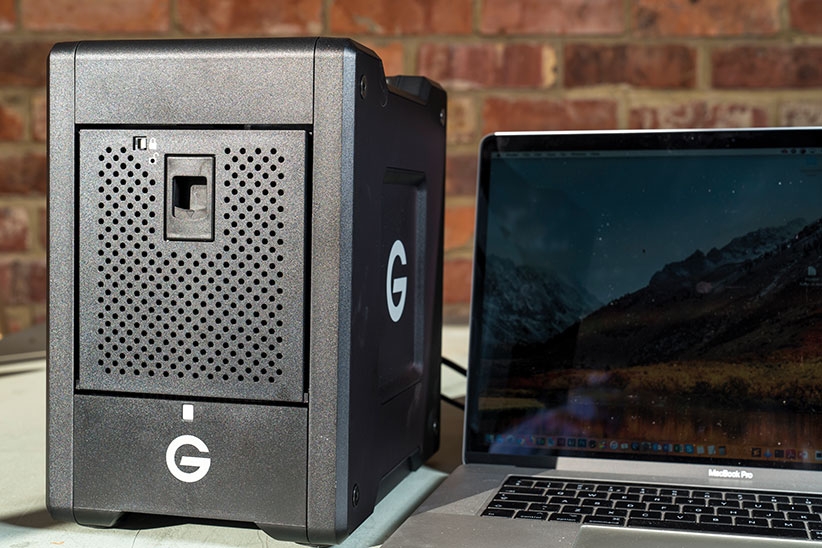 G-Technology G-Speed Shuttle Thunderbolt 3
There are lots of external hard drives on the market at widely varying prices, but very few are designed with the very specific needs of the modern filmmaker in mind. The sort of user who wants loads of storage space, incredibly quick data transfer to robust Enterprise-class drives, lots of RAID options for security of footage, a rugged case to be able to take the unit on location and ideally the fastest ports you can get for use on the latest Mac computers. 
That sort of spec narrows down the choice hugely, to only the very best and latest. In fact, just about the only hard drive you can buy to tick all those boxes is the latest G-Technology G-SPEED Shuttle with twin Thunderbolt 3 ports. 
That makes it ideal for use on the latest MacBook Pro and iMac Pro models, and allows it to be daisy chained with up to five additional devices, such as multiple drives and 4K displays, through a single connection to the computer.
It is also ideal for use in an editing studio, but because it's well-built with a convenient top carrying handle, it's designed to be portable enough to take on location.
Using four 7200rpm drives, the Shuttle we tried was a 16TB version but the units are available in up to 48TB configuration at significantly extra cost. The largest version costs £3348/$3800 which is not too bad considering it's triple the size of the smallest model but only a bit more than roughly double the cost. 
But the size doesn't affect the speed, which is what the G-SPEED is all about. It's fast enough for 4K, 8K, high dynamic range and high frame rate footage. 
And with data transfer rates of up to 1000 MB/s, you can edit multi-camera footage in real time, render multilayer effects, and export speedily. Used on the latest MacBook Pro with Final Cut Pro X on the computer's internal SSD, the G-Technology unit held the footage and the Final Cut Library and it was blazing fast. There was no sign of the dreaded 'Frames Dropped During Playback' screen that often accompanies large files. 4K footage from a Sony A7R III and a Sony FS5 were displayed and rendered with no issues at all and no buffering. It made editing quick and frustration-free.
The unit comes pre-configured in RAID 5, which is a good balance of performance and data redundancy. You can also reconfigured it as RAID 0, 1, and 10, to suit your individual needs. The G-Technology comes pre-formatted for Mac, and it's just plug-and-play. It instantly appears on the desktop ready for use. The MacBook Pro we tested it on uses Thunderbolt 3 ports, but it's also backwards-compatible to Thunderbolt 2 and can be reformatted to work on Windows 10, 8.1 and 7.
The individual hard drives are easily accessed via the door at the front of the unit. You can then remove them and replace them as needed. Depending on how you have set your RAID, if one hard drive fails it can be as simple as pulling out the broken unit and installing a new one. The data will then be copied onto the new drive for a totally seamless experience.
The G-Technology G-SPEED Shuttle Thunderbolt 3 looks cool and stylish as it comes in a stealthy black case, and a fast Thunderbolt 3 cable is included. It's easy to use, fast, robust and has lots of capacity.
The hard drives are easy to get at behind the door on the front of the unit, and can be removed.
Specification:
Size: 16TB. 4x4TB Enterprise class 7200rpm hard drives
RAID: Built-in hardware support for RAID 0, 1, 5, 10
Transfer rates: Up to 1000MB/s    
Interface: 2x Thunderbolt 3 ports
Compatibility: Mac OS 10.12 on, Windows 10
Dimensions (WxHxD): 247.6×174.0x266.7mm/9.75x 6.85x 10.5in
Weight: 7.4kg/16lb
PRO MOVIEMAKER RATING: 9/10
Perfect for the demands of modern filmmakers, especially if you use the latest Mac computers
+ Pros: Quick, safe, easy to use and relatively portable
– Cons: Other 16TB drives are cheaper, but don't have the same spec
PRICE: £1586/$1799