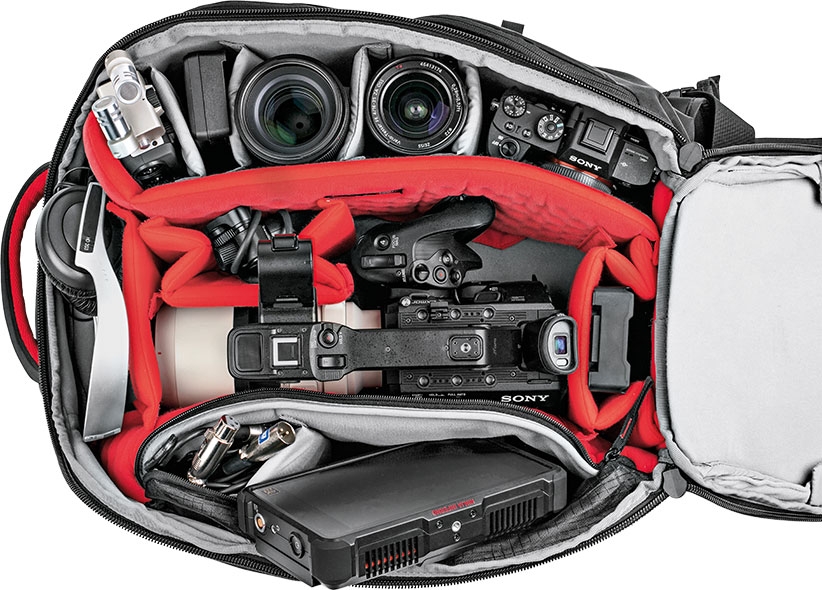 Manfrotto Pro Light Cinematic Backpack Expand
You don't have to be a genius to work out what the key USPs of Manfrotto's Pro Light range are. They're lightweight bags designed for professionals. In the case of the Cinematic Backpack Expand (CBE), said pro is either a one-person operation or a run-and-gunner, while at 2.6kg in unburdened form it's undoubtedly light given its capacity. Both boxes ticked, then.
Manfrotto claims the CBE will swallow a modern, modular cinema camcorder with 70-200mm f/2.8 lens attached, plus up to an additional ten lenses, video accessories or camera bodies. And I'd certainly agree with that – there's also space for a laptop as well as slim side pockets for filters, notebooks and more. The bag can carry the camcorder with or without a top handle attached – just unzip the expandable section on the front of the bag to increase the capacity. With the front expanded, it's no longer airline carry-on legal. So for a flight, the handle has to come off and be stowed inside the bag.
Ticking boxes for one-person operators and run-and-gunners.
Protection levels are impressive thanks to Manfrotto's Camera Protection System that runs down the central spine of the internal compartment. Either side of that are more conventional dividers to keep gear separated and on one side there is a zipped section, which can be accessed from the outside of the bag; handy for lens changing on the fly.
A hefty carrying handle is provided on the top of the bag, plus there are well-padded shoulder straps, an adjustable chest harness and a waist belt, all of which distribute weight evenly. The bag complies with current cabin baggage sizes and with this in mind, it's handy that the laptop compartment is accessed separately to the main bag for going through baggage check. I doubt whether a full CBE would comply with cabin luggage weight restrictions, mind.
Build quality is generally good. The bag is made from water-repellent ripstop nylon, while zips and clips look like they'll stand the test of time. A rain cover is also included and has a silver side to deflect sunlight and prevent overheating. My only real question mark on durability is the pull tabs on the main compartment zip. They're made from nylon thread and slim plastic, which doesn't fill me with confidence.
Specifications
External dimensions (HxLxW):
59×36.5x23cm/23.23×14.37×9.06in
Internal dimensions (HxLxW):
52x33x21.5cm/20.47×12.99×8.46in
Camera compartment (HxLxW): 52x25x20cm/20.47×9.84×7.87in
Laptop compartment (HxLxW): 49x33x3.5cm/19.29×12.99×1.38in
Weight: 2.6kg/5.73lb
 
ProMoviemaker Rating: 9/10
+ Pros: A big bag with plenty of space that can accept a cinema camera, well made, cabin luggage size
– Cons: Zip pull tabs on main compartment a little lightweight, unlikely to comply with cabin weight restrictions when full
Price: £269/$279.99