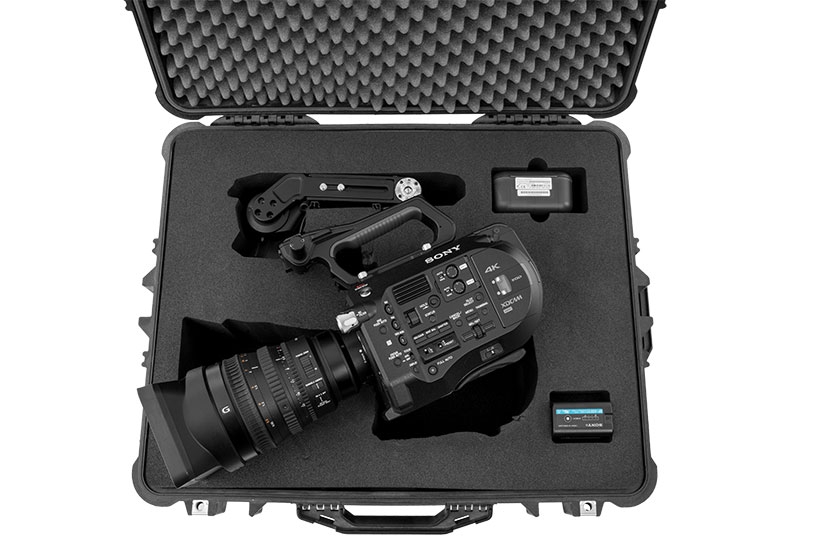 MyCaseBuilder Custom Case Insert
For the ultimate in protection for your kit, there is nothing that comes close to a heavy-duty professional case like a Pelican fitted with a custom-made foam liner to snugly hold all your precious kit. And if you are planning on flying with your kit and putting it into the hold as checked luggage, there is nothing that would give you more confidence that it will be in one piece at your destination.
But anything custom designed for your precise kit often comes with a very steep price tag, so has been relatively uncommon for independent filmmakers. Until now.
MyCaseBuilder will custom-cut a foam liner for the case of your choice based on your precise kit, and not make you remortgage the house to pay for it. It's based on an easy online system with fast delivery, too.
In the USA you can order a brand-new case with a custom liner, but in Europe you have to buy the case separately. Then MyCaseBuilder will customise a liner for you. So you can use a case you already own. 
The website has sizes preloaded for many of the popular cases from brands like Pelican, but you can order a custom size for any case you like that isn't on their system.
It's best to get all the kit together that you want to fit into the case in one place, and work out beforehand how you think it can be arranged. On the MyCaseBuilder website you tell the software which case you want an insert for, then there are stock templates for many popular cameras and lenses. You drag and drop these onto the outline of the insert and move them around until you're happy. You can add in holes to give you space to get your fingers in to pull out the kit, too.
Of course, many items aren't listed, such as some lenses, monitors, batteries and the like. For this, you can upload a photo to the software then trace it using the on-screen instructions, and add sizes. You then add this to your design and shuffle everything around until it all fits.
It's often easy to find pictures of kit on various manufacturer websites, or online via a Google image search. Or just take an overhead photo using your phone and upload that. It's easy to do.
Once you're happy with the design and have ordered it, MyCaseBuilder will check it out and send you back a 3D version of the case insert for you to check and approve. From then, it's only a couple of days before your new case insert arrives, complete with a liner for the inside lid of the case.
If you want to spec everything including the type of foam used, you can using MyCaseBuilder's website. Or leave it to their discretion as they have lots of experience.
Of course, one of the problems could be that you've not done your measurements right and the kit doesn't fit. In that case, send it back and they will modify it – as long as it's not cut too big already. That's why it's important to check and double-check all your measurements.
If you have really messed things up and want to start again after delivery, MyCaseBuilder will do a replacement at 50% off. But it pays to get it right first time. Or you can pay £8/ $8 when you order for 'Fail-safe Protection' and they'll remake you a new one within 30 days free.
We chose an insert for a Peli 1610 and the fit inside the case was absolutely perfect. All the cut-outs we had custom ordered were to the precise size as we had specified, too. We took the standard Sony FS7 body-only cut-out and modified it with room for a cinema lens and lens hood to remain attached, plus a separate cut-out for the handgrip, battery and a place for a Metabones adapter. The foam grips the kit very well and it's totally prepared for anything baggage handlers can throw at it! 
 Build your own case liner using the templates or custom parts on the MyCaseBuilder website. 
Specifications
Material: PE or PU foam
Fits: Cases from Peli, Nanuk, HPRC, SKB, Storm or custom
PRO MOVIEMAKER RATING: 9/10
+ Pros: Ultimate protection for your kit that's affordable
– Cons: Not every lens and kit option has a template
PRICE: £235/$308