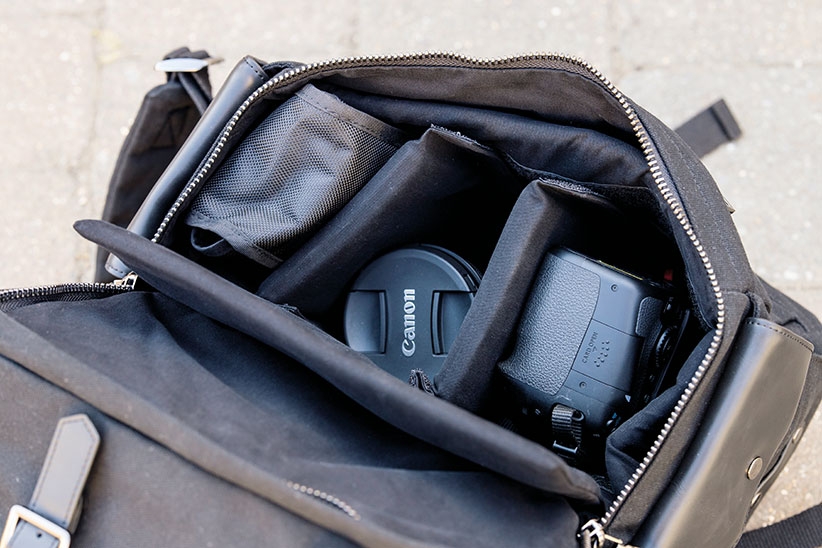 Acufocal London Orwell Bag
When fashion-conscious Robert Baggs used to go out on a shoot, he'd give all the regular camera bag brands a wide swerve as he hated their functional but often unstylish looks. Instead, he'd use a designer bag with a padded insert inside to keep his cameras safe and street cred high. But with a lot of weight inside a bag not designed for the job, it soon led to problems such as discomfort and eventually back pain.
So he decided to design his own bag that would be stylish, ergonomic to carry and work as both a camera bag and an everyday rucksack, too. Working with a designer who creates products for fashion brand Ted Baker, the Acufocal London brand was born and this Orwell bag is the first from the range.
It's a handmade, street-style backpack that just looks cool and oozes quality. It comes with some full-grain leather components with the logo nicely embossed, but the majority of the bag is made from 18oz water-resistant canvas with thick internal padding. You probably wouldn't want to hike up a mountain in the pouring rain with it, as it lacks the high-tech sealing of more technical bags. But that's not what the Orwell is about. It's ideal for street-smart shooters with minimal kit such as a mirrorless set-up rather than a rigged-up cinema camera.
Having said that, there is 40 litres of storage, six removable dividers and five accessory pockets, with a back pocket that will hold a tablet or 13.3-inch laptop. It's best suited to mirrorless or smaller DSLR kit but it will hold a lot. If you're looking to home two bodies, a compact rig, a few DSLR-type prime lenses and some basic mic kit then it could be ideal. Especially if you want to travel incognito. 
The Orwell bag is best suited to DSLR or mirrorless kit; it looks cool and has quality leather components. 
The bag is in two sections, with the bottom section accessed via a zip. You can then tilt forward the top section to access your kit. It's best to split the weight between the top and bottom sections as this makes the bag more comfortable to carry on your back for extended periods of time. But if you also have a laptop in the bag, you have to remove it before you can tilt the top section.
There's room on the side for a small tripod or even light stand, with two straps to keep them secure. And inside the top section is a small pocket for memory cards and the like. Compared to some more high-tech bags, there aren't as many pockets and the shoulder straps don't have a waist band or sternum strap. 
This bag is designed to appeal to filmmakers who don't want to compromise on safety for their kit and want to carry a decent amount of equipment around in comfort. Or even take the kit out and use the bag as an every day bag. For a nicely-made and stylish bit of kit, the asking price of £149/$197 makes it a bit of a bargain, too.
Specification
Material: 18oz canvas, full grain leather
Colours: Black
Capacity: 40 litres
Dimensions (WxHxD): 18x42x32cm/7.1×16.5×12.6in
Weight: 2.4kg/5.29lb
PEO MOVIEMAKER RATING: 7/10
A stylish bag, if that's what you want above all else. Lacking in room for bigger cameras or accessories
+ Pros: Stealthy, so doesn't scream that it's full of expensive kit
 – Cons: Not much good if you're using a cinema camera system
PRICE: £149/$197