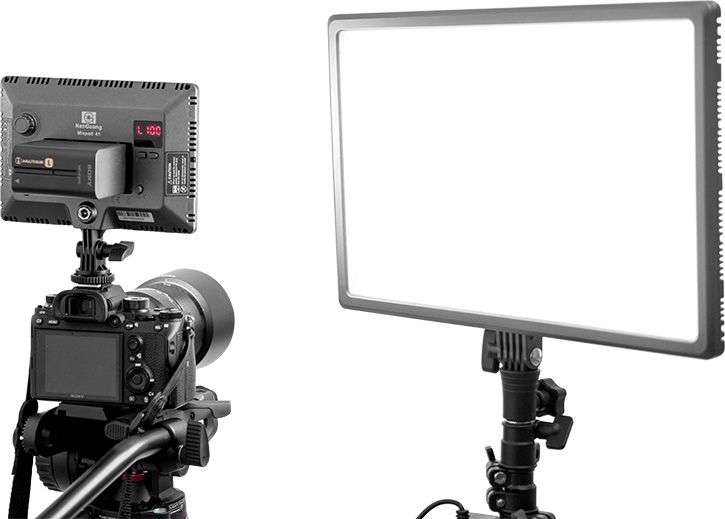 Nanguang Mixpad LEDS
You don't have to spend a fortune to get decent LED light panels any more. Although they may not have some of the kudos or high-end features of some of the big-name brands, NanGuang has a range of LED panels that offer great no-frills performance at excellent value for money. They may lack wireless, DMX remote control or a full range of sizes, but for features like that you need to pay a lot more. 
We tried out the Mixpad 41 which is ideal for on-camera use but can be stand mounted, and the far larger Mixpad 106 which is definitely for use on a stand. The numbers refer to the maximum power output so, for example, the Mixpad 106 puts out a total LED power of 106 Watts.
Both can be used with a mains power adapter, which comes bundled with the 106 but is an optional extra with the 41. For location use, the whole Mixpad range also takes the common Sony NP-F batteries which many filmmakers have. The smaller light takes a single battery and the larger unit two. NanGuang also supply alternative battery packs that take six AA batteries each so you need never run out of juice.
The Mixpad 41 comes with a hotshoe mount and as it is so light and portable, is ideal for a bit of on-axis fill light and is a decent kit for run-and-gun filmmakers. NanGuang also do a smaller 32 Watt option, too. The Mixpad 106 stand-mount light comes with a decent clamp unit so you can securely fasten the AC power unit to a light stand. It's a nice touch that sets the NanGuang apart from lesser rivals.
The build quality is decent, with the power units locking securely and the hotshoe mount stopping the panel from slipping. It certainly doesn't feel like budget kit.
On the rear of both panels are two control knobs, one to alter colour temperature and the other brightness which is displayed in increments from 0-100. The colour temperature can also be controlled between 3200-5600K, which we measured to be accurate enough for most filmmakers' needs. There was no nasty tint to ruin skin tones, for example.
The output of the lights is impressive given their size. The 41 is more suited to use as a fill light as it's not so large, but large enough to avoid very ugly shadows if used up close as an on-camera interview light.
The 106 is more versatile as it's larger and more powerful. It makes a decent soft light for a headshot, and if you team it up with the 41 as a hair light, it can make a great combination. 
Both lights have a diffusion feature which softens the light to make it more flattering. It works to some extent, but does not make a huge difference. But it's nice to have. The lights are essentially flicker-free, so are ideal for shooting slow-motion video footage.
And of course, if you have to shoot stills alongside video then the lights are bright enough to give a good result – certainly for headshots.
Specifications:
Number of LEDS: 41: 440;
106: 1144
Colour temperature: 3200-5600K
CRI: 95
Power: Sony NP-F/ NP-FM series batteries, 15-24V DC via mains adapter
Brightness: 0-100% stepless
Average life: 50,000 hours
Dimensions (WxHxD): 41: 170x163x32mm/6.7×6.4×1.3in; 106: 356x247x30mm/14.9.7×1.2in
Weight: 41: 315g/0.69lb;
106: 1418g/3.13lb
PRO MOVIEMAKER: 8/10
Affordable LED lights that deliver
+ Pros: Ease of use, comes with power supply options
– Cons: No remote control options
PRICE: £125/$169, £275/$373