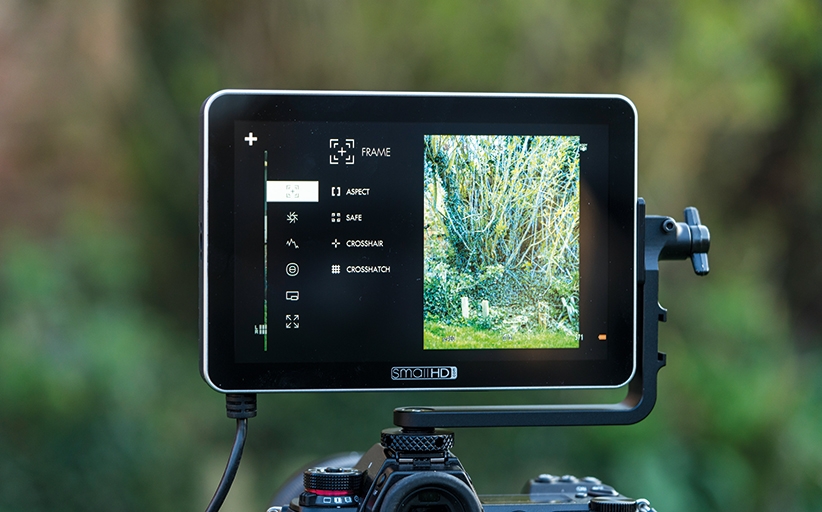 SmallHD Focus 7 monitor
A five-inch monitor is a great tool for helping you really see what's going on with your shooting. But boost up the size to a seven-inch monitor and the difference is huge, especially when it comes to using touchscreen controls and gauging important factors like exposure and highlights or framing

£738/$699   smallhd.com
That's why SmallHD has launched a new seven-inch version of its popular five-inch monitor. Being from America, where it's often very bright, the company focuses on monitors that can be used outdoors on even the brightest days. The new Focus 7 monitor packs 1000 nits of brightness which makes it useful on the sunniest days, even without using an accessory hood. There's a very wide viewing angle too; important for real-world use when you can't put everything exactly where you might like it.
Due to its size, the SmallHD Focus 7 is ideal for someone using a larger cine-style camera but we also used it on mirrorless cameras like the Panasonic S1R and Sony A7R III where it did provide a much-needed increase in usability. That's especially as those cameras are full-frame, which makes focusing super-critical. Compounded by the lack of proper tools and small screens, it makes lots of sense to use a larger external monitor on a full-frame mirrorless. The Focus 7 is also relatively light, so doesn't add loads of bulk to your camera rig.
The Focus 7 is powered by one or two of the readily available and affordable Sony L series batteries, such as the very common NP-F lithium cells. These are hot-swappable so when one starts to run down, you can whip it out to charge it and the second cell kicks in seamlessly. You can also use adapters for V-lock batteries and other more pro solutions, if you like.
The Focus 7 has four standard-sized threaded sockets around its rugged aluminium bezel so will take lots of standard monitor arms. We used it with SmallHD's accessory articulating arm which is designed
for the monitor; and it shows. It's small, precise and worth the £97/$99 asking price.
It connects via HDMI. Just plug it in, and it's instantly working. SmallHD says it really worked hard to make the monitor as easy to use as possible, and the latest OS3 software goes a long way towards this. Everything is simple to use, with the touchscreen an easy way to navigate. And the pinch-to-zoom feature, just like a smartphone, is a great way to zoom in to ensure your shot is sharp.
Of course, it also offers waveforms, false colour warnings, focus tools and support for LUTs, for a truly professional workflow experience. The screen is 1080×1080 resolution and takes up to 4K footage at 30p. It's a shame it can't handle 4K 60p or 1080p at higher than 60fps. For that, you have to drop to 1080i then it goes as high as 120fps. It obviously also doesn't record, but for this price you wouldn't expect that. AD

The Focus is perfect for mirrorless cams and uses Sony batteries
Pro Moviemaker rating: 8/10 
As a rugged, bright monitor that offers lots of real estate, it is easy to use and affordable; it's a great addition to your kit.
Pros: Easy to use, bright, good tools  
Cons: No 4K 60p, no 240fps high frame rates or recording
Specifications
Display: 7in 1920×1200 touchscreen, 323ppi
Aspect ratio: 16:9
Colour gamut: 75% DCI-P3
Brightness: 1000 nits
Viewing angle: 160̊
Supported inputs: 4K @ 30/29.97p, 1080p @ 60/ 59.94/50/30/29.97/25/24/ 23.98fps, 1080i/720p 120/ 119.98/60/ 59.94/50fps
Input: HDMI, micro USB, SD card for firmware updates
Output: ⅛in stereo headphone jack, 7.2V power
Power: 1-2x Sony L-series battery
Dimension (WxHxD): 2.79×11.91×17.58cm/ 1.1×6.92×5.69in
Weight: 771g/27.2oz
This feature originally appeared in the Spring 2019 edition of Pro Moviemaker.