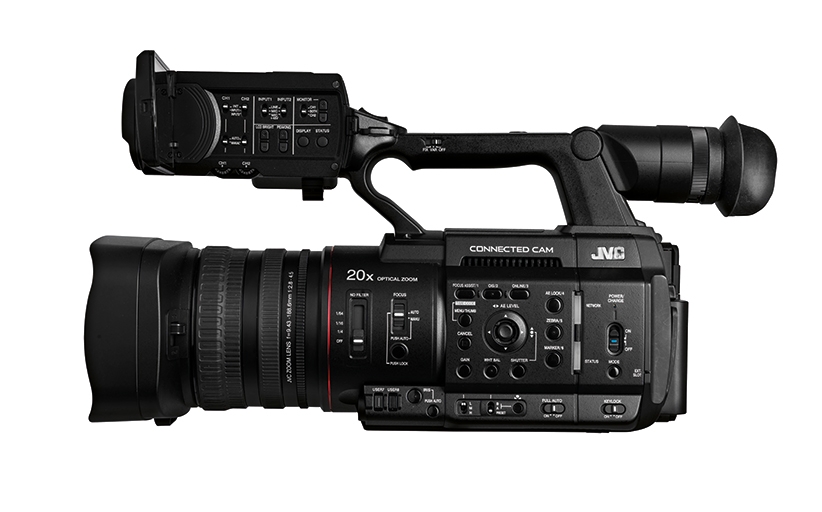 Streaming superstar!
JVC's affordable new 4K camcorder is packed with spec to make live streaming easier than ever

Words / Adam Duckworth
For independent filmmakers taking a tentative step into the potentially lucrative realm of live streaming, there's a brave new world of exciting – yet potentially complicated – emerging technologies. It's only been in recent years that live streaming on social media platforms has become not only possible, but in high demand from clients. Whether it's for streaming church services, sporting fixtures, product launches or gigs, there is a demand for professional streaming that's superior to a smartphone – and there's cash to pay for it.
With broadband Wi-Fi, 4G (and soon 5G) mobile technology and even wired ethernet, it's now possible to stream your footage without massive expense. And of course, the general public use the same technology to see content on their smartphones, tablets, laptops or smart TVs. The reality is that live video streaming is not new at all and has been around for decades. It's live TV, but this used to be the domain of broadcasters with finely honed technology, big outside broadcast trucks and satellite uplinks.
So, it's perhaps no surprise that the camera company really leading the headlong charge into streaming for non-traditional broadcasters is one that has experience with making workhorse kit for TV companies. JVC has taken what it has learned from years of working with television and blended it with the latest large-chip sensor technology in its brand new range of cameras, like the GY-HC500 – the most affordable of the range. 
"With this camera and a 4G dongle, you can start streaming to the most popular sites in minutes"
What you might say was the predecessor to this camera – the JVC GY-HM660 – sold in bucketloads to TV firms who wanted broadcast-ready, ENG-style portable cameras that could be used by trained cameramen or news journalists grabbing a camera for run-and-gun work. The BBC alone bought over 700 of them, and they are still in daily use. But technology has moved on, and the demand is now for larger sensors, with their great low-light performance and shallow depth-of-field to give a cinematic look, plus 4K and HDR, as well as streaming. All those things are in the new HC500, which at £3180/$3900 is actually cheaper than the HM660, which uses three smaller sensors and has no 4K or HDR. It's easy to understand why demand for the HC500 has been high since it was unveiled to the public. 
But filmmakers have to wait a little longer to get their hands on one, as the camera may be available to pre-order, but its spec and firmware has not been finalised. We got our hands on a fully-functioning prototype, but as it's not a final product, it would be unfair to take a critical look at the actual footage. But getting up close and personal with the camera shows it's a seriously professional bit of kit, with a significant weight and ruggedness to it. It's meant to be tough, and has a splash-proof body made out of magnesium. The JVC-branded lens has a decent amount of glass in it in order to be useable in manual focus mode, as well as provide a fast maximum aperture and an image circle large enough to cover the one-inch CMOS sensor. What really makes the HC500 special is its connectivity, and JVC has gone to extreme lengths to ensure it comes with the most number of options compared to its rivals, allowing streaming via a range of networks to most of the popular streaming services, including Facebook and YouTube.
To stream, you can either plug the camera into a wired network via its ethernet socket, or use an inexpensive plug-in Wi-Fi or 4G dongle. The camera's big brother, the more expensive HC550, comes with its own Wi-Fi built in. It also has the TV-standard MXF format, GPS and broadcast overlays, so is more suitable for TV use.
The HC500 camera can stream in HD or SD at up to 24Mbps with very low latency of around 0.5secs. That's a very high bit rate for streaming, as Facebook Live only runs at 5Mbps and Sky Sports transmits live football at 12Mbps. So 24Mbps is way above what anyone currently needs and is a great future-proofing option.
When the camera is connected to a network, its controls can be altered remotely via a smartphone or PC, and there's an auto FTP mode, so as soon as each clip is shot, it automatically transfers to an FTP server ready for editing. And, straight from TV land is the return over IP function, which allows the camera to receive video footage from a remote location, such as a TV studio or base station. TV crews have used it for years so in-the-field reporters could liaise with the director, but it's new technology for independent filmmakers.
Of potentially more interest is that the camera has the right RTMP format for shooting directly to Facebook Live and YouTube, where many rival cameras – even those which are marketed as connected cameras – still don't. With this camera and a 4G dongle, you can start streaming to the most popular sites in minutes.
The camera also delivers as a very capable large-sensor machine that offers some very robust codec for serious grading and a cinematic look, ideal for not only ENG work, but documentary and more creative films. It records 4K/60p in 4:2:2 10-bit in Apple ProRes, with support for its own Log colour gamma to maximise dynamic range in post-processing and built-in HDR/HLG for the latest TV sets. 
ProRes is a very data-hungry format, so as the camera uses twin SDXC card slots, they just weren't going to be fast enough. JVC developed the camera's own SSD caddy, which takes small-sized 2.5-inch M.2 SSD drives and goes straight into the camera. Fast SSD drives like this are relatively inexpensive and can be bought in huge sizes. It's a good solution to the problem of massive files and the speed needed to record 4K/60p in ProRes. In ProRes 422HQ for the highest quality, a 1TB SSD will record for around 75 minutes, while the standard 422 lasts for around 113 minutes and 162 minutes in 422 LT.
At 4K/30p in even the largest ProRes settings, the camera records to fast SDXC cards. It's just the 4K/60p that needs SSD, but it makes sense to use this slot anyway for its faster speeds.
What the camera does do is offer a wide range of codecs at a variety of speeds and sizes, allowing the user to make a choice between the highest 4:2:2 10-bit quality for editing afterwards, lower 4:2:0 8-bit, or even SD at 8Mbps for speed and potential streaming.
(Images) The HC500 hast live streaming to YouTube and Facebook Live, there are lots of traditional controls and the SSD is a great idea
One much-appreciated feature is high-speed recording of 120fps in HD, too, for up to 5x slow motion. This is ideal for creative slow-motion shots and is helped by the one-inch CMOS sensor and fast lens. Although obviously smaller than a full-frame 35mm or Super35 camera, this sensor is built to give a wide dynamic range, low noise and the shallow depth-of-field effect beloved of cinematographers.
The lens is a 20x zoom, 9.43-188.6mm f/2.8-4.5, which is equivalent to 28-560mm on a full-frame camera. Wide open, you can get a nice shallow depth-of-field effect, although obviously nothing compares to a full-frame sensor with an f/1.4 telephoto on it.
The larger sensor and 4K quality means focusing is more critical than ever, and the HC500 has lots of advanced options you'd expect from a modern camera. The triple rings on the lens are great for the traditionalist, with focus peaking available to help get everything pin-sharp with ease. But for AF, there are lots of customisable options in terms of speed, sensitivity and the area that the AF points cover. There's one-button AF, which many cameramen use to get the focus near, then fine-tune manually.
However, if you are used to the bells-and-whistles AF systems of cameras like Canon with its dual pixel AF, or Sony's A7 range with hybrid phase detect and focus detect systems, then you won't be overly impressed. There's no touchscreen to do touch-to-pull focus, for example. For a more traditional camcorder, it's a decent system, though. And there is now face detection, which not only detects a face in the frame, but switches to manual focus when the face is obscured, rather than the camera focusing on something in the background. 
In fact, the rest of the camera is largely what you would expect from a professional-level camcorder made by a company with decades of TV experience. The menus are clear and detailed, the buttons are easy to use and understand and can be customised extensively, and the servo zoom is smooth and responsive. There are twin XLR inputs with proper dials, hidden behind the bright, high-quality fold-out screen and offers all the tools you want from a camera of this type.
The camera looks and feels professional and has an impressive spec. We just can't wait to get hold of a finished version to see how it really performs in the real world.
(Above) The HC500 offers a bright fold-out screen, proper dials, easy-to-use buttons and detailed menus
The verdict
The world of filmmaking went crazy for large-chip cameras, because of the lovely cinematic look they produce. There has been a rush towards not only 4K and 120fps super-slow motion, but also Log shooting and a high-quality Apple ProRes codec. And now HDR is the latest must-have for any serious pro camera.
Not only does the HC500 have all this, but it also excels as a streaming camera with well-thought-out spec that shames many of its far more expensive rivals. It also brings new features like the SSD card via a caddy – a great way of handling massive files at speed.
There's a fast 20x zoom, which is a 40x if you choose to shoot in HD. It has traditional controls that an experienced camera operator will appreciate, as well as all-auto functions to help the newbie.
Not only that, it's affordable and rugged, so should last for a very long time. Camcorders have really come on a very long way. The HC500 is a camera that can pretty much do it all.
How it rates
| | | |
| --- | --- | --- |
| Features | 9/10 | As a camera that mixes streaming with conventional tech, it has the lot |
| Performance | N/A | We tried a prototype, so reserve judgement until we can see final version |
| Handling | 9/10 | All the controls are where they should be, thanks to decades of experience |
| Value for money | 9/10   | Relatively inexpensive for a fixed-lens camcorder with this sort of spec |
| OVERALL RATING   | N/A | It's affordable, can be a streaming camera and a more creative tool for post. But we'll wait to see the final footage |
Pros: Nothing comes close for streaming spec at the price
Cons: Autofocus isn't as advanced as some rivals 
Specifications 
Price: £3180/$3900
Sensor: 1-inch CMOS, 9.35 megapixels
Formats: 4K 60/50p 10-bit, 4K 30/25/24p 4:2:2 10-bit 150/70Mbps H.264, HD to 120fps 4:2:2 10-bit 50-8Mbps, Apple ProRes 422, MPEG-4. MOV, MP4
Colour profiles: HLG, J-Log1, Rec. 709, BT. 2020
Dynamic range: 12 stops
Storage: 2 x SDXC slots. SSD slot 
Lens: 20x zoom, 9.43-188.6mm f/2.8-4.5 (equivalent to 28-560mm)
Image stabilisation: Optical 
Autofocus: AF with face detection, customisable AD speed, sensitivity and area 
Output: HDMI, 3G-SDI, ethernet
Shutter range: 1/6-1/10,000sec
Screen: 10cm/3.97-inch LCD 
Audio: Integrated microphones, 2 x XLR inputs with phantom power support
Dimensions (WxHxD): 195x230x445mm/ 7.68×9.06×17.5in
Weight: 3.1kg/6.83lb
This feature originally appeared in the Summer 2019 edition of Pro Moviemaker.