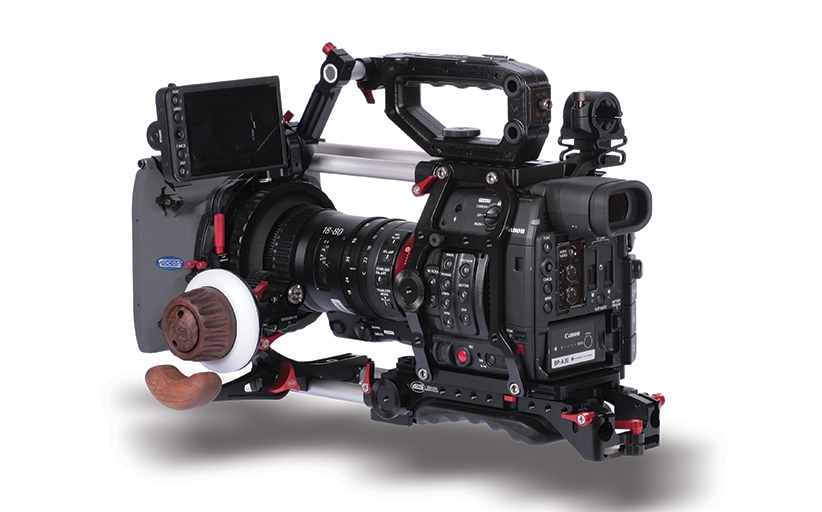 Ultimate kit for cinema cameras
We look at the best accessories for three of the most popular cameras used by independent filmmakers 

Words / Adam Duckworth
If you own one of the latest Super35 cinema cameras, then you have the basis to create incredible films, good enough for Netflix and Hollywood, as well as commercial clients' YouTube and Facebook accounts and everything else in between.
Although cameras like the Panasonic EVA1, Canon EOS C200 and Sony FS7 II might be usable right out of the box, they can still be improved by rigging them up with various accessories.
Some of these are to improve the handling – or perhaps make up for some design niggle that only surfaces after extended use. Others can actually improve the footage you record by unlocking higher-quality images or audio. 
So, we take a long look at three of the most popular cinema cameras that we have significant experience with, with lots of feedback from regular users added in. 
Here are some of the must-buy bits and pieces you should consider flashing the cash on.
Canon EOS C200
Vocas complete C200 system
£5382/$7092  vocas.com
If cash flow isn't a problem, take a look at this Vocas rig kit for the Canon C200, which features a very high-end matte box, top handle, camera cage, follow focus, viewfinder kit and pretty much everything else you could ever need to make the C200 into a camera that can do everything – including the handle extension kit, which really does make the C200 work far more ergonomically. Instead of an actual kit, all the components are bought separately, so you only need to buy what you really want.
The heart of the system is the new USBP-15 Mark II baseplate, which has the cage and top cheese plate bolted to it, to provide lots of mounting options for accessories. There's also the quick-release dovetail plate, which makes for fast attachment to tripods and is adjustable for easy balancing. There's also a safety lock to avoid accidental opening of the quick release.
This rig uses Vocas' high-end MB-436 matte box, which has one fully rotatable 4×5.65-inch or 5.65-inch square filter frame, and one fixed. It comes with a French flag and internal eyebrows for maximum lens flare reduction, and fits lenses up to a maximum of 143mm in diameter.
There's a retro-style walnut palm support and focus knob, which offers different gear ratios for fast ENG or slower cinema use. The rotation direction is reversible.
There are 15mm lens supports and the Vocas handgrip system for going handheld. The 15mm viewfinder adapter can be mounted on the original handgrip and has a 15mm rod to mount any NATO accessory. 
The top handgrip kit has an adjustable and reversible handgrip position, multiple cold-shoe attachments, 15mm top rails cheese plate, detachable 15mm viewfinder bracket and pins for attaching a carrying strap. 
Accessories
Zeiss LWZ.3 21-100mm lens 
£8484/$9900  zeiss.co.uk
Canon obviously makes a huge range of EF-fit lenses, from cheap and small stills primes to expensive cine lenses. But a benefit of the Canon EF mount is that many other lens makers also sell optics to fit. And you'd go a long way to get anything better and more compact, given its range, than the Zeiss Lightweight Zoom LWZ.3
21-100mm lens.
It's a true cine zoom lens that's designed to be as parfocal as possible and avoid focus breathing. And it has the unique Zeiss look and quality, plus the T* coatings to avoid ghosting.
It focuses as close as 0.8 metres and has a front diameter of 114mm, so can be fitted with many cine accessories. The lens features nearly 300° of focus rotation that provides for accurate focus pulls.
If your aspirations are potentially to use even more high-end cameras in future, the Zeiss can be converted to a PL mount.
SmallRig sun hood 
£15.60/$17  smallrig.com
Sometimes it's the smallest, least expensive accessory that can really make a big difference to your films. And once you've tried to use the Canon C200 outside on a bright sunny day with the standard monitor, you will definitely understand the need for something to take the glare away.
SmallRig's SR2085 sun hood costs just £15.60/$17 and uses hook-and-loop fasteners to mount to the monitor. It weighs just 38g and folds up flat into a small package that you won't even notice in your kit bag.
Once on the monitor, its black anti-reflect material makes a huge difference to being able to really see what's going on. Don't leave home without one.
Portabrace RS-C200XL cover 
£234/$228  portabrace.com
If you ever need to protect your Canon C200 from rain and dust, then you should take a look at this custom Portabrace cover especially designed for the camera. It's made with a tough nylon outer to fend off the worst of the elements and a soft interior to minimise any damage to your gear. The cover material is waterproof and breathable, to stop the camera lens steaming up or any condensation forming inside the delicate internals. It can also be used with the viewfinder and shoe-mount grip still in place.
Sony FS7 II

 
Sony CBK-FS7BK ENG-stylE build-up kit
£TBC  pro.sony.com
After years of aftermarket manufacturers building all sorts of bolt-ons to improve the usability of the FS7 and FS7 ll cinema cameras, Sony is now getting really serious about producing custom-style rigs itself.
The FS7 series has been hugely popular with independent filmmakers who use the cameras for everything from tripod-mounted documentaries and commercial videos to streaming of live events. But as a serious news-style ENG camera or for wireless streaming, it's not been the easiest to use, despite having high-end codec and built-in HLG for HDR workflows.
The new CBK-FS7BK ENG-Style build-up kit can be partnered with the B4 lens to E-mount adapter. This allows ideal shoulder-mount ergonomics and the chance to mount B4 lenses, which often have the high zoom ratio used in traditional news production. The build-up kit also features an extension unit with a wireless audio receiver slot and built-in wireless capability. This is ideal for broadcast and streaming usage as it integrates with the latest wireless workflows, such as XDCAM Air, and does away with lots of external cables. 
The built-in networking enables streaming and file transfer via Wireless LAN or 4G connection, and the extension kit also adds improved interfaces for genlock/timecode for multi-camera operation. 
It also unlocks the camera's 12-bit 4K Raw file output, so you can record the highest quality files to an external recorder for editing afterwards. This also gives high frame rate output up to 240fps and allows lengthened shooting time using Sony's large-capacity BP-GL and BP-FL cells or V-Mount batteries. 
The extension unit adds 10-bit ProRes 422 HQ recording in Full 1080p HD in camera onto the standard XQD media cards. 
Accessories
Sony UWP-D21 wireless mic system 
£TBC  pro.sony.com
Wireless microphone systems are part of every serious filmmaker's arsenal, with lots on offer from several big name manufacturers. Each of these inputs its audio signal to the camera via an XLR or minijack cable. As well as the standard wired option, Sony's own UWP-D wireless receiver plugs right into the MI multi-interface shoe, so it really is wireless. The clever shoe takes in all the info from the wireless unit, can automatically set audio levels and can use the camera's  power rather than its own AA cells.
Now Sony has redesigned the UWP-D series to make it lighter and more compact, and it has a new NFC sync feature to give a fast frequency setting between the transmitter and the receiver. 
The sound quality is said to be improved thanks to the new digital audio interface. If you also have a Sony Z280 or Z190 camcorder, the new microphone systems enable direct digital audio recording with high sound quality and low noise by skipping the D/A and A/D process.
Vocas PL-E lens adapter 
£528/$681  vocas.com
Unlike the Canon or Panasonic (which uses an EF mount) the native E-mount on the FS7 has a short flange distance, which allows for lots of third-party lenses to be adapted as long as the lens can cover the Super35 size.
Vocas has introduced a range of new adapters, which allows lenses that have the cinema standard PL mount and also the new, full-frame LPL mount to be used on the Sony. These mechanical adapters are pre-shimmed, but can be adjusted if necessary.
This allows everything from the latest Cooke, Arri and even Canon Sumire Prime lenses to be used on your FS7, as well as lots of legacy and vintage glass to give a unique look.
The best mount comes with a lens brace to stop those weighty PL-mount lenses from putting too much strain on the camera, and fits 15mm rails. This is more important on the FS7 rather than the updated FS7 II, as this has a reinforced lens mount.
Atomos Shogun Inferno 
£1350/$1295  atomos.com
Taking the Raw signal from the FS7 or FS7 II means you'll need to record it to a high-spec unit – and the Atomos Shogun Inferno ticks all the boxes. You can record the pure Raw files, but this takes up a huge amount of memory. It's far more sensible to use the Atomos to convert these to any of the wide range of Apple ProRes files, or even the latest ProRes Raw, which offers almost all the quality of full Raw, but with much smaller file sizes and faster processing.
ProRes Raw can be recorded at up to 5.7K at 30p, 4K at 120p and 2K at 240p. Inputs are HDMI and SDI, with the SDI necessary for Raw output.
The seven-inch screen is bright at 1500nits and offers all the tools you'd expect, such as waveforms and false colour, to help you get your settings just right. With 3D LUTS, full HDR-ready display and lots more, it unlocks the potential of your Sony FS7 or FS7 II. As it records to standard SSDs inside its own cheap caddies, memory is inexpensive, quick and readily available.
Panasonic EVA1
Shape EVA1 follow focus pro bundle rig
£2368/$2463  shapewlb.com
The popular Panasonic EVA1 might have a more conventional form factor than the Canon C200 with which it shares a lens mount, but its handling and usefulness is hugely improved with a shoulder and tripod-mount rig that adds rails, a tripod quick-release, matte box and follow focus. With the Panasonic not having the impressive Dual Pixel AF, despite using Canon EF mount glass, getting focus spot on is helped by a smoothly controlled follow focus. And the Shape kit definitely has this, all at a relatively affordable price.
The kit is based on Shape's baseplate with shoulder mount and 15mm rod system. The plate features a handle grip compatible with all standard Arri rosettes. Made of slip-free material, the shoulder pad is comfortable and helps you keep the camera stable. The baseplate also includes a delta plate that can be quickly mounted to a tripod plate. The baseplate features two ratchet knobs to adjust the length and height of the rods. The baseplate is machined to perfectly match the threaded holes of the EVA1 camera base, so it's solid and won't twist.
The arms attach via an Arri-compatible rosette with spring-loaded locking levers, which allow you to lock the arms in place. A spring-loaded locking lever along the arms allows you to extend them by 1.5 inches and rotate the handgrips through 360°.
The Shape Follow Focus Pro system is ideal for use with film and cine-style lenses, although it can be made to work with DSLR lenses if you fit a geared drive. The gear arm is reversible and two different gear wheels are supplied to accommodate a wide range of lens barrel sizes with the standard 0.8mm pitch. There is also a choice of two different focusing methods – standard or with hard stops – to customise how it works.
The kit is made from CNC-machined aluminium to make it light and robust.
Accessories
Zeiss CP.3 18mm T/2.9 prime 
£4600/$5290   zeiss.com
The Canon EF mount makes the Panasonic an ideal candidate for some very special glass – and the Zeiss CP.3 18mm T/2.9 Compact Prime cine lens certainly fits the bill. There's definitely a very special look to Zeiss optics, and the latest CP.3 range takes on the popular CP.2 range and improves on it in a smaller, more compact package ideal for the EVA1.
All Zeiss compact primes have advanced lens coatings to avoid ghosting, painted lens rims and special light traps within the barrel to eliminate glare and nasty flares. The result is higher contrast, richer blacks and more saturated colours that you can really see in your footage. The Zeiss CP.3 lenses are a matched set of lenses that are compact and light, so are ideal for use on gimbals and drones – if you're brave enough.
The 18mm is a peach of a lens, as it offers a very wide angle of view on the camera's Super35 sensor, but not so wide it becomes a one-trick-pony lens for only occasional use. With a fast aperture, you can shoot it wide open to get some differential focusing, and it's ideal for handheld indoor shooting as it's compact and lets you get in close.
Camrade wetsuit 
£230/$209  camrade.com
Rain won't stop play if you put your precious Panasonic EVA1 inside the custom-made Camrade Wetsuit AU-EVA1. It's a flexible, water-resistant rain cover, made of soft fabric, that protects your camera against the elements. It also covers the viewfinder, microphone and other accessories, too.
Not all rain covers are equal. The Camrade uses near-silent fabric to minimalise unwanted noise caused by wind and rain and reduces the chance of the camera overheating by allowing hot air to escape via openings in the cover.
The cover also has clear vinyl windows to help you see when adjusting the menus or other controls on the camera.
In addition, the cover can be closed off on the bottom with a zip, and can then be partly left open to attach it to a tripod.
The viewfinder monitor is completely covered by the fabric and a vinyl window, so no water will work its way in. The wetsuit also comes in a carrying pouch, so you can store it easily when it's not being used, and keep it with you in case of downpours.
Zacuto trigger grip 
£400/$390 zacuto.com
If you are using the Panasonic EVA1 on the shoulder with a rig fitted, then you will definitely be in the market for a different handgrip. The Zacuto Panasonic EVA1 Trigger Grip is a single handgrip that relocates the standard grip to a comfortable hand-grip position. Unlike the Sony FS7, which already has an Arri standard rosette on the side to attach an external hand grip to, the Panasonic needs a rig with a rosette on it. You can also fit a second grip on the left side, too.
Zacuto's trigger grips allow for single-handed 360° rotation with the press of a button. The two handles rotate independently of each other. 
You can flip them down for a solid handgrip or raise it to a more horizontal position if that's how you feel most comfortable. You can also quickly flip them both all the way up to lay your camera flat on the ground or for storing in a case. The length of the handgrips can also be adjusted to accommodate personal taste by loosening a lever and pulling the grip out or pushing in.
This feature originally appeared in the Summer 2019 edition of Pro Moviemaker.