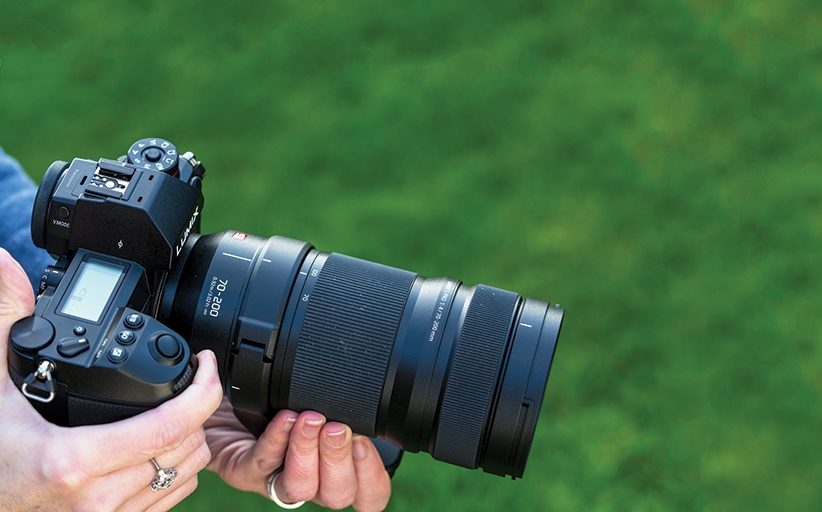 Super-size Panasonic
The all-new Lumix S1R might not be the first full-frame mirrorless camera, but it packs a mighty punch

Words & Images / Adam Duckworth
After years of saying size doesn't matter as it championed its Micro Four Thirds GH range of mirrorless cameras, Panasonic has finally joined the full-frame party alongside the likes of Sony, Nikon, Canon and Leica. The launch of Panasonic's new system, the frankly quite burly S series, sees the introduction of two Lumix cameras and three lenses.
The Lumix S1 has a 24.2-megapixel resolution but its big brother, the 47.3-megapixel S1R, with which it shares a body, is currently the highest resolution full-frame camera money can buy.That ultimate resolution might be a big seller for stills users who yearn for detail, but for video shooters, the lower resolution and correspondingly bigger pixels of the S1 entices – the promise of lower noise, less information to throw away to get down to 4K video, and the potential of Log shooting via a forthcoming upgrade certainly makes sense for video users. The S1 offers 4K/60p shooting from an APS-C crop of its sensor or oversampled 4K/30p from its full width, plus HLG video capture as 10-bit HEVC files for easy HDR workflows. A 4K 60p 4:2:2 10-bit via HDMI option will be available via a firmware upgrade soon. 
The S1R doesn't offer Log or HDR, or 10-bit workflow internally or externally, but it does ace the cheaper S1 by shooting the headline 4K/60p with only a slight 1.09x crop (although it pixel bins to do it).
In both cases, it's clear to see Panasonic has taken what it has learned with its amazing video-spec on the GH5 and GH5S cameras and implemented some – but clearly not all – of that technology into the full-frame S series. That will clearly come as a disappointment to many spec-watchers, as it puts the cameras in direct competition with other full-frame mirrorless cameras rather than shaming them with incredible video spec. If you have been waiting for all the spec of a GH5S in a full-frame body, you may be slightly disheartened – until you see the quality of the 4K footage and the lovely 180fps super slow-motion footage nothing else in the market can match, that is. 
Simply put, the 4K footage –from virtually the full width of the sensor  – is detailed, colourful but not oversaturated, bright, has lots of dynamic range, and can be pushed and pulled around in post to get the look you want. There is virtually no noise until you push the ISO north of 6400, and even then it's only in the deepest shadows. It might not be 10-bit 4:2:2 or Raw, but it is stunning. 
There is no Log, but the Flat picture mode is great for squeezing the last bit of dynamic range out of the sensor. There is also Cinelike-D, which prioritises dynamic range, and Cinelike-V, which is supposed to give priority to contrast. Both are made to be tweaked in post to give filmic results. We found the best results in Flat then changed settings in post for a film-like look, but don't dismiss the standard Rec.709 settings as they are very good for the majority of subjects. 
(Images) When fitted with an external monitor via the HDMI port, the S1R becomes even better for video
The S1 adds as Hybrid Log Gamma (HLG) for HDR output, proving its credentials for more serious filmmakers.
We tested the S1R with two of three lenses Panasonic has made available so far, the 50mm f/1.4 and 70-200mm f/4. Panasonic and Sigma have formed an alliance with Leica to use the Leica L-Mount.  Leica has a large range out already, and Sigma has unveiled 11 L-mount versions of its Art primes.
Panasonic also makes a 24-105mm f/4 Macro and both zoom lenses include image stabilisation and like the cameras, all the optics are weather resistant.
The 50mm f/1.4 uses an 11-bladed iris for smooth, out-of-focus areas, with 13 lens elements in 11 groups. Three of the elements are Extra-Low Dispersion (ELD) and two are aspherical. At £2299/$2298, it's a stunning lens with a high price tag to reflect it. Wide open it's a beauty, with stunning resolution, bokeh and virtually no aberrations. 
The 70-200mm f/4 lens is £1749/$1698, with nine iris blades and 23 elements in 17 groups, with one aspherical element and three ELD lenses. In use, it is relatively compact and very useful for separating the subject from the background, especially when shot wide open.
The 24-105mm costs £1300/ $1298 with 16 elements in 13 groups, with two aspherical lenses and two ELD elements.
Both the S1 and S1R have six-stop Dual Image Stabilisation for stills and video, a very bright 5760K OLED display, dual-tilting screens and record to internal SD or XQD cards.
"The stabilisation is truly impressive, probably the best on a full-frame camera"
Another stunning feature is that the S1R and S1 both shoot HD up to 180fps, recorded to the internal SD or XQD cards or externally via HDMI. This gives amazing super-slow motion that's simply addictive. However, slowing things down does show up some rolling shutter, so you do have to be careful. We panned along a busy road on some cars and the footage is crisp and super-slow, but the roadside fence posts do have a distinct lean.
However, activating the 180fps function took some digging into the menus as it is greyed out unless you set the mode button on the top of the camera to movie. Once you know the trick, it's obvious. 
It doesn't record audio at the fastest frame rates, as many cameras don't. However, that does leave it impossible to speed up footage to normal speed, then slow it down in post for a creative shot while still recording audio. Sony seems to have the market covered for this genuinely useful feature.
Audio is via a standard microphone socket and monitoring is by a 3.5mm headphone port. Panasonic's current DMW-XLR1 microphone adapter fits in the hot shoe and has XLR inputs, which is a very good thing for getting that crucial top-quality sound.
(Above) The 50mm f/1.4 lens is truly a stunning bit of glass, but it's big, heavy and expensive. It's great for stills and decent for filmmaking, too
In terms of the camera's handling and useability, all is good. Most of the commonly-used settings have dedicated controls that are well positioned. The EVF is very impressive and has two refresh rates, 60 and 120fps. The faster rate uses more battery power, but with the camera's sizeable lithium cell, that's not much of an issue.
The monitor doesn't flip all the way round for selfies but tilts and swivels enough to work well with gimbals or awkward tripods. The touchscreen is good for menu settings, too.
And the stabilisation is truly impressive, probably the best on any full-frame mirrorless camera. The five-axis system claims a 5.5EV benefit and 6EV with Panasonic's own OIS lenses, which is what we used. It's not quite gimbal-steady, but not far off. You can certainly get away with handholding lots of times when you'd normally be faffing with a gimbal or slider. And if you hold it right, you can just about get away without a tripod many times. 
The biggest disappointment is the AF system, which uses contrast detection with Panasonic's own Depth from Defocus (DFD) technology, rather than the hybrid phase and contrast detection of rival brands. Panasonic says its focus acquisition and tracking detects humans, cats, dogs and birds, which allows the autofocus to keep tracking the subject even when its back is turned. There is face, eye and pupil detection for when shooting portraits, too.
That all sounds impressive, and the AF can be tweaked to suit certain subjects, but the reality is that it's just not as snappy, predictable and useable as rival systems such as Canon's Dual Pixel AF or Sony's latest AF tracking. In poor light or subjects with low contrast, it does hunt a little, which would ruin
a shot.
For many filmmakers that's irrelevant, as they use manual focus for everything. But increasingly, the latest generation of clever AF systems offer real advantages and can work very well in certain situations, such as tracking moving subjects. Despite the S1R offering so much to excite and enthuse, it seems that the pure joy of a full-frame camera perfectly tracking eratically-moving subjects at 180fps is not yet here, sadly.
Hail the new king of stills! 
Many image-makers are hybrid shooters – juggling stills with video for the same clients. And the Panasonic S1R really does deliver in the stills department. If you shoot Raw you get big 65MB shots, which open up to 8368×5584 pixels.
And the images it produces, especially in good light at low ISO, are stunning – much as you might expect from a high-resolution camera with a pricey prime lens on it. Images are clean, sharp and rich in detail. 
The S1R offers a high resolution mode in which eight shots are taken, with the sensor moving slightly between shots. This is then combined to get an equivalent resolution of 187 megapixels, with file sizes that are around 350MB. The detail is incredible, but you do really need to be shooting static subjects with the camera on a tripod to make use of it. In Mode 1 you need static subjects, while Mode 2 can handle gentle movement – but it's certainly not the right choice for anything
that moves.
When the light drops and the ISO goes up, the S1R also performs. At ISO 800 you see minimal difference to ISO 100 unless you pixel-peep.
Noise increases as you go up but, it's still very clean at ISO 3200.
The verdict
This is truly a stunning first attempt at a full-frame mirrorless camera from Panasonic. It's big and chunky – like many professional users asked for – and uses everything that Panasonic has learned from its years of making MFT mirrorless cameras. And, of course, watching the mistakes of other manufacturers who suffered some teething problems with their own full-frame cams.
The marriage with Leica and Sigma means there is a ready-made solution to the full-frame lens mount issue that Panasonic would have faced if it had developed its own mount. There are already Leica lenses on the market, although they do tend to be eye-wateringly expensive.  
As a stills machine, the S1R is very impressive, with incredible resolution, 9fps shooting for action and that massive 187 megapixel option for subjects that don't move much. 
For video, it shoots beautifully rich and detailed 4K files, and the Flat option makes them easy to grade for a cinematic look. However, the low bitrate of HD files does not give the ultimate quality, and there are to be no 10-bit 4:2:2 options at all, and no Log, either. Which sort of shoots it in the foot for super-serious filmmakers who demand total control.
However, the 180fps slow-motion is just incredible, and not possible on anything else in the market (although the camera is let down by autofocus that isn't as advanced as its rivals). Panasonic needs to get onto the phase detect bandwagon quickly, or else it will get left behind even further – which is a real shame, as the Panasonic S1R is a very capable camera that has a lot going for it, including its competitive price. 
How it rates
| | | |
| --- | --- | --- |
| Features | 7/10 | The video spec just doesn't match many of its rivals, but the 180fps and 4K 60p is a superb addition |
| Performance   | 8/10 | Old-school autofocus lets it down, but fast frame rates and colourful, detailed and sharp footage is a winner |
| Handling | 9/10 | About as good as it gets for mirrorless cameras, with easy menus and lots of dials for the most used settings |
| Value for money   | 8/10 | It's the highest-resolving mirrorless camera on sale, with incredible 4K 60p |
| OVERALL RATING   | 8/10   | The S1R shoots beautiful 4K footage and stunning 180fps HD |
Pros: Image quality is excellent, 180fps slomo 
Cons: AF is not the best, lack of affordable lenses
Specifications
Price: £3399/$3697 body only 
Sensor size: 24x36mm, 47.3-megapixels, 8368×5584 pixels
Formats: 3840×2160 4K 59.94/50/29.97/25/23.98p, 150/100Mbps, 1920×1080 FHD 59.94/50/29.97/25/23.98p, 28/20Mbps
Maximum frame rates: 60fps for 4K, 180fps FHD
Codecs: 4:2:0 8-bit, MP4, H:264, MPEG-4, AVCHD
ISO range: 100-25,600. 50 and 51,200 extended
Shutter speeds: 60secs-1/16,000sec
Lens Mount: L 
Focusing: 225-area AF. Auto detection – face, eye, body, animal, tracking, zone (vertical/horizontal), zone (oval and square), single area, single area pinpoint, custom modes, full area touch.
Contrast detect
Stabilisation: Image sensor shift 5-axis
Screen: 8cm/3.2in LCD tri-axial tilting touchscreen, 2.1million dots
Viewfinder: OLED with 5760k dots, 100% view, 0.78x, three magnification options
Audio: 2.5mm input
Connectivity: 4K HDMI, 4:2:2 8-bit except for 4K 60/50p 4:2:0 8-bit, Bluetooth, Wi-Fi, USB C 3.1
Storage: 1xSD, 1x XQD
Dimensions (WxHxD): 148.9×110.0x96.7mm/ 5.86×4.33×3.81in
Weight: 898g/1.98lb
This feature originally appeared in the Summer 2019 edition of Pro Moviemaker.