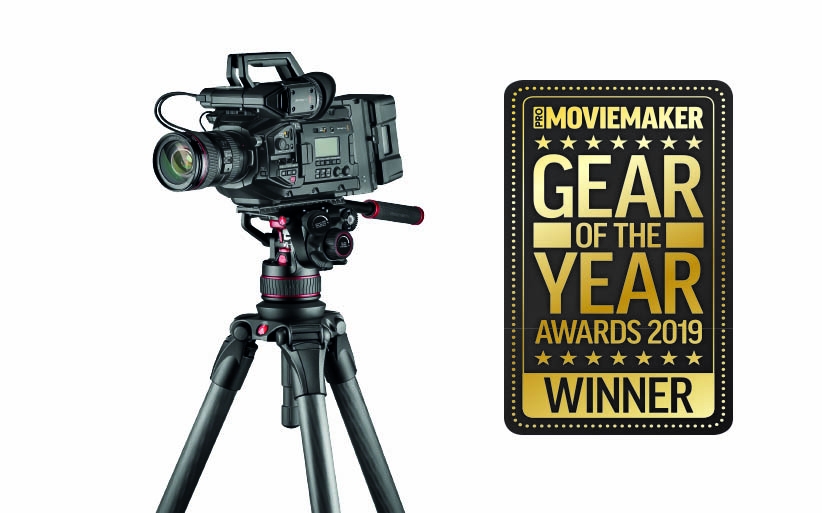 The science of excellence
Manfrotto's award-winning Nitrotech tripod head uses revolutionary fluid technology to produce perfectly smooth and counterbalanced movements
Advertisement feature
Whether you're on location or in the studio, using one of the latest crop of compact cameras or a large cinema camera loaded with accessories, Manfrotto's Nitrotech video head provides not only the silky smooth fluid movements you need, but also the confidence that your gear is going to stay perfectly balanced at every angle.
Today's storytellers – from vloggers to outdoor and travel videographers, independent content creators or even the most demanding high-end broadcast professionals – need equipment that works flawlessly every time to allow them to concentrate on their creativity.
And the new Nitrotech 600 series, which has been voted a winner in the Pro Moviemaker Gear of the Year Awards, uses Manfrotto's revolutionary fluid technology in an open, sleek design to deliver incredible levels of performance and style.
The Nitrotech system is an industry-first, using pressurised nitrogen to control the counterbalance of the camera and lens, meaning you never need to worry about the camera suddenly taking a nosedive.
And it works for a huge range of cameras, from the lightest compact cameras, from the lightest compact camera to an 8kg/17.6lb cinema camera and matching lens plus accessories on the Nitrotech 608 model, to a huge 12kg/26.4lb on the Nitrotech 612 version.
Above Manfrotto's Nitrotech 600 fluid video head series features a precise, continuous counterbalance system for smooth, controlled movements
The Nitrotech 600 series head's precise continuous counterbalance system (CBS) uses a redesigned ergonomic CBS knob, which is easy to adjust and safely holds your precious camera equipment in perfect equilibrium.
What matters most when using a video head is smooth, controlled movements in both panning and tilting and the Nitrotech head controls this with professional-level fluid cartridges for both movements.
This variable fluid drag system (FDS) lets you dial in the precise amount of controlled drag to suit your camera and the speed of movement you need, which results in beautiful, judder-free shots. And the FDS control knob has a new rubber cover for enhanced grip.
To quickly and securely fix your camera to the head, the Nanotech 600 series has a fast, quick-release fitting, so you simply lower your camera into place from above and it clicks in firmly. You then lock and unlock it from the side. This side-lock sliding plate mechanism is fast, safe and easy to use. The sliding mounting plate is long enough to work for most camera combinations, and is marked with a metric ruler to make the set up even easier, every time.
The new Nitrotech 600 series has a sleek design and delivers incredible levels of performance
There's also an illuminated bubble spirit level on the base to aid speedy set up of the head, even when it's dark. The Nitrotech 600 series has a flat base, so it can quickly be used on all the latest video accessories such as sliders, gimbals, jibs, cranes and dollies. It gives the head incredible versatility in a huge range of applications. To use it on a tripod with a bowl top, it mates up perfectly with a Manfrotto Half Ball kit.
The Nitrotech 600 also has a 3/8-inch Easy Link connector built on the side, designed to accommodate Manfrotto arms equipped with an anti-rotation system or arms equipped with Arri locating pins in order to fasten external monitors or other accessories.
Top-quality materials and precision construction from a company that has been making well-engineered photo and video products for decades means a Nanotech 600 series head is an investment in a serious bit of professional-level video equipment that will deliver for decades. With such a huge range of payloads that can be used, it will work for all your growing camera needs and it exceeds the most demanding filmmakers' needs for precision, speed, versatility, fluidity and performance.
Click here to visit the Manfrotto website.