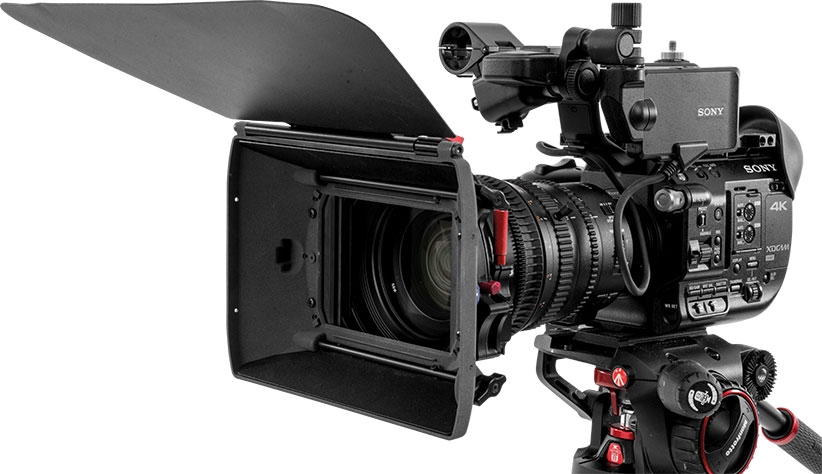 Vocas MB-256 Matte Box
If you want to fit the larger, professional filters to your DSLR or cinema camera, then nothing can beat the flexibility of a purpose-made matte box. And it's the only way of fitting the 2mm-plus standard broadcast filters, which are too fat for most stills photo-style filter holders.
It's possible to spend thousands on a matte box, and many Hollywood-types do. But for a more realistic budget that independent filmmaker can stretch to, Dutch company Vocas makes a range of matte boxes to suit different cameras sizes. We tried the MB-256, a wide-angle matte box with two filter trays – one fixed and one that can be rotated, so it's ideal for grad filters or polarisers. 
The kit comes with two filter holders in 4x4in size, although a whole array of sizes can be bought to take filters up to 4x6in. To fit it to your camera you can either buy the kit that fastens it to standard 15mm rails, or via an adapter ring that screws into your lens filter thread. We used it on a Sony 18-110mm cine lens with a 95mm filter thread. The adapter screws into this, then the matte box slides over it and clamps firmly down using a knurled aluminium knob on the side. The matte box can also clamp directly onto lenses with a diameter of up to 114mm.
In use, the Vocas is relatively light thanks to its carbon fibre and aluminium construction, and holds filters very securely without any light leaks. Rotating one filter is a bit fiddly, but it works and has just the right amount of resistance. The build quality is excellent, the price is not stratospheric and it opens up the world of true pro broadcast filters.
Specifications
Filter sizes: 2×2, 2×3, 3×3, 3×4, 4×4, 4×5, 4×5.65, 4x6in
Diameter: 114mm
Filter slots: 2, 1 rotatable
Comes with: Flag, 4×4 filter holders
Material: Aluminium and carbon fibre
Weight: 556g/1.23lb
 PRO MOVIEMAKER RATING: 8/10
Well built and easy to set up, great flare control
+ Pros: Professional kit for use on lots of lenses
– Cons: Only two filter slots
Price: £718/$837