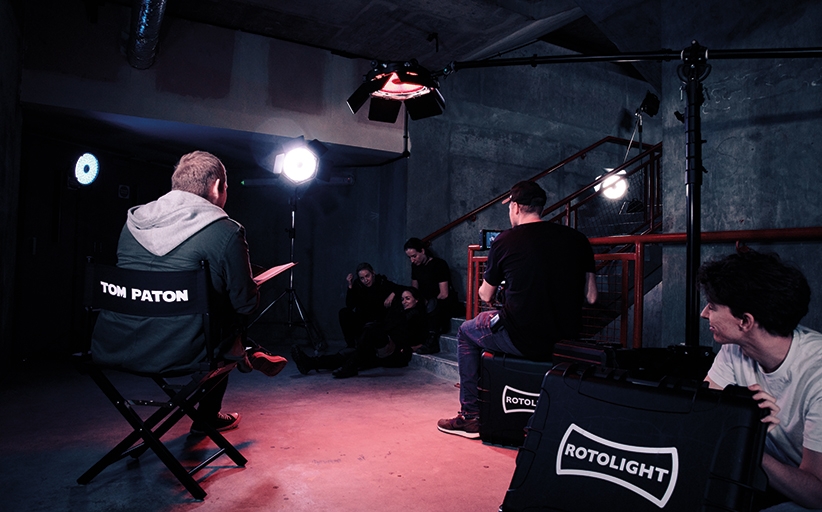 Colour Theory
Find out how careful use of colour in your lighting design can make a huge difference to the atmosphere in your movies. Writer and director Tom Paton explains all

Words / Kingsley Singleton
Filmmaking is about transferring the ideas of a creator to a viewer. It's like a conversation. But like any conversation, you need to use the right words, the right language, or it won't make sense at all. "Fortunately," says writer and director Tom Paton, "we have over 100 years of cinematic language we can draw on to get our stories across." 
A huge part of the vocabulary is in the lighting of a film, he says, which is something any filmmaker can work to improve, whether they're shooting feature films like Tom, or something smaller. Suggestive, guiding and emotional, small changes will make a big difference to mood and atmosphere. 
It all starts with careful planning, says Tom, where the film as a whole, as well as each scene is plotted out in terms of its lighting design before shooting starts. "It's just like deciding on set design, costumes and the actors," he explains, "your lighting should be just as important as those." Literally page by page? "Yes, definitely. My director of photography is George Burt, and he is in my opinion one of the best cinematographers working today. We've been shooting together for 11 years, together on all five of my movies – and now we're green-lit for a sixth – so we collaborate very well."
"On the most recent film, G-Loc, which we've just finished," continues Tom, "we had our own office and we sat in there for four weeks prior to filming, mapping out camera movement and lighting. Of course you can adapt somewhat on set, but you really should be spending that time with your cinematographer to find out what the language of the film is, especially if you're working with a DOP who might have very different ideas about what the script needs. 
"If that happens, the clash of ideas is going to get felt on screen, and it's not going to work as well. You need to be on the same page, agreeing on the mood and tone, that the lighting brings."
Light on cash
Good lighting doesn't need to cost a lot, even on a feature film, but its effect is priceless. As Tom explains, on his first two films, Pandorica and Redwood, "both those movies were shot at night and they have a unique lighting palette. We were trying to get a consistent look and feel for each film, but also trying to achieve a classic horror atmosphere. Though it did very well and ended up with a bit of a cult following, the first film was very low budget. We shot it in a paintball arena in Essex at night, at ISO 20,000 on Sony A7Ss. It was real grass roots indie filmmaking, but we knew we had to give it this cinematic moonlit feel."
To get the look he wanted, Tom used "a 5K lamp to light the background and then pretty much the rest was lit with fire or with two 1K Rotolight LEDs on stands. We also had a big wedding balloon – basically a white reflective balloon filled with helium, which cost about £30 off Amazon, and we had the idea of bouncing the LED lights off that. The reflection give this cool moonlight look across the set. Coupled with the low-light performance of the camera it gave us this consistent, ethereal, almost otherworldly look to the movie. It's not overly stylised, but it's also got something different."
Less is more?
With the success of his first movie, the budget was scaled up on his second, "so suddenly I've got access to all the lighting I want – three lighting trucks showed up! We shot the whole thing on the Alexa Mini and were using huge HMI lights, 18Ks and 20Ks to give the forest this moody Friday the 13th look. The thing was though, it really made me keen to go back to my indie roots next time around, as I think there can be something more interesting when you're forced to come up with solutions. The next film, Black Site, was all shot in an old nuclear base, and we had three miles of tunnels to light. We used a lot of practical lighting there, building it into the sets. We hid Rotolights all over the place, which is where my relationship with them came from, because they could see we were using the kit in a different way. The size and weight of those lights lets you do that."
Colour me glad
So how does it work in practice? How do you take a story and apply lighting in a way that enhances it? Tom's fourth film, Stairs, is a great example, particularly when it comes to using colour to enrich the story and communicate with the viewer. "It's about a group of mercenaries who go into a war zone to kill everyone at a certain basecamp," he explains. "They find a civilian prisoner, argue about killing them, then do it. Back at their base, they find themselves trapped on this Escher-esque stairwell. They can't get off it, and the only door they find leads them to ten minutes before they commit the crime. It's this kind of crazy loop. Because a lot of it is shot in this stairwell environment, having control of the atmosphere through creative lighting and colour was all important."
(Above) In some exterior scenes Tom used a day-for-night lighting technique to give a distinctive look
Day for night
To give a real sense of identity to the movie, Tom and George decided on a particular lighting and colour theme that would run through it. "So for example, to differentiate the interior and exterior scenes, we used two very different techniques," Tom explains, "for the interior, the stairwell, it's quite traditional, and we used Rotolights for the general lighting as well as their CineSFX modes for pre-planned effects like gunshots. The second area is the war zone, and there we used the same day-for-night technique that Mad Max Fury Road did, so you're shooting everything two stops overexposed in daylight, but you're also hitting the actors' faces with light to really pick out the eyes, and then giving everything this sort of comic book blue grading." The Mad Max Fury Road day-to-night technique relied on dynamic range in the files, so the highlights could be pulled down while retaining shadow detail. "It's a sort of otherworldly blue tone that we wanted to register like the black & white portions of the Wizard of Oz, so the war zone is like Kansas and the stairwell is Oz," Tom explains.
Theme from shaft
As a fairly bland environment in itself, the stairwell was like a blank canvas for Tom and George to work on, and it responded perfectly to their sci-fi/horror ideas. Tom wanted the atmosphere of the stairwell to change as the characters moved up and down it, "and one of the best ways we can do that is with colour," he explains, "so what starts to happen is that the environment seems to get colder and colder as they ascend, and eventually it's snowing, so we have all this practical snow going around as well as the lighting."
To do this he relied on the visual language of cinema again, in that colour brings an emotional response from the audience. "You show people a bleach effect, or a warm effect and you're telling them that the characters are warm, or that there's something magical or comforting about that moment. But the more blue you put into the palette, the more you're giving a cold, disconnected feeling." 
This approach to colour, he says, is very much like camera movement motivating emotion in a story. "In the west we read from left to right, so if I'm trying to guide the viewer towards a progressive feeling, I'll tend to move the camera and the lighting left to right. The same goes when you're lighting something like a fight scene, and you want the viewer to feel jeopardy, you move the camera from right to left, and push the lighting against them so it feels 'off' and the viewer gets nervous for them. These kind of visual tricks that are hard coded into us and in lighting they can easily be used to 'sell the feeling'." 
Flicker following
These changes needed to be made in a gradual way, says Tom, "as it had to feel they were coming from a place that was room temperature. And because we also had to make sure we didn't clash with the stylised blue look of the war zone." So while the blue of the exterior came from colouring, in the stairwell it was solely practical. "We used a lot of subtle tricks, like using the Rotolight to pick out elements of the set that would be warm, and we'd use the barn doors to create shafts of blue light on those areas, like the actors' faces. And also to have people running into areas with bluer light, so you get that progression." 
Conversely, on the floor below the characters, a different look was needed. "The film has this constant idea that the characters are moving up," explains Tom, "and the stairs below them are dropping out into darkness, and more of a threatening, hellish look that's chasing them up level by level. It's much more red, and a completely different texture."
For the stairs below, Tom and George used the Rotolights' CineSFX features, including "the fire flicker setting which was very useful. There's something more ominous about lighting when it's not static and you feel it's not consistent, which is why lights in horror movies are often moving. We also added a flicker to the cold lighting above, but that was more like a failing bulb. Flickering light doesn't feel safe."
(Above) The size and weight of the Rotolight units meant Tom could achieve different effects in different locations
Making the grade
There's a real benefit to doing these effects physically, says Tom, explaining that "though there's always going to be an element of grading, that should usually be more about tweaking little things – lighting is something I can use to get the actors into character and emotional. They can react to what they're seeing on set, so it's a bit like avoiding green screen as much as possible. I've got a background in visual effects, but I try to use that stuff sparingly because I want to put the actors in situations. They have to feel something if they're going to convey it to the audience, so I want to give them lighting that makes it happen." 
"What makes this easier," he continues, "is that we weren't beholden to big heavy HMI lights. The Rotolight LEDs we used can be moved around so much more easily, and also controlled from an app, and that means you can be more creative. So really," he concludes, "you should always go into your filming with a good lighting plan. You should know what your palettes are going to be, what kind of atmosphere you're trying to create and how it fits your intentions; if it's wrong, no amount of grading is going to dig you out." 
Get some colour
Adding atmospheric colour to your movies is easier and more affordable than ever, thanks in the main to bi-colour and RGB LED lights. Bi-colour lights are usually going to give you a range of colour temperatures, say between 3150K and 6300K. So that might give you some slight variation, but if you want more striking colour effects you'll want a full-spectrum RGB light. Of course you can always go down the route of adding gels to a white LED, too, and many lights come with bespoke options to fit directly to them. 
NanGuang RGB173
£399/$400   kenro.co.uk
The NanGuang RGB173 LED can be used as a stepless white light from 3200-5600K at CRI 95, and with 0-100% brightness control, as well as offering 360 more colours by mixing its red, green and blue LEDs. As well as solid colours, there's a colour cycling mode, and flash mode to simulate effects like emergency lighting, television and firelight. The RGB173 has a 27W output and can be controlled on the light or remotely. It can run off the mains or a pair of Sony NP-F type batteries.
Rotolight Anova Pro 2 Bi colour LED
£1549/$1798   rotolight.com
A light and powerful LED model, at home in the studio or on location. This bi-colour model gives output between 3150 and 6300K, and delivers 10,700lux output at 3ft; 70% more power than its predecessor. Dimming is flicker free and colour reproduction is an excellent CRI >96, TLCI 91. Its 72W consumption makes it efficient on location, running off V-Lock batteries. For colour effects there are gels to add to the holder and Rotolight's CineSFX Mode for effects like lightning, gunshot and police, all remote controllable.
Kino Flo Diva-Lite 21
£2415/$1976   kinoflo.com
With a lightweight design and full DMX remote functions, making it easy to rig and control, the Kino Flow Select 20 offers dial-in colour temperature control between 2700-6500K, and an extended colour palette from 2500-9900K. There's full RGB control with hue and saturation adjustment, and a series of creative effects. Light levels are flicker free and constant throughout the range, and it has a high colour rendering index of 95.  
Dedolight Ledzilla Mini LED Bi-Color
£447/$763   dedolight.com
Designed to be small enough for use on camera, it gives a great blend between mobility and colour control. The light's beam is focusable from 4-56° and has a flip-up diffuser that spreads the beam more horizontally than vertically for widescreen shooting. Colour is variable between 3200 and 5600K and flicker free light is consistent in brightness throughout, while also easily gelled for stronger hues.
Rosco LitePad Vector CCT
£1161/$944   emea.rosco.com
The LitePad Vector CCT is a bi-colour light with a tunable output of between 3000K and 6000K, with full, flicker-free 0-100% dimming control. Its 8x8in array and low heat output means it's easily gelled. As a small light it's ideal for lighting on location, and runs off standard Anton/Bauer or V-Mount battery packs. The light's soft output measures between 1500lux and 1700lux at 1m, rising with the colour temperature.
Manfrotto Lumimuse 8 BT
£95/$109   manfrotto.com
Produces a lot of high-quality light for a small package, but now adds full Bluetooth wireless control via an iOS app. So for instance while dimming on the unit is in four steps, via the app it's 0-100%. The light has an output of 550lux at 1m, and is balanced at 5600 with a CRI of >92. Colour modification is by clip-on filters which are easy to fit and optional kits add a huge range of colours. The unit weighs just 160g, is easily mounted on camera or on a tripod, and it has a built in lithium polymer battery.
Litepanels Gemini 1×1
£2340/$2517   litepanels.com
A fully featured, bi-colour LED that provides all you need to add atmosphere in the studio or on location. As a ballast-free light it's easy to transport and adjust, coming with a standard yoke. Fully Wi-Fi controllable, the light is tunable in output, from 2800K to 10,000K with green and magenta fine adjustment, and an HSI mode for total control over hue, saturation and intensity from 0-100% brightness.
This feature originally appeared in the Summer 2019 edition of Pro Moviemaker.