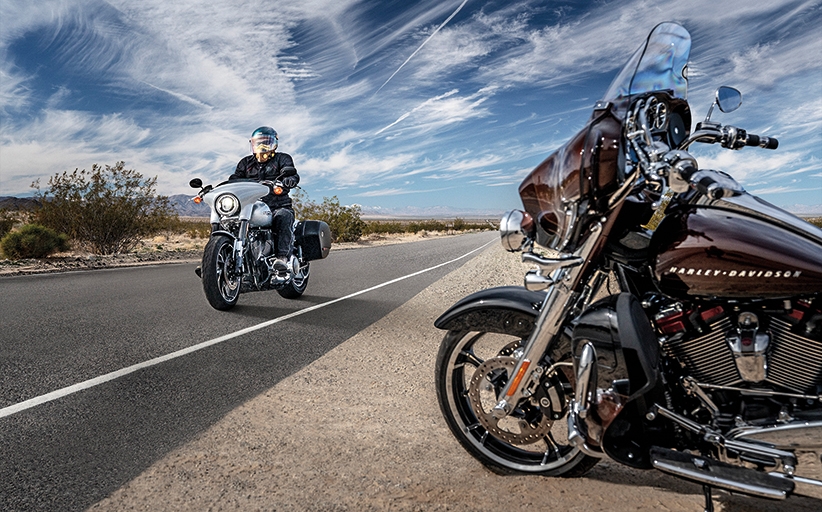 Easy Rider Reborn
It was a dream job: the chance for photographer and filmmaker Richard Bradbury to retrace the steps of the anti-heroes from Easy Rider and to take to a Harley-Davidson for the ultimate road trip


Words and Images / Richard Bradbury
The year 1969 was a big one for the US arts scene. Andy Warhol's factory churned out multiple soup tins, and The Rolling Stones arrived with what would be named the 'world's first mythical rock tour'. The first draft of US troops to fight the Vietnam war were crying out for a cinematic backdrop. The sterile consumerism of the fifties celebrated the middle-aged married couple, but Easy Rider, released in July 1969, made it cool to be young, free and rebellious. Even if their parents didn't approve, every teenage girl in America wanted to hang out with a badass biker gang. 
Starring Peter Fonda, Dennis Hopper and Jack Nicholson, (long before they became global superstars), Easy Rider tells the tale of two Harley-Davidson-riding anti-heroes doing a one-off drug deal in LA. They ride across the states to spend their earnings in New Orleans but, let's face it, I don't need to tell you that, because I know you've seen the movie. It's the Eleanor Rigby of the film world: you're not sure when you first saw it, but you just know all the words. It's part of every movie lover's DNA. Easy Rider has become a rite of passage for every cool teenage boy (and quite a few teenage girls) in the English-speaking world.
This year marks the film's 50th anniversary, so Harley-Davidson, in partnership with the US Tourist Board, contacted motoring writer Jeremy Taylor and myself to ask us if we'd like to re-enact the road trip (minus the narcotics). It took us the best part of five or ten seconds to say, 'Yes, please!' There were, however, a few issues to deal with. First, we could only find one free week in our calendars that coincided. We had to do the trip early last December and we could only reasonably do half the journey from LA to Phoenix. Also, we wanted the trip to be for real, just like in the movie, so no support vehicles allowed.
Packing gear
Pete, Dennis and Jack didn't need to carry camera kit to shoot stills and video along the way, so they could travel light. We, on the other hand, needed to think carefully about how much we could take with us. Our gear needed to be light and small enough to fit in the panniers of a Harley, but powerful enough to offer 4K video and advertising-quality stills. My brand of location stills involves off-camera flash for a rich, dramatic effect and we wanted to get plenty of high-end video for PR and promotional purposes. I like a challenge and I was determined to have a 'no compromise' kit to shoot full-frame stills and 4K video that I could carry on a motorcycle. 
I'm still a stills guy, albeit one that shoots increasing amounts of video, so I had a fair bit of research to do. I had just taken the bold step of changing my 25-year commitment to Canon to the new-wave mirrorless world of the Sony A7R III. I still own both kits, but the Sony is considerably smaller and lighter than the Canon, which is pretty important when you're travelling on just two wheels.
"I was determined to have a 'no compromise' kit to shoot 4K that I could carry on a motorcycle"
The A7R III's video capability is also incredible: in addition to 42-megapixel stills giving billboard-quality imagery, the camera offers uncropped video with all versions of 4K and up to 120 fps HD. In low-light conditions, it's among the best on the market, giving usable, clean imagery even at ISO 256,000, while the NP-FZ100 battery has a two-hour life (unlike its predecessor) and the camera rarely overheats while delivering a maximum 30-minute record time. Meanwhile, in-camera sound recording is no worse than any other camera and it has the usual external audio options available via the microphone jack. 
I had brought a full set of lenses, but wanted to save space, so I took the G Master 16-35mm f/2.8 for extreme-wide landscapes and the G Master 24-70mm f/2.8 as a more general-use lens. Both these lenses offer staggering performance, with the A7R III's in-body stabilisation giving almost gimbal-like stability. I was tempted to take the G Master 70-200mm f/2.8 along as well for a more candid look and its dreamy bokeh, but it's a big piece of glass and this trip was really about capturing the grandeur of the 'Big Country', rather than compressed long shots. 

Richard Bradbury used a DJI Mavic Air to capture aerial footage of his motorcycle road trip across the US
Historic Route 66
Our route took us out of LA across Death Valley, down towards Palm Springs then back up to meet the iconic Route 66. We travelled through Joshua Tree and finally crossed the Mojave Desert before arriving at the largest Harley-Davidson dealership I have ever seen in Phoenix, Arizona. 
It didn't take a genius to work out that, with that kind of scenery, a drone would be a useful companion in terms of producing footage for my personal use. I knew nothing about drones before this trip, so I turned to the experts: my 11-year-old and 18-year-old sons. What these guys don't know about drones is just not worth knowing. Despite never owning one, they both followed countless social media groups and were hotlined to every YouTube drone fanatic in cyberspace. 
The DJI Mavic Air stood out for me immediately, being better equipped than its smaller Spark cousin, yet more compact and affordable than the iconic Mavic Pro. Folding down to the size of an average croissant, I bought the Fly More Combo Kit with three batteries, giving me an hour of usable flight time. It comes with a very neat carry case that my fashion-conscious wife would describe as 'clutch' sized.
"The use of drones in filming has become pretty much expected by clients these days"
Easy to fly, even for a novice like me, I nevertheless had a two-hour lesson from the great guys at the PhantomFlightSchool in Kent before I left for the US. Equipped with a three-axis mechanical gimbal, the Air shoots 4K 100Mbps video at 30fps with QuickShot functions, including the iconic Asteroid, Helix and Boomerang flight patterns. ActiveTrack makes following a moving motorcycle a piece of cake, with a top speed of over 68kph, and you can choose to control the drone with the compact remote controller connected to your cell phone – or through simple SmartCapture hand gestures if you prefer. I have the Ferrari Red colour option, and it's become my favourite flying companion.
Before leaving for the USA with your drone of choice it is, of course, important to remember that FAA regulations state you must have a Small UAS Certificate of Registration to fly in any US state. In addition to the usual regulations for drone flying in most modern countries, this licence ensures you fly within the law in the USA. Travel without one and you'll probably have your equipment confiscated and face a serious fine, so beware. You can apply for the licence online at faa.gov/uas/ where, for few dollars, you will be issued with a miniature certificate in just a few days. It can be stuck discreetly within the battery housing to be shown if required.
I discovered that the advanced multi-sensor obstacle avoidance system is switched off in Sport mode after I had my first crash into a rock face during a bike tracking sequence. To be fair, I had pushed it to the limit, and the little red drone had damaged props and a piece of one of the legs snapped clean off. I tracked it down using the remote to a pile of rock debris where it lay upside down still blinking its lights. I dusted it down, fired it up and the drone leapt straight back into flight despite the battle scars… Awesome! 
The use of drones in filming has become pretty much expected by clients these days, and you just can't fail to be impressed by the majestic scenery of Death Valley and the Mojave Desert as seen from the air. The tiny Mavic Air punches well above its weight in terms of features and video quality.
On-bike shots
No road trip would be complete without the mandatory on-bike camera sequences and, when it comes to action cameras, there really is nothing to compare to the GoPro. I have owned and loved Drift cameras and have used them for on-bike shots mainly on race tracks before, but the new GoPro Hero7 Black is a huge step up from its predecessors. I used it for a combination of on-bike shots and walk about vlogging, and it was perfect for both. 
The Hero7 Black can shoot 12-megapixel stills and 4K video at 60fps. It also offers 8x slomo, water protection up to 10m and gives the kind of stunning results we've all come to expect from a box so small that I actually managed to temporarily lose it in my side pannier twice during the trip. The built-in HyperSmooth stabilisation is so good, you don't need a gimbal for handheld shots. Try it – it's incredible.
"The new GoPro Hero7 Black is a huge step up from its predecessors"
The audio quality on this camera is leagues better than previous models as well, but I chose to add a wind deflector for the riding shots. Surprisingly, I couldn't find a sponge jacket to fit the 7 model, so I bought a 5 model jacket and carefully cut out the holes to fit the lens and screen. It was a bit tight, but worked a treat. I also recommend the GoPro 3-Way for handholding, which has a dinky mini tripod inside for freestanding shots. 
I bought my bike mounts from Telferizer and, while these were sturdy and easily adjustable, I still wished I'd bought the Jaws Flex Clamp, as it would have been handy to change the camera position while riding. Ultimately, I only used one GoPro, which I repositioned around the bike at various points, but it would have been nice to have several to shoot multiple angles of the same scenes. The 7 series apparently has voice commands, but I never mastered these since its buttons are large and easy to use, even with gloves on.

This is the kit Bradbury used for his journey. He had to think carefully about what to pack, since everything had to be accomodated in the carrier on the back of his Harley-Davidson motorbike. Alongside such essentials as Godox speedlights and ultra-portable light stands, he also packed a GoPro Hero7 Black and a DJI Mavic Air drone for aerial shots
Tripod tests
Every photographer/videographer needs a tripod, and I have stacks of them. However, not one of the pods I own would fold down to airline carry-on bag while still offering me full head-height capability. This was probably my most difficult search – the trick being to find one of only a few models that fold their legs back onto the shaft, covering up the head. The MeFoto RoadTrip was a clear winner. It comes in multiple colour options, but I bought the slightly more expensive carbon version for its light weight. In my opinion, it's the best-value, most stable eye-level tripod on the market. It folds down to just over 13in long, extends to eye level and comes in a carry case that fits into any flight-legal carry-on. It also comes with a neat Arca-Swiss style ball and socket head, with three-way locking and a friction-controlled liquid panning facility. 
Finally, I needed some off-camera flash, so stop here if you're a video-only guy. The Godox 860 VII Speedlites are compact and very powerful and, when controlled off-camera with the X1 transmitter, they offer the same power as well as TTL and HSS capability of the Sony own-brand units. The difference is that the Sony units cost around four times the price. You do the maths! To partner them, Pixapro produces superb pop up 60x60cm softboxes, which are around £60 each. These come complete with a bracket for your speedlite and even a honeycomb grid add-on.
One of my favourite finds were the Phot-R Ultra Portable Studio Light Stands. However, there was a problem with the overall folded length, and they took some finding. I bought these in a pack of four for £91.95 including a carry case. Amazing value! They're not as solid as my Manfrotto studio stands, but they're all you need for a small speedlite or LED unit. 
Overall, the trip was a great success, with three different 4K video cameras, a drone, plus an advertising-quality, full-frame stills set-up, including lighting and stands. Literally everything (plus my own personal luggage) was carried on one motorcycle. The bike I was lent was a £40,000 Harley-Davidson Ultra Road Glide Lux and, while fantastic, it didn't have the elegance of the 'Captain America' bike ridden by Peter Fonda in the movie. I'm pretty sure though, Pete would probably have preferred to do the return trip to LA on my bike. He could probably have afforded it, too.  

Along the way, Bradbury produced stills and moving footage of the characters and locations he encountered
This feature originally appeared in the Summer 2019 edition of Pro Moviemaker.
For more information, please visit Richard's website.