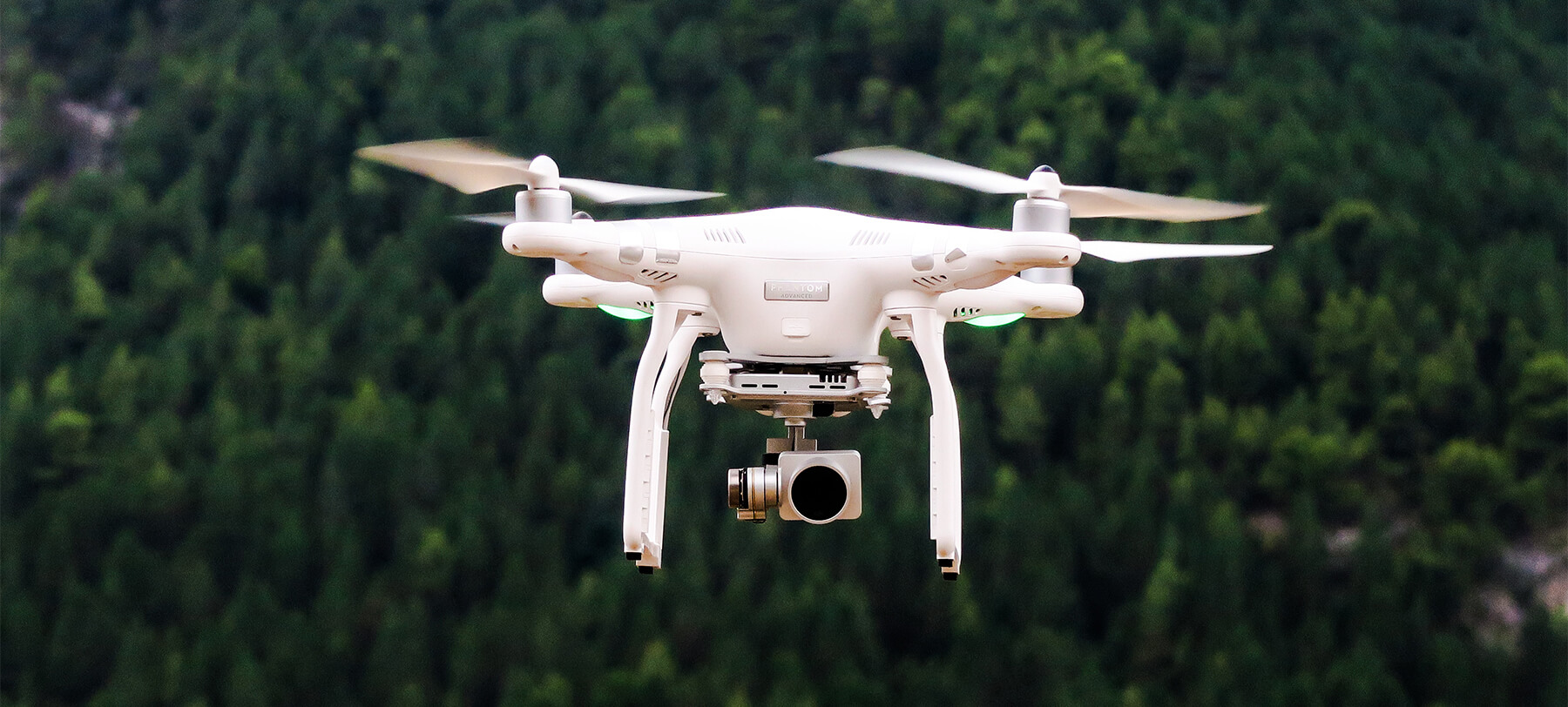 Drone laws for filmmakers
Posted on May 26, 2020 by Lee Renwick
If you're looking into aerial cinematography, there are a few key drone laws that you should keep in mind.
Drone cinematography is becoming more and more popular, and for good reason. The footage can be simply stunning, and what used to be reserved for large budget productions can now be achieved by any videographer with £100 and a bit of know-how.
With that said, owning and operating a drone shouldn't be taken entirely lightly, especially when the element of video is added. Here in the UK, drone laws aren't all that strict, especially considering their use is banned in a number of countries worldwide.
Before we get into the laws, it's important to note that this article shouldn't be taken entirely as fact. All information was taken from the UK Civil Aviation Authority (CAA) website, and is correct at the time of writing, but before purchasing a drone, full laws and regulations should be read and understood.
Instead, what you'll fine here is a condensed and easy-to-follow summary of the fundamentals. So, if you're just testing the waters, read on to get an idea of where you stand.
These drone laws only apply when flying outdoors and to drones between 250g and 20kg. You may wish to consider that some drones are lighter than this – like the popular DJI Mavic Mini FlyCam which weighs 249g – and are therefore exempt.
Click the images to see a larger view
The first and most significant law is that anyone responsible for a drone must register as an operator and pass a theory test. For this, you must be 18 or over. You must display your operator ID on any and all drones you own.
Anyone who wants to fly a drone must pass an online theory test on flying safely and legally. The test has 20 multiple choice questions and the pass mark is 16. You can take the test as many times as you need. Children under 13 can only register with a parent or guardian present.
The cost of registration is £9 and must be renewed annually. Taking the theory test needed to fly is free and it must be retaken every three years.
So, what's expected of tested pilots of a registered drone?
Firstly, you must always keep your drone in sight and have full view of surrounding airspace. You can't rely on an aid like binoculars or a screen in order to see the drone, and view of airspace must be completely unobstructed.
Your drone can never be more than 120m above surface. This is in relation to ground it's directly over, meaning it adjusts to accommodate hills, mountains, etc.
Your drone can never be closer than 50m to a person, vehicle or structure when flying. This is in all directions, so imagine a 50m surrounding bubble. This distance reduces to 30m during take-off and landing.
Your drone can never be closer than 150m to a built-up area or crowd of more than 1000 people. Flying directly over either of these things is also forbidden, no matter if you're above the 150m bubble.
You must never fly your drone in an airport or airfield's Flight Restriction Zone unless given permission. This zone can vary from location to location. This is one of the more serious restrictions and failure to follow this law could result in up to five years in prison.
It's advisable to check for airspace restrictions wherever you're flying, as they can appear anywhere for a number of reasons. The CAA recommends using the NATS website for this.
Any dangerous incident must be reported to the CAA.
Now, for videographers using drones to record footage, there are additional elements to consider.
Firstly, if you're making money or taking payment as a result of your drone flying, you'll need commercial permission. Obtaining commercial permission is another subject entirely and there's much to know.
A Standard Permission allows you to make money and also fly your drone in congested areas, beyond some of the regulations covered above. A Non-Standard Permission can go far beyond this. In either case, it should take some serious consideration, as you'll need a recommendation from a CAA National Qualified Entity (think of this as a flight school of sorts). This training takes days, you can be required to submit very detailed plans to the CAA and the overall cost, including insurance and the CAA fees, can run into the thousands.
Secondly – and this applies to any user recording video even non-commercially – if you take photos or videos where someone can expect privacy like a home or garden, you're likely breaking data protection laws. You can find a detailed guide the laws of public photography on our sister title, Photography News, and the CAA suggests the same common-sense approach to shooting on an ordinary camera should be applied with drones.
In the UK, you can capture an image of any person of any age without their consent, provided you aren't harassing them and it isn't indecent. This doesn't apply to people with certain jobs and positions.
Similarly, you can shoot photos or video of almost any building until asked to stop, even on private property. Any photos or videos taken before that point are your property and nobody can force you to delete them, not even a police officer. We'd advise using your better judgement in cases like this, though.
Though they may seem limiting at a glance, following these laws and acting responsibly won't stop you getting the otherwise-impossible shots drones are capable of. For any creative filmmaker looking for new possibilities, we'd certainly recommend finding a place for one in your kit bag. If you are still interested, you can find more details, register and take the theory test online here.
For more filmmaking technique, advice and inspiration like this, take a look at our Inspiration section!