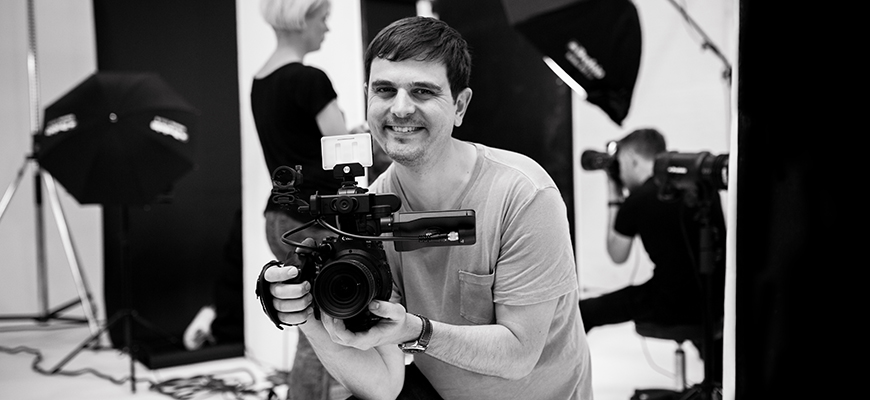 Compact and versatile: operating Canon's EOS C200
Posted on May 26, 2020 by Verity Butler
Freelance camera operator Mark Hurdle talks to us about why the C200 is such an asset to the industry, and ideal for meeting specific production needs
Advertorial content
Canon's cinema range is respected globally by those who work in production for its ability and flexibility to function in a multitude of filming situations. From the flagship film and broadcast EOS C700 to the flexible full-frame EOS C500, the range meets the needs of any cinematographer, in any situation.
The versatile EOS C200 perfectly complements this holistic range by offering pro-level features within a compact, user-friendly body. The result is a camera with wide-ranging appeal.
In order to learn more about the specific capabilities of the EOS C200, we speak to Mark Hurdle, a freelance camera operator, editor and director – and a respected user of Canon's EOS C200.
The C200 fits perfectly with the type of work I do
After studying television and video production at Bournemouth University, Hurdle went straight into corporate video. He has gone on to enjoy some impressive career highlights, including creating interactive screen content for musical acts, such as Ed Sheeran, Tom Jones and Rod Stewart.
"I ended up on stage at the Hammersmith Apollo in front of 5000 people, filming dance group Diversity as they performed their final number – that was quite a rush," he enthuses.
In terms of style, Hurdle considers himself more of a 'runner and gunner' than a DOP.
"I enjoy shooting reportage and capturing the excitement and buzz of live events," he says. "When I'm not shooting, I also write and direct, and specialise in comedy corporate material – translating complex and/or dull corporate material into enjoyable bite-size videos."
In 2017, Hurdle decided to go freelance. When researching which brand could offer a cinema camera to suit his needs, he spoke to several freelance camera operators he knew who used different brands, to discover the pros and cons of each.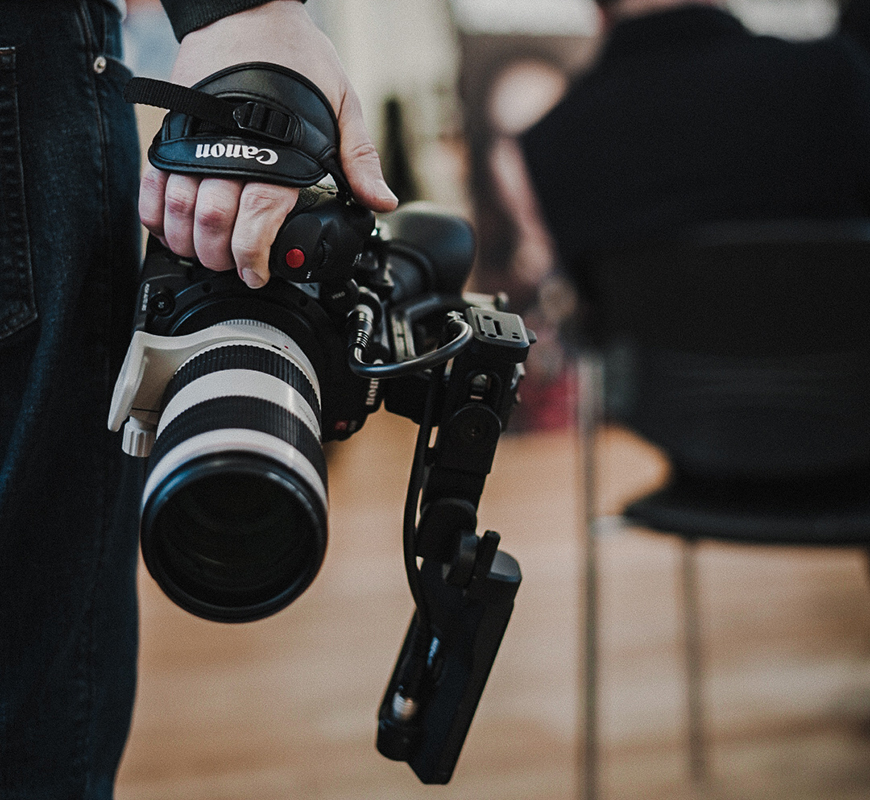 "I felt that the Canon user made the best case," he explains. "His arguments were that it had the best features, it was the most ergonomic model and that you simply can't beat the Canon colours! I was already a huge Canon fan from the 5D Mark II days, so that's the brand I chose to go for."
When we ask Hurdle why he selected the EOS C200, he stresses it is the model that specifically meets each one of his filming needs.
"The C200 fits perfectly with the type of work I do. I shoot a lot of events, conferences and long-form interviews. This means that the 8-bit 4:2:0 codec is perfect for me, as it produces manageable file sizes – with the added benefit that the C200 is a cut above other cameras that shoot in that format," says Hurdle. "I also film the occasional high-end promo or fashion shoot, and that's when the RAW Light codec really comes into its own. The image quality is superb and offers amazing versatility in the grade."
I've had a lot of dealings with Canon over the past year and can only say how fantastic they've been
In terms of production situations, the C200 once again does not fail to meet Hurdle's specific filming needs.
"It's an amazing camera for running and gunning – it has incredible low-light capabilities, which is great for events filming," he explains. "All the features are available at the touch of a button. Very rarely do I have to go into the menu settings, which is a big plus. But for those occasional jobs where the image quality is paramount, the RAW Light is incredible."
Due to the unprecedented Covid-19 crisis, the production industry has largely ground to a temporary halt. We ask Hurdle how the crisis has affected his work personally, as well as what he is working on currently.
"Sadly, shoots have been put on the back-burner for the time being! I've been editing a lot of animation videos for my clients and lots of interviews recorded via people's webcams," he says.
In March, just before the lockdown, Hurdle was also due to start directing a feature film he'd written.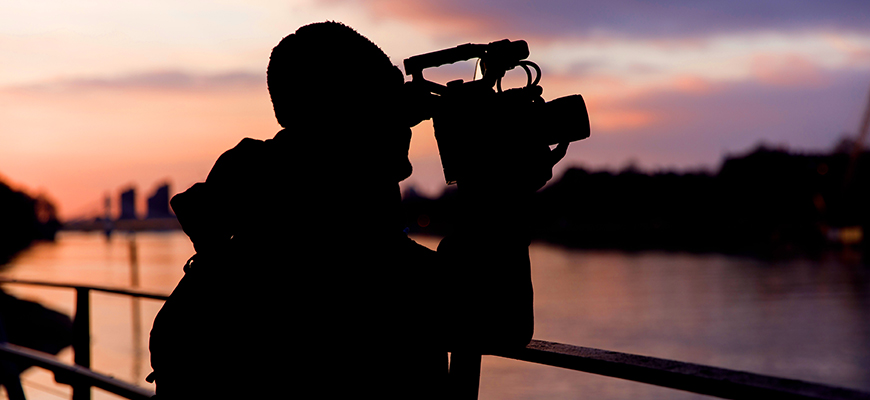 "This was all going to be shot using the C200 and was actually supported by Canon who were supporting with cine lenses" he explains. "Unfortunately, when lockdown happened, we had to cancel the shoot, but we hope to get it back on track next year. Canon has already told us it'd like to continue supporting our project."
It is very clear from speaking to Hurdle that he has a lot of respect for not only the C200, but Canon as a brand.
"I've had a lot of dealings with Canon over the past year and can only say how fantastic they've been. The whole team are extremely passionate and knowledgeable about the brand and they're always on the lookout for ways they can support creatives within the industry," he says. "I've had the C200 for close to three years now and I can't see myself switching models for the foreseeable future. It's just a great, great camera."
Find out more information about the C200 here.
To read our full feature on Canon's world-class cinema range, click here.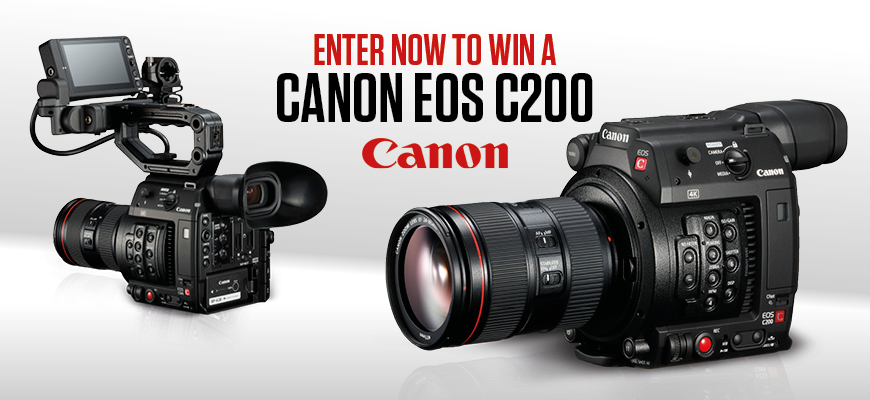 Competition time!
We are partnering with Canon in an awesome competition to win an EOS C200! Don't miss your opportunity to win this versatile member of Canon's cinema family.
To be in with a chance of winning, click here. You must enter by 9 June to be added into the prize draw.