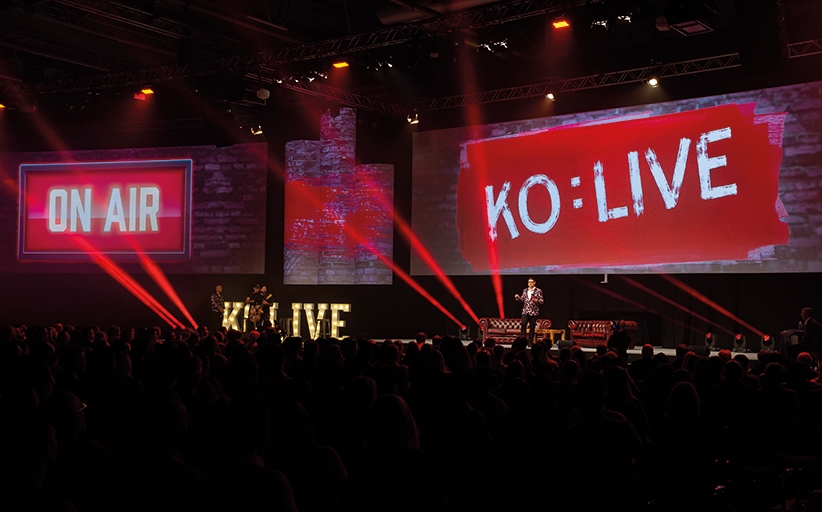 Whistle while you work
Jamie Rae traded in his freelancer title for a full-time spot at corporate events company, BCD Meetings & Events. We talk to him about that journey and what it's like to shoot live events for big clients


Words / Chelsea Fearnley
For a solopreneur, making the decision to work for someone else can be a daunting prospect, but if you consider company culture, a traditional working week could offer more fulfilment. Jamie Rae is someone who recently made the move to work in-house after ten years of working for himself. He graduated from Lincolnshire University in 2008 with a degree in Contemporary Lens Media, and from there worked with local businesses to create videos that promoted their products and services. 
Although Rae says he did work on some projects for larger organisations – such as the Open University, Network Rail and the NHS – the payment terms were, at the time, "horrific and far less rewarding". 
Now, Rae celebrates one year working as a video producer at BCD, which is a company dedicated to designing and orchestrating events for clients that are similar in size to those mentioned above, but he says the full-time position enables better compensation.
Rae works in a small team consisting of himself, Nick Hamilton – who is the video editor and animator – and Dan Umney, their creative director. 
"We're a facet of a large company that is an events company first and foremost, and it employs 1000 people worldwide who are involved in making events happen – think catering, venue sourcing and entertainment," explains Rae."I was apprehensive before deciding to work full-time, because I feared I wouldn't be able to create what I wanted to create, or that the environment would prohibit me from doing so. I was also worried about what the team would be like, having worked on my own for a decade."

A film being shown at the BCD Meetings & Events conference
Things go better with pop 
Those thoughts were immediately squashed after Rae was given his first assignment: a huge conference for a leading soft drinks brand, where he was tasked with creating a series of videos that would coincide with key topics discussed at the event, as well as a highlights reel of the two-day event, which would later be played at the after-party. 
Rae was given the artistic freedom to play around with these topics, and he recalls when the brand wanted to discuss how it overcame the CO² shortage that could have caused production to cease in the summer of 2018: "We pitched an idea of recreating the 'war room', which was a real-life scenario that took place, where ten of the company's most senior employees were locked in a room for 72 hours until they came up with a solution." 
He continues: "We drew upon themes from the TV series 24 and used multiple shots and multiple camera angles of the same scene, which were then put onto a split screen – similar to the opening sequence of 24. Clocks ticking, countdown timers, people looking serious."
Pitching and storyboarding video ideas to clients is an aspect of his new role that Rae relishes. He says: "In the past, I've found that clients are often sceptical about video because they don't like being filmed, but the ability to pitch an idea before we film it encourages discussion and more ideas to develop."

Jamie Rae, creative video producer (right), and Nick Hamilton, senior video editor and animator (left)
The team also created a video about brand's supply chain, with filming taking place at some of its premises in the UK. They also shot four videos about environmentalism in four different locations – one being an Asda supermarket – and did projection mapping, which projects 3D images onto blank surfaces. 
Rae explains: "We had the main screen and, on either side of that, we had two more screens of the same size. It was such a big event, with over 1500 delegates, so we had the video content playing on all three screens. Then, on either side of these screens, we had three columns, all different sizes – they looked a bit like a bar graph – and onto those we projected 3D content to coincide with the content on the screens. Sometimes, when no videos were playing, fizzy drink bubbles would float up and down the columns." 
Filming the event itself required both Hamilton and Rae on site, as well as the help of two external cameramen. 
Rae says: "I did a little filming as people were arriving on day one, but I mostly stayed with Nick in the edit room to make sure the cameramen on the floor were ticking off what needed to be filmed. I then helped Nick with the edit, which had to be finished before day two started. I think we only got about three hours sleep that night.
"On day two, filming stopped at 12pm, because we needed to edit the footage for the highlights to be played at the after-party. It was full on, but the feeling of being able to create something in a live environment with a team where we had to deliver something while on the premises was so exciting," he enthuses.
All limits are self-imposed
The videos created for the soft drink brand's conference, including the highlights, were shot on a Panasonic GH5 with a combination of the Panasonic Lumix G Vario 12-60mm, Canon EF 24-105mm and Canon EF 70-200mm lenses. 
Rae says that the event was shot in 1080p and he used 4K for the talking-head pieces, shot prior to the conference. Though he did err on the side of caution with interviewees that were not as forthright with their answers: "We can't afford to be shooting hours and hours of content in that quality. The client gives BCD a budget and BCD works out an allowance for lighting, staging, catering, staffing etc. Video content isn't an exception to this – we have to work with what we're given, while also meeting the client's expectations."
But limitations often breed ingenuity and Rae tells us about one instance where he videoed a person over Skype. "I was in Milton Keynes and he was in Buenos Aires. I mean, no one's going to pay for me to fly halfway across the world to film a guy for 30 seconds. So, I recorded the interview on Skype and green screened it to look like we were connecting live in the picture. If you can find a creative wrapper, you don't need to exhaust your budget or manpower."
This philosophy also applies to recces before going on location to shoot. Rae explains: "You can get a good idea of what the location looks like and what kit you need to bring by looking at photographs or by doing video calls with the events team who are already at the site.

Jamie Rae and Nick Hamilton at work filming a talking-head piece, which they shot in 4K instead of the usual resolution of 1080p
"I'm doing a shoot at a place called Home Grown soon, it's a private members club in London – although I don't really know what that means," he laughs. "But it's this really nice, high-end, contemporary art deco place with leather sofas and velvet pink plush cushions, and I could see that from their website. I also called the club up to ask for room dimensions and for more images, so that I could see exactly where the windows are and where the natural light is coming from," he explains.  
When it comes to lighting, Rae likes to use natural light first and foremost, with other lights to support that. "But being a freelancer, it's just what I'm used to," he adds. "You have to be light on your feet because you don't have the capacity to – for example – carry four massive lights with all the cables, dimmer switches, gels etc. You have to work with what you've got," he points out.  

The conference display Rae worked on for the soft drinks brand, which was shown to over 1500 delegates using three large screens, as well as smaller screens to display 3D content
With a little help from my friends
Rae and his team wear a lot of different hats, but it's this ability to possess interdisciplinary skills that makes doing what they do work. 
"Nick's the main editor, but sometimes I will help him out and likewise. He will jump on a camera when I need him to. We each have our core skillset, but we're able to bounce our creativity off each other and provide support, which is not something I was used to as a freelancer" he says.
"Before jumping on board at BCD, my position was filled – in part – by Nick and various other freelancers, and although what they were creating was great, it wasn't being recognised. So, when I joined, I saw this fantastic opportunity to develop and grow the video side of the business."
Clients who had formerly hired BCD for event services were either unaware or less aware of the video services also offered by the company, says Rae.
"It relates back to why clients are often so sceptical about video; they don't really see its value, which is understandable if they haven't seen examples of it working. Our website isn't really a platform for showcasing this either, so I'm pushing to publicise what we do through social media and more specifically, through YouTube."
Rae notes, however, that 90% of the video content that BCD creates is for closed doors, but the other 10% that does get signed off can be used to promote what they do. 
"Dan and I are now also having conversations about how to develop this creative department into something more than just supporting event teams. We'd love to be getting briefs specifically for video production or design," he says.
"We're not set up within the company to be doing that sort of thing just yet, but even if it's just one or two projects a year, we could become our own powerhouse of creativity, where we not only support events but make money for BCD in other ways, and I thought YouTube would be a good shop window for that," he concludes.
You can find out more by subscribing to BCD's YouTube channel or visiting the company's website.
This feature originally appeared in the Autumn 2019 edition of Pro Moviemaker, available from 16 August 2019.