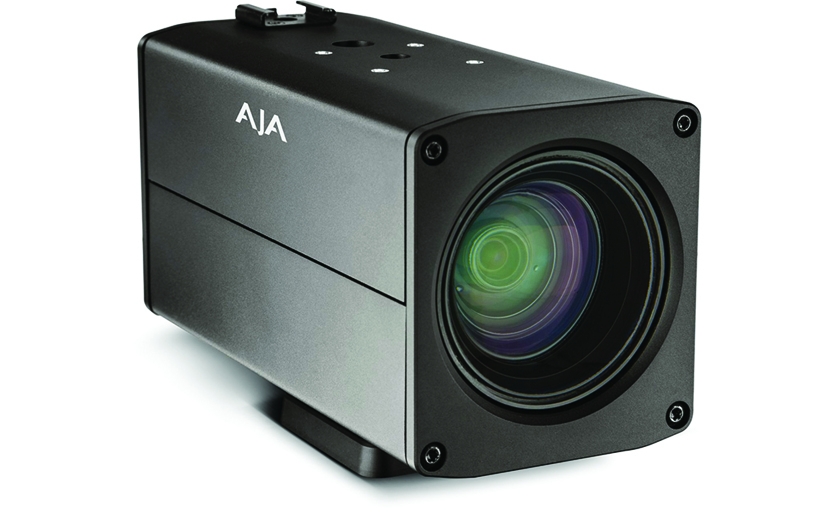 AJA launches the RovoCam
The newly announced RovoCam is the first compact block camera from AJA, and it's targeting those who work in proAV and broadcast sectors as well as industrial, corporate and security professionals. UltraHD and HD imagery can be captured by the RovoCam, which features a built-in Sony 12x optical zoom, which can be boosted to 20x using Sony Super Resolution Zoom.
One of the key features of the new camera is its integrated HDBaseT interface, which supports uncompressed video, power, stereo audio and RS-232 control over a single CAT 5e/6 cable running at lengths of up to 100 metres. The fact that this much functionality and power can be delivered via a single cable dramatically simplifies installation, camera set-up and footprint requirements.
The RovoCam is built around Sony's 4K FCB-ER8300 Functional Camera Block, which features back illuminated CMOS sensor technology and Sony image processing. Compactly encased in rugged and durable aluminium, RovoCam's small and light form factor allows simple mounting in a wide range of scenarios.
RovoRx-HDMI, the companion receiver unit, offers the simplest integration for RovoCam with an HDMI output, and all video/audio signals, power, and control over HDBaseT. RovoCam is also compatible with select third-party receivers. The new product costs £1766/$2495, while the RovoRX-HDMI is £350/$495.