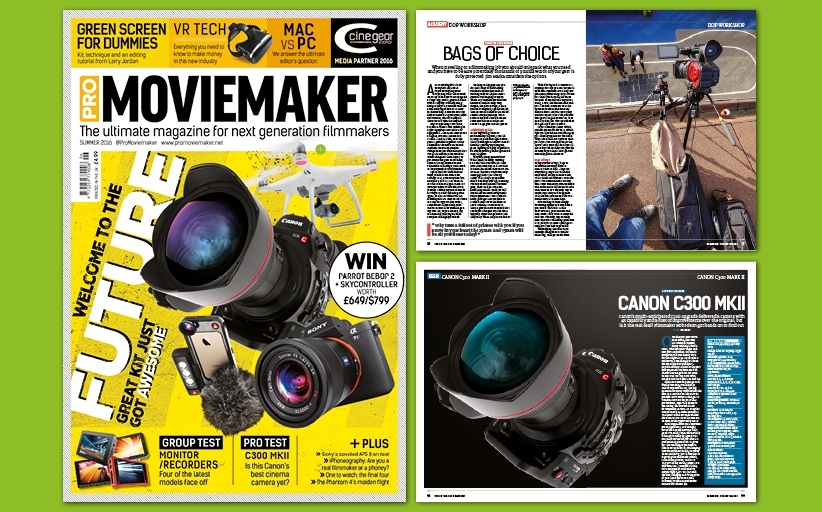 Summer 16
Gear of the future – NAB news, VR tech and A7S II & C300 MkII tests. Plus win a Parrot Bebop 2
Welcome to the latest issue of Pro Moviemaker, and the very exciting news is that the soaring popularity of the title is leading us to increase the frequency of publication, so that from now on we'll be appearing on a bimonthly basis rather than quarterly. It's a move that will give us plenty of scope to source still more exciting stories and interviews, and I can't wait to get started.
Right now the entire Pro Moviemaker team is encamped at the vast NAB Show in Las Vegas, picking up the hot news as it happens so that we can ensure our coverage is as bang up to date as it possibly can be. If anyone was ever in any doubt regarding the vibrancy of the filmmaking sector then a day or two spent trying to find your way around the heaving halls of the Las Vegas Convention Centre would surely put you straight. Growth is continuing apace, and this business is a vibrant one to be in the middle of right now.
We've got our usual heady mix of features in this issue, ranging from an interview with Dean Sherwood as he follows boy band The Vamps on their riotous journey around the planet, a look at the latest green screen and VR technology to see what it can offer the creative filmmaker and full tests on the Canon C300 Mark II and Sony A7s Mark II.
There's plenty more besides as well, so enjoy the read!