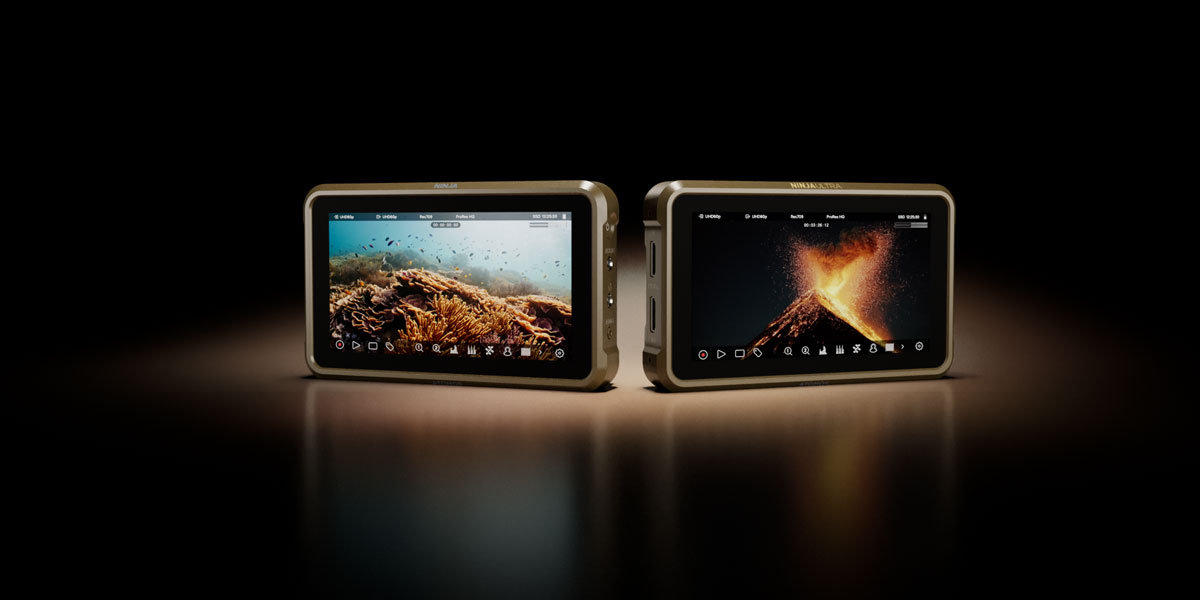 Atomos: Enter the Ninja
Posted on Aug 15, 2023 by Samara Husbands
A new generation of the popular ProRes monitor-recorder line has landed. Made specifically for filmmakers across cinema, social media, sports reporting or news gathering
The Ninja and Ninja Ultra are the latest in the hugely successful line of camera-mounted monitor-recorders. Following in the footsteps of the highly influential 2010 release of the original Ninja, which combined a HD disk recorder with a touchscreen monitor you could hold in your hand. It captured uncompressed video direct from DSLR straight onto a removeable SSD.
The latest iteration handles video sources up to nine time the resolution, has a 5" HDR screen, records ProRes RAW and connect to almost every camera in the world.
Atomos has completely overhauled the operating system in both new Ninja iterations with the installation of AtomOS 11. Expect cleaner, fresher and faster performance with a host of new features like EL Zone exposure referenced colorized image, ARRI False Colour and scheduled playback and recording tools.
While the Ninja is primarily at owners of DSLR and mirrorless cameras, Ninja Ultra is built to get the most out of camera to cloud technology and leans into cinematic workflows with Atomos Connect. It can effectively record full-quality files to ProRes RAW up to 4K 60p while recording HD 60p to H.265, and supports automatic matching filenames, timecode and record from ARRI, Canon and RED cameras. More cameras will be supported very soon.
By adding Atomos Connect expansion module to either product you can enable Atomos RemoteView. This is a brand-new technology that lets you share live views from your Atomos screen with other Atomos monitors, iPads, Macs and AppleTV. You can monitor. What's happening on-set and look through any connected camera taking the shot, from anywhere in the world.
Among many other features, both Ninjas are backwards-compatible with their predecessors, Ninja V and Ninja V+, so all Atomos and third-party accessories can be used with the new products.
Both Ninja and Ninja Ultra will be shipping from early September 2023, priced at £472 and £629 respectively. You can see them both at IBC, Amsterdam on the Atomos booth (11.D25).
For more information, head to the Atomos website.