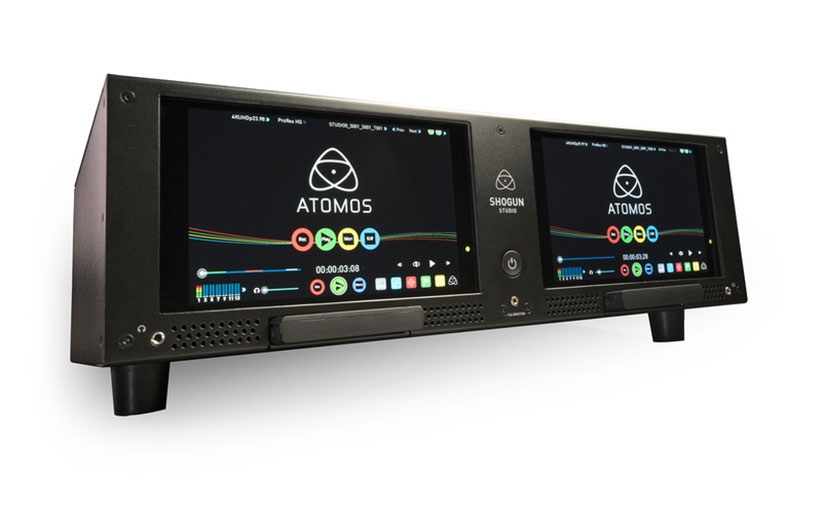 Atomos slashes price of Shogun Studio deck
Atomos has slashed the price of its Shogun Studio rack-mounted recorder and playback deck to £2395 in the UK and $2495 in US markets. The official information says:
Getting state-of-the-art 4K/HD rack-mounted recording and monitoring for the multi-camera studio or outside broadcast has never been more affordable. Today, Atomos have announced a new price point for their Shogun Studio rack-mounted 2-channel 4K/HD recorder and playback deck with dual 7" IPS monitors. The price of unit is being reduced to just $2,495 US, making it the best value solution available.
 Perfectly suited for studio, live events and on-set broadcast environments, the Shogun Studio has become the go-to choice of many 4K and HD productions looking for advanced yet affordable rack-mount recording and monitoring solutions. 
 Shogun Studio has proved itself on productions large and small. Gearhouse Broadcast recently deployed 18 Shogun Studios to record the Australian leg of the Taylor Swift '1989' tour in 4K. In total, they managed the output of 37 live cameras using Atomos products. 
"We turned to Atomos to provide a Shogun solution to record the 4K output. We had a mixture of broadcast cameras and cine-type cameras, along with specialty cameras…It was quite unique," explains Gearhouse Broadcast's Manny Papas. He added: "It worked extremely well – the finished product speaks for itself really".
Workflow and editing are simple. Shogun Studio can record two discrete 4K, HD or even Raw streams direct to readily available off-the-shelf SSD drives in 4:2:2 10-Bit Apple ProRes or Avid DNxHR codecs. You can also configure it as one single unit with continuous recording across drives. Multi-codec and multi-resolution recording are both available. You can pre-roll record, or even record time lapses.
There is a complete range of monitoring tools on each of the 1920×1200 SuperATOM IPS calibrated REC709 displays. Waveform, vectorscope, zebra, blue only, frame guides, peaking, pixel-to-pixel zoom and audio level meters are all included. LUTs can be applied for monitoring, output, or even burned into the recordings.
"I liked the display; it was easy to manage," says Papas. "I found the menus easy to operate. I could see what was being recorded. It had audio displayed on it. It gave me the format we were recording in. I actually found it a very good product."
The compact 3RU unit fits into what might previously have taken 10RU of space. It is also less than half the standard rack unit depth. Reducing the amount of kit on your rack reduces the number of power sockets you need and enables savings in power and heat generated.
Working with HDR is also supported. Log formats can be recorded to SSD, while at the same time transformed into PQ or HLG for realtime output.
You can also control the Shogun Studio via RS422 and even plug in many existing deck controllers. The rich feature set has allowed Integrators to use Shogun Studio in a wide range of applications such as digital signage and security recording applications.
Gearhouse's Papas sums it up: "It's value for money. If I'd used an alternate solution that we have in our trucks, it would have been a lot more difficult, a lot more expensive – but we would have ended up with the same product."
Shogun Studio is available for a MSRP of:  US: $2,495 ex. TAX EU: €2,495 ex. VAT GBP: £1,995 ex. VAT AUD: $3,895 Inc. GST